77:78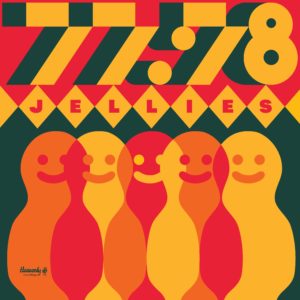 Jellies
HEAVENLY
6/10
Before Aaron Fletcher and Tim Parkin released anything under the name 77:78, they were in The Bees (rebranded to A Band of Bees in the US), a largely UK-centric entity from the Isle of Wight whose influences seemed to run from The Stone Roses to The Beta Band, with a touch of Syd-era Floyd, and some rocksteady on the sound system. Their four albums had moments of genius (go back and listen to "Who Cares What the Question Is?," "Chicken Payback," or their cover of Os Mutantes "A Minha Menina") but the band has been silent since 2011.
Now, founders Fletcher and Parkin have resurfaced, and the album Jellies is like Bees 2.0., with the melodies even more sun-kissed than the songs from their past. With the world run amok with psych revivalists of all degrees of sincerity, it's nice to hear Fletcher and Parkin have a bit of fun with it—grabbing the rhythms of dub on occasion, or just sounding like they're having a party in the studio with the soul groove of "Chilli." (The Bees did open for Madness at one point).
If there's a new twist here, it's in the band's use of mellow synthesizers and their hewing close to the melodic benchmarks set by West Coast '60s pop on "Love Said (Let's Go)" and "Pour It Out." The latter song's doo-wop drift at the end with dreamy saxophone accompaniment could bliss out for another ten minutes and we'd all be better for it. This is one of those records, like Caribou's Andorra or Cornelius' Fantasma, that feels like it's made by people with excellent record collections—but, like those two albums, it also hangs together on its own, a two-man mixtape of psych, guitar pop, soul power, and good times.