The Lemon Twigs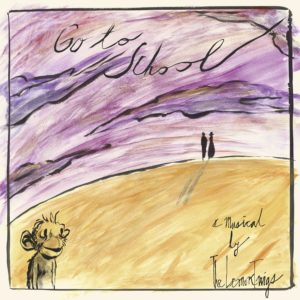 Go to School
4AD
7/10
What if you adopted an orphaned chimpanzee, named it Shane, and raised it as your human son—but when the chimp realizes he's an outcast, never able to fit in with his human peers, he decides to burn down his school, resulting in the death of one hundred people?
This absurd, darkly comic tale is the basis for The Lemon Twigs' latest. The band, led by brothers Brian and Michael D'Addario, harnessed their trademark humor to create Go to School; spanning fifteen tracks, it plays more like a full-on Broadway production than modern rock, taking inspiration from great concept albums of the '70s such as The Wall. The D'Addarios make playful reference to Led Zeppelin or The Who with a theatrical flair that's uniquely their own (both siblings were involved in theater productions during childhood).
The duo's inventive storytelling and character development is what makes the album work. "Queen of My School" is a NSFW tribute to first love and first heartbreak with an upbeat, classic rock 'n' roll approach harmonizing guitar and keyboards. "The Bully" explores the perspective of the school bully and his difficult home life ("slow as slow could be while his father had a PhD").  
The album's climax is "The Fire," an essential moment in both Shane's story and the album's trajectory.With a slower tempo and lush instrumentation, the track describes the moment when Shane decides to burn down the school, with lyrics capturing the drama: "I saw Shane and everyone was pushing him / And you could really feel his pain / And then before you knew it, all of a sudden there were these flames / A fire started in the school / That took a hundred lives away."
Everything about Go to School is extravagant, from the arrangements to the production, all completed by the D'Addarios themselves: Brian composed and conducted the musicians, while Michael manned the console. The brothers are only nineteen and twenty-one, but seem to have expertise beyond their years. They're the definition of old souls, having made an album that pays excellent homage to the music of previous generations.
Go to School is a testament to unbridled creative freedom—a concept album such as this one could easily take a turn for the bizarre, yet Brian and Michael are able to keep it witty and lighthearted. It's obvious the two enjoy making music and are having plenty of fun; they don't take themselves too seriously. The only thing missing is a complete stage production, but it wouldn't be surprising if that was their next step.