St. Lucia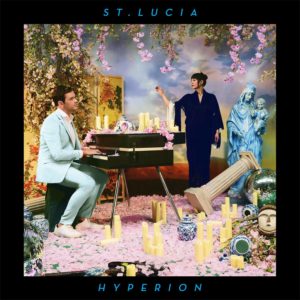 Hyperion
COLUMBIA
6/10
"I tried to be what they want / I lost myself, I lost my feet, I lost my memories," St. Lucia's Jean-Philip Grobler beams on "A Brighter Love," his best song in half a decade, levitating along the kind of pop verse that's even more decadent than its chorus. He could be referring to anything, but for a longtime fan, it feels like an allusion to his previous album.
It was easy to dismiss the simplistic major chords and love-song lyrics of St. Lucia's debut, When the Night, in 2013, but with its uncannily '80s production that somehow slipped into the future as well, the bubblegum sheen felt more like an aesthetic reference—a meta-pop of sorts. Juxtaposing the happy-go-lucky single "Closer than This" with the melancholy epic "Too Close" later in the album, rounding out its scope of emotions, was just one example of how When the Night found a kind of brilliance. Their sophomore effort, Matter, however, had Grobler relying on songwriting mercenaries—including Jack Antonoff—for the first time, with the contrived single "Dancing on Glass" boasting an ad-nauseum synth hook that left the meta-pop balance all but shattered.
In St. Lucia's third studio album Hyperion, the first since the birth of Grobler's first child with wife and bandmate Patti Beranek, there are signs of reform. "Walking Away" is a welcome peel-out into the dark side of their favorite era—the long end of the mullet—complete with a wind-knocking bass synth riff that proves making '80s music with 2018 fidelity has its advantages. The album's even got the offset downbeats and syncopated melody lines that Chilly Gonzales said were hallmarks of '80s pop in his video analysis of "Hold On, We're Going Home."
But several tracks, like "Paradise Is Waiting" and "Last Dance," meander with something left to be desired, especially considering the inspiration of parenthood looming over their process. Grobler and Beranek's chemistry shines magically when she doubles him on the first chorus of "A Brighter Love," but there was a time when that magic would have engulfed the whole record. Remarkable as their ability to traverse time remains, 2013 still seems like their most urgent destination.