Stumped on what to buy someone on your gift list? Here at FLOOD, we polled the staff and put together our own picks for what we'd like for holidays. Humble? Hm, not exactly, but hopefully here are some helpful hints for the adventurous friend who has everything.
---
1. POLER : The Napsack
$130, various colors/patterns available
polerstuff.com
We're huge fans of Portland camp brand Poler, which combines rugged design with super rad sensibility (need a cooler for beer and a handy camera carrier without switching bags? Yeah, they do that). The Napsack (the Snuggie's hipper, more adventurous relative) is perfect for hanging by the fire and tucking into your tent—without skipping a beat.
2. SNOW PEAK : Mini Hozuki lantern
$39.95, various colors available
snowpeak.com
"Cute," is a word probably overused, but when it comes to Snow Peak's Mini Hozuki LED lanterns…it's a little unavoidable. Also cute? They cast a pleasing (but illuminating) tone and snap onto backpacks, belt loops, tent hangings…and just about any other place you need to shine some light on.
3. BURTON : Tour Kit
$39.95, in Fish Blanket print
burton.com
Let's be honest: we're way past the age of putting our toothpaste in a Ziploc bag, and even while we're out traveling the world, having a stylish barrier between our liquid soaps and our nice, dry clothing is a much desired thing. Burton's dopp kit has a few excellent pattern choices and, best of all, it's easily cleanable when your toiletries don't adapt to high elevations as well as you do.
4. JANSPORT : Off Trail Jacquard backpack
$55
jansport.com
Not quite the familiar, beat-upthing you lugged form homeroom to chem in high school, this edition of Jansport backpack is outfitted for the great outdoors. A reissue of the brand's 1980s backpacks and duffels as part of their Heritage Series, this Jansport features the brand's vintage 1967 logo, woven jacquard straps, and antique brass details. And, yep, they're still guaranteed for life.
5. THERMAREST : MondoKing mattress
$159.95 (large)
cascadedesigns.com
When you're sleeping on a rock and a hard place, it's nice not to be reminded of that fact the next morning. Thermarest's MondoKing mattress compresses to a manageable size for traveling, is designed for super-cold weather, and…wait for it…is self-inflating. Never leave home without this.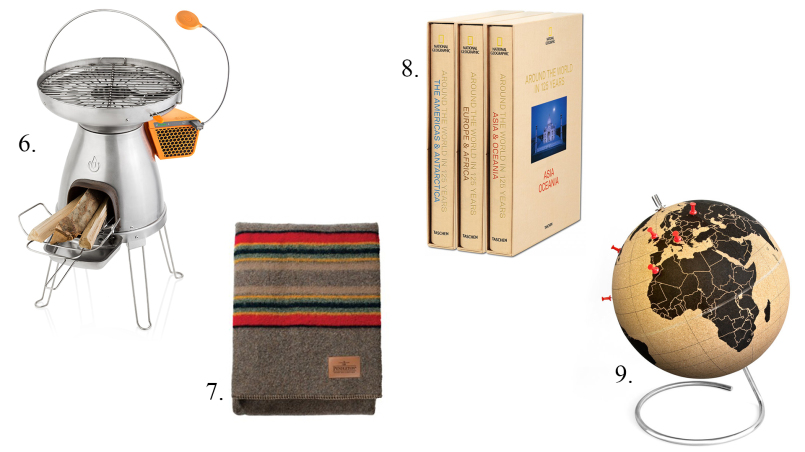 6. BIOLITE : BaseCamp
$299.95
biolitestove.com
Touting themselves as "energy everywhere" and offering a "completely off-grid cooking and energy solution." BioLite's camp cookers are just damn cool. The BaseCamp model runs on kindling and small bits of fallen wood—and not fossil fuels—to grill up excellent meals in the middle of nowhere. Oh yeah, it also charges your devices via USB, though "charging times vary by strength of fire." The future is here—and it's going to help you make dinner.
7. PENDLETON : Yakima Camp Blanket
$149 (queen), various patterns available
pendleton-usa.com
Making quality products for over a hundred years, Pendleton blankets aren't just practical and beautiful—they're an American institution. The dry cleaning bill might be hell, but this woolen camp blanket was designed and has been time-tested to keep you warm in the wild.
8. TASCHEN : National Geographic: Around the World in 125 Years
$499
taschen.com
OK, so truth be told, you could probably afford a nice trip with the amount of money it costs to invest in this gorgeous, three-volume, slipcased treasure. But look at the pretty pictures! Done right by one of the best publishers in the business and the magazine that's literally made their name on going around the world, Taschen and National Geographic cover the Americas and Antarctica, Europe and Africa, and Asia and Oceania in a series of wildlife, nature, cultural, and historical photography that'll satiate any wanderlust without leaving your living room.
SUCK UK : Cork Globe
$200
suck.uk.com
Designed  by Chiaki Kawakami, Suck UK's cork globe is an artful way of keeping track of past trips, and planning for the next great one. (Sure beats putting holes through a map on the wall.)