Stumped on what to buy someone on your gift list? Here at FLOOD, we polled the staff and put together our own picks for what we'd like for holidays. Humble? Hm, not exactly, but hopefully here are some helpful hints for the stylish friend who has everything.
---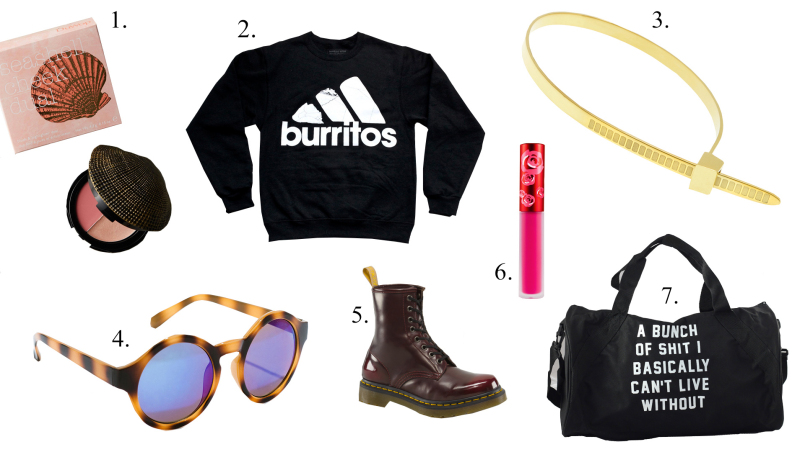 1. DUWOP: Sea Shell Compact Cheek Dual
$25, various colors available
duwop.com
If you have to carry it around in your purse, might as well be fun to look at. DuWop is no stranger to packaging their awesome beauty products in even awesomer designs, and this dual-cheek compact just makes us feel a bit like Ariel, in a great way. Now, where'd we put that dinglehopper?
2. DANIELLE GUIZIO: All Day I Dream About Burritos Sweater
$40
danielleguiziony.com
If we're thinking it, we might as well be wearing it.
3. CAST OF VICES: Zip Tie Bracelet
$165, various colors available
castofvices.com
You know that fun sound when you secure a zip-tie? This bracelet definitely doesn't do that, but it sure is a gorgeous piece of casual elegance.
4. ZARA: Round Sunglasses
$19.90
zara.com
Sure, it's fun to splurge on sunnies, but if you're going to be throwing them into bags and otherwise going case-less, there's no need to break the bank. Zara's color-contrasting lenses to tortoiseshell frames means you're not sacrificing style, either.
5. DR. MARTENS: Vegan 1460
$130, cherry red
drmartens.com
Comfortable. Classic. Forever. We love having a few different pairs of Dr. Martens in our closet, and the 1460 vegan cherry reds are a great addition to a rotation of the reliable black leather or a canvas sneaker. Take care of your Docs, and they'll take care of you.
6. LIME CRIME: Velvetines Lip Color
$20, various colors available
limecrime.com
A liquid lip color that goes on matte? Yes! Available in lots of colors, we might just have to get them all.
7. DANIELLE GUIZIO: Important Shit Duffle
$48
danielleguiziony.com
If we're thinking it, we might as well be carrying it.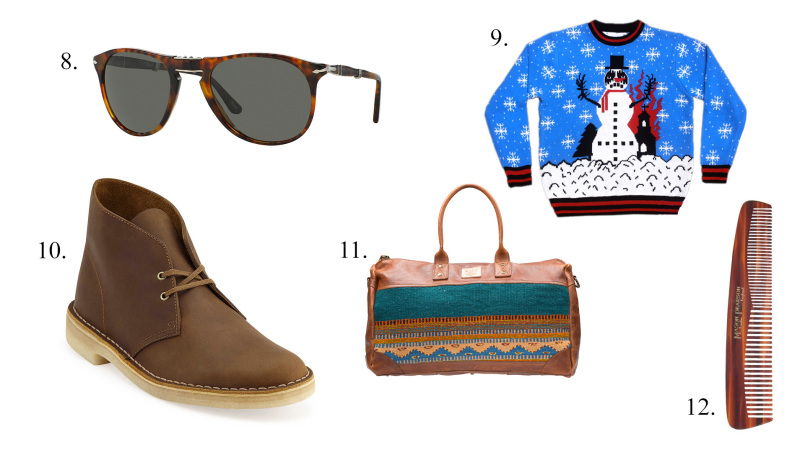 8. PERSOL: Vintage Celebration Men's Sunglasses
various colors available
persol.com
Persols are a timeless classic when it comes to shades. Steve McQueen is famous for wearing an iconic pair in The Thomas Crown Affair, and that's just about all the pedigree we need. Plus: they fold into a case or your pocket for carrying ease. 
9. SHREDDERS: Black Metal Snowman Sweater
$79.99
shreddersapparel.com
We'd be seriously remiss if we didn't have a holiday sweater on this list, and we're loving Shedders' black metal–inspired Frosty knitwear. Probably not The Thing to wear to family Christmas dinner, but it'll definitely win the White Elephant party.
10. CLARKS: Desert Boot
$129.99, various colors available
clarksusa.com
You just can't beat a pair of Clarks. The British brand's desert boots come in plenty of different styles, but we're suckers for the beeswax leather pictured above. Don't be afraid to take these to their namesake destination—just remember to give them TLC (that's "Tons of Leather Conditioner"), and they'll be with you for a while.
11. WILL LEATHER GOODS: Oaxacan Duffle
$695, various colors and patterns available
willleathergoods.com
Gents, this is officially under your header, but don't be surprised if a lady in your life wants to steal it for her own. Will Leather Goods means top-quality, and their line of Oaxacan duffels comes in a variety of gorgeous woven fabrics, which we'll take one of each in. Definitely top of the line, but just remember: you'll likely be carrying this everywhere you go for the rest of your life.
12. MASON PEARSON: Wooden Pocket Comb
$21
nordstrom.com
The most famous of Mason Pearson hairbrushes came about in the 1860s—so we're talking over a century of tested craftsmanship. Peruse the options, but we like this simple and straightforward pocket comb for the day-to-day take-along.