Stumped on what to buy someone on your gift list? Here at FLOOD, we polled the staff and put together our own picks for what we'd like for holidays. Humble? Hm, not exactly, but hopefully here are some helpful hints for the tech lover friend who has everything.
---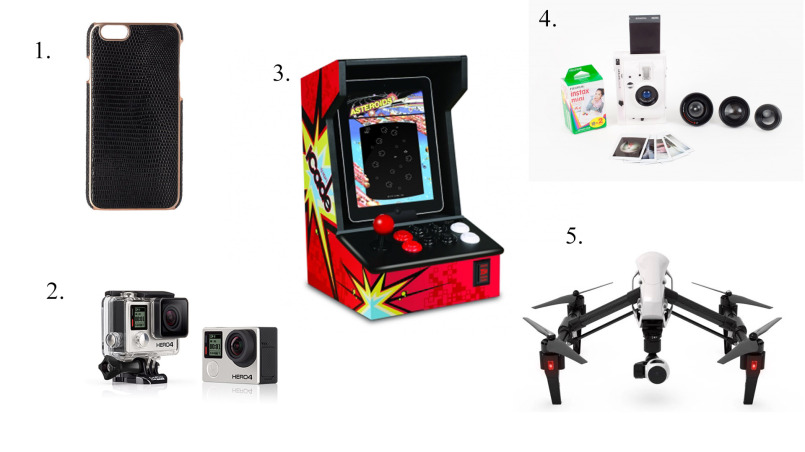 1. ADOPTED: Lizard iPhone 6 Case
$195
barneys.com
When you have a friend who has ALL the gadgets, why try and give them another piece of machinery? They probably have already done their research about it! Instead, why don't you give them something to class up the tech products that they already have? The lizard iPhone 6 case from Adopted not only proves that you have the most up-to-date phone (kudos), but it proves that you are a chic, fashion-forward individual who can comment on fashion blogs and tech threads effortlessly.
2. GOPRO: HERO4 Black
$499.99
gopro.com
The good folks at GoPro have done it again! They have taken their already excellent product and improved it to a new level. The HERO4 boasts better image quality, double the processing power, and stellar Bluetooth connection. You'll never be out of ideas with this new camera, especially since the HERO4 now comes with brand-new night settings and time-lapse modes. Under water? No problem. Sky diving? No problem. Take this baby anywhere and you will be able to capture memories for a lifetime.
3. ION: iCade: Arcade Cabinet for iPad
$39.99
ionaudio.com
Have you ever thought to yourself, "Gee, I like this iPad, but I wish it wasn't so…new"? Well the iCade from ION is here to help you with that problem! With the iCade: Arcade Cabinet for your iPad, you will be able to play retro video games in their purest form with buttons and joysticks. The iCade comes with a special app to load up your iPad with Atari classics like Asteroids, Centipede, and Battlezone and fits your tablet in an adorable little wood-paneled cabinet. The best part about this new twist on an old favorite? You won't have to look for spare quarters to play with.
4. LOMOGRAPHY: Lomo Instant Camera and 3 lenses
$149.00
photojojo.com
When it comes to techie friends, and tech gifts, they must embody the true meaning of instant gratification. Thanks to Lomography's latest camera creation, the Lomo Instant Camera, you can have cool and artsy one-of-a-kind images without all of that pesky patience. The camera comes with three lenses to ensure each instant photo (Fuji Instax Mini film) is just as unique and impatient creative as your friend. Make sure they take a picture of you with one, though, because a moment didn't happen if you don't have a picture of it!
5. DJI: Inspire 1 with Dual Remotes
$3,399
dji.com
Nothing says "I appreciate you" like giving someone you care about the ability to capture your most private moments via a photography drone. The Inspire 1 comes with two remotes to be able to fly with friends (awww) as well as insane HD picture. On top of all the hardware and technology strapped to your video drone, the Inspire I comes with an app so you can always be in control of your camera and your robot. And you always want to be in control of your robot.