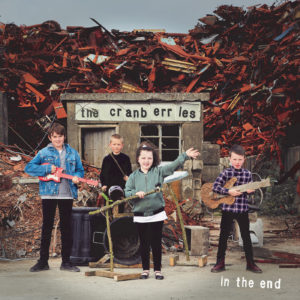 The Cranberries
In the End
BMG
7/10
2016 brought stark reality to the doorstep of music fandom, with David Bowie, Prince, Leonard Cohen, and Lemmy all being relieved of their mortal obligations within the same year. Even those believing—as Bowie did—that we live in complete chaos could hardly fathom such a loss.
But the passing of The Cranberries' singer Dolores O'Riordan in January of 2018 seemed particularly tragic. A forty-six-year-old mother of three, O'Riordan's twenty-year marriage ended in 2014, and she was diagnosed with bipolar disorder the following year. Her death was due to an accidental drowning, at which time her blood-alcohol levels were exceedingly high.
The band had actually been working on their eighth album, which is now seeing the light of day under the somewhat eerie moniker In The End. Of course, there is a haunted quality to any new music released after the person who created it is no longer counted among the living.
Naturally, the temptation to scan lyrics looking for clues is powerful. But album opener "All Over Now" is actually about domestic abuse, not death or suicide. Musically familiar, the guitars shimmer with melancholy as O'Riordan starkly recounts the episode with a trembling voice.
Yet one could hardly mistake "Wake Me When It's Over" for anything but a cry for help. With its solemn verses and metallic chorus, it nods to the dynamics of The Cranberries' 1994 hit "Zombie"—while the lyrics "It hasn't killed you, yet / But you cannot let it go / Trying to exist / Trying not to scream" are all the more crushingly sad for their new context. (O'Riordan was abused as a child, and there is every indication here that it remained a struggle for her later in life.)
"The Pressure," an inviting, '70s-ish folk pop song, does veer into the hopeful: "When I see your face / All of my worries / Dissipate from me," she beams. Though with a somber, portentous title track, the whole thing closes in a heartbreaking fashion: "Ain't it strange / When everything you wanted / Was nothing that you wanted in the end?"
Those were the last words to be sung by the late, and very much lamented, O'Riordan. As an album, In the End does everything The Cranberries do well; and as a requiem, it will leave you chilled to the bone.