Walking into Hannah Hooper's Echo Park studio is like stepping into a kaleidoscope. Beams of light illuminate acrylic colors splayed across large-scale canvases and spattered across the floor. Together, these vibrant streaks and speckles form a choreographed dance, rising and falling based on light, shadow, and perspective. "I really like moving the paint, and getting my whole body into it," Hooper says. "I'll mix the paint, pour it, and then move it around."  
There's an animating force in both the intentional strokes that comprise Hooper's impressionistic paintings, and the unintentional bits of color left in their wake. Together, they reveal her emotional and physical journey through gesture and movement, a sort of artistic contrail. It's no surprise that Hooper throws her entire body into her paintings. The Grouplove singer-keyboardist is known for her energetic presence, which manifests in spasmodic dances and full-throated vocals onstage.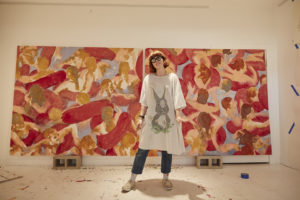 Before she was a magnetic frontwoman, Hooper was an art student at Parsons School of Design in New York City. "There's a [British artist] named Jenny Saville and her scale blew my mind," Hooper explains. "I saw her show in Chelsea, and was really drawn in by that large scale because I felt really stuck in sketchbooks and little things." She began to expand the scope of her work by increasing the square footage of her canvases. "The moment I picked up a larger paintbrush and it became a dance I was like, 'Wow, this is a much more natural way to express myself,'" she says. Soon, her paintings began to sell.
RELATED: Announcing FLOOD: The Passion Issue #1, featuring stories on Alexis Krauss of Sleigh Bells, Jessica Koslow of Sqirl, Hannah Hooper of Grouplove, and Maria of The Marías. Powered by Toyota Corolla.
An early customer was Grouplove guitarist Andrew Wessen's brother, who offered Hooper a spot at an artist's residency he was putting together in Crete. "I had just met Christian [Zucconi], and had fallen madly in love with him," she says. "I was like, 'If I go to Greece and don't bring him, I'll never see him again.'" So she convinced him to join her, even though the pair barely knew one another. "It was so crazy. We hadn't even made out or anything," she adds. "But it was an intuitive thing. I knew he was my guy." While immersed in art on the Grecian isle, Hooper and Zucconi met Wessen, former drummer Ryan Rabin, and former bassist Sean Gadd. About two years later the group signed to Atlantic Records subsidiary Canvasback Music, and scored a number one hit on the Billboard Alternative Songs chart with "Tongue Tied."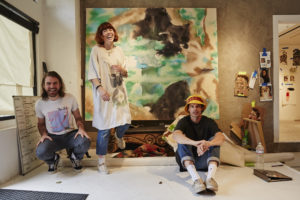 Since then, Hooper and Zucconi have given birth to a daughter, Willa, and toured around the world. Today, Hooper's preparing for a solo exhibition at Shepard Fairey's gallery Subliminal Projects in Los Angeles, which opens June 8. She calls the series Oblivion, inspired in part by a sustained and mysterious connection felt with friends and family members who've died. "A close friend of mine passed away. I was listening to his album and the song '[Self Care Part II:] Oblivion' came on, and I started painting all of these things," she says.
The series' subjects are depicted in water, alternately free floating or claustrophobically clustered. Fire and water energies emanate. In one pair of works, two large-scale abstract bodies are calmly submerged in swaths of blue and green, and red inner tubes and tops of heads form an anxious sea. There's a seamlessness in each painting, as if they've spilled over from Hooper's subconscious. "These are really experimental," she admits. "I don't want to say 'tie-dye' because I'm from San Francisco, but there is an element of trusting the bleed and trusting the paint, and that's very new for me. Actually letting go can create something much more exciting."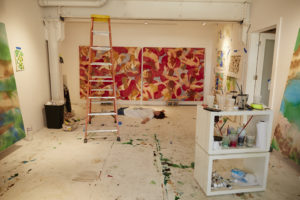 The same is true of the album Grouplove has written, which will see a 2019 release date. It's a grunge-inspired record where Hooper, for the first time, howls from an unknown place. "Letting myself scream, not trying to make it pretty or poppy, trusting where that animal inside is coming from—it just felt healing," she explains. Dave Sitek from TV on the Radio is producing some of the album, additionally described by Hooper as "political, beautiful, and dancey."
Hooper credits her prolificacy in part to a new way of working among the band. "We've been disappearing to write and not being like, 'What's up social media, this is what we're doing,'" she says. Untethering from such distractions has helped incubate revived connections to each other and to the Self, a positive for all aspects of Hooper's artistry. "Art to me is about understanding your subconscious, and letting it heal," she concludes. "It's primal, like childbirth." 
This article appears in FLOOD's Passion Issue, powered by Toyota Corolla. Click to read or download the full issue below.