Tyler, the Creator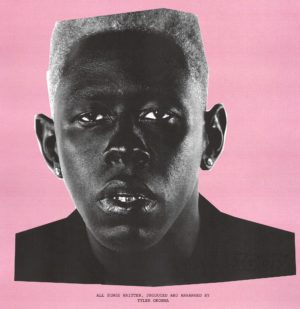 IGOR
COLUMBIA
8/10
Tyler, the Creator wants you to go into IGOR with no expectations. He wants you to give yourself over to the music, commit to it, and see where you end up. "I want a hundred of your time / You're mine," Tyler sings on "New Magic Wand" of a fresh love obsession. But he asks the same from you, the listener. The attention he's craving is frankly necessary in order to grasp the most beautiful, terrifying, and enlightening moments on IGOR—it's Tyler, the Creator's most complicated act as a composer to date.
The heart of this fifth album deals with lust and obsession—a spectrum of desire requiring listeners to think long and hard about the reality of a relationship. Tyler's story is one of loss, of falling for a boy who retreats back to his ex-girlfriend. On "I Think," Tyler opens the front door to his chaotic cranium, where emotions flutter back and forth searching for a branch to perch on. He's falling for a mystery man, but cautiously: "What the fuck is your motive?" he asks. His feelings are knotted in an impossible ball—falling in love is exciting, but only when there's also trust and comfort. Flaring static invades the track as drums fumble along, and we're eventually led toward one of the album's most stunning instances, a buoyant and refreshing bridge of playful synths.
Although some sounds are familiar to Tyler's arsenal, IGOR is also a different beast. Each track is like an act of a play, so the record is both a fleshed-out story and a vibrant character study, with Tyler opening up about new facets of himself and blurring the line between fiction and autobiography—one of the songwriting techniques Tyler does best.
He raps less on IGOR than on previous projects, but Tyler's minimal wordplay is masterful. Take, for instance, the decadent "A Boy Is a Gun," where jewel-toned piano strokes brush against gunshots. A source of both security and violence, Tyler uses the metaphor to express fear of his lover's rejection. "You're a gun 'cause I like you on my side at all times," he says on the bridge. "You keep me safe, no you shoot me down."
But Tyler, the Creator's dark thoughts about suffering or committing violent acts for the sake of love are not flippantly reckless. While he's diving into the watery pits of his emotions, he's also wisely managing the tides.