This article appears in FLOOD 10. You can purchase the magazine here.
---
There have been times when art almost killed Caledonia Dance Curry, the multidisciplinary artist and activist known professionally as Swoon. In 2009, she and thirty friends were nearly run over by a barge while floating in ramshackle rafts from Slovenia to Venice. They had built them out of crates, plywood, and other junk rescued from construction sites and dumpsters across New York City. They sent the scraps in shipping crates to Europe, assembled them into twenty-foot-high floating islands, and set sail across the Adriatic Sea, uninvited, toward the Venice Biennale.
That project, titled Swimming Cities of Serenissima, was a comment on capitalist waste and excess, and it sparked a global conversation about recycling and radical self-reliance. It also cemented Curry's already-legendary status as an artist.
"I never felt particularly successful as an environmental artist," says Curry, perched on a chair in the middle of her warehouse studio in Red Hook, Brooklyn, not far from the Gowanus Canal, another body of water famed for its floating trash. Faces from her trademark life-size portraits peer out around us—on recycled wooden doors stacked against the walls, on sheets of brown paper hanging from the rafters, on a canvas placed on top of paint cans arranged on the floor. Each surface in the large industrial space has been employed as part of Curry's artmaking process, but it isn't a mess. Shelves housing containers of carving tools, string, glue, and other supplies are neatly organized with neon pink labels. As with the rafts, there's a sense of order to the chaos.
"We had a lot of aspirations on that raft trip, but I think we never felt that successful in terms of devising systems," Curry admits. "In some ways it was great—we ended up producing very little waste, being in this self-created space. But I think that as an artist, you figure out where your strengths are."
That project may not have gone exactly as Curry intended, but experimenting and pushing boundaries has always been her MO. Her career began twenty years ago with wheatpasted street art while she was a painting student at the Pratt Institute in Brooklyn. Put off by the thought of creating art that would only hang in wealthy people's homes, Curry started drawing, printing, cutting, and pasting portraits onto walls and surfaces throughout New York. The images were often made from recycled newspaper and were intended to decay over time—but they made a mark.
Curry's wheatpastings secured the artist her first eponymous solo exhibition, curated by Jeffrey Deitch in 2005. Following that exhibit, her work was added to the permanent collections of the Museum of Modern Art and the Tate Modern, and she became the first living street artist to have a solo show at the Brooklyn Museum in 2014.
Titled Submerged Motherlands, this exhibition started out as a reflection on climate change and rising sea levels, having been commissioned not long after Hurricane Sandy devastated New York. But after the death of her mother from cancer following a long battle with opioid addiction, Curry found herself exploring more personal, maternal themes.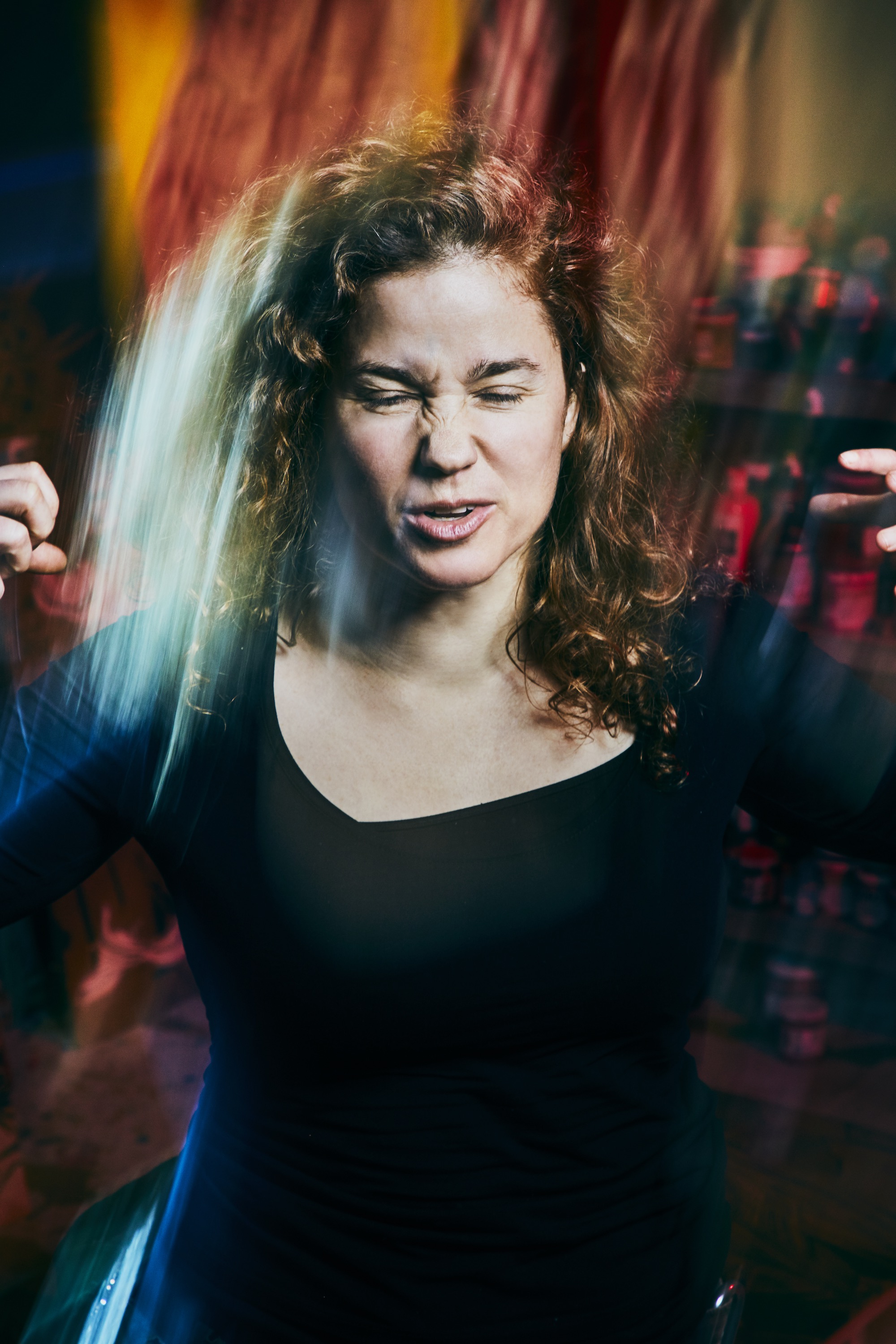 "I would say that's one of the times when art saved my life," she says. "When my mom was dying, it was one of those things where the only thing I could do while she was sick was draw a portrait of her. It felt like this little flagpole of sanity that you hold onto in a strong wind, and you're like, 'If I can just make work while this is happening, I can keep rooted to the earth.'" The resulting exhibition was both grounding and groundbreaking—its centerpiece was a sixty-foot tree that utilized the full height of the rotunda, a first for the Brooklyn Museum.
Curry has a way of not doing things by halves, sometimes to her detriment. In 2010, following the catastrophic magnitude 7.0 earthquake in Haiti, she and a group of artists, builders, architects, and engineers flew to the country to undertake a project called Konbit Shelter. It saw them build three sustainable houses, one community center, and start English and after-school programs—but they pushed themselves to the brink in achieving those things. "We didn't know how long it would take, so we ended up cancelling our plane tickets, and we stayed until our health started to fall apart," Curry recalls. "That was when we were all like, 'You know what? Even if the final plaster isn't finished, we're going to have to leave. The rainy season is taking its toll, we're working too hard, we're working too long hours, and we're just going to have to come back in the winter.' It was one of those wake-up moments of like, 'You have to take care of yourself.' You can't help others in crisis if you're driving yourself into the ground."
"Even though I very much love to harness creativity in service of social change, I also really believe that creativity needs a place to just be born raw."
Following the death of both of her parents, Curry started to unpack the emotional toll that growing up around opioid addiction had on her. "Personal sustainability feels really big for me right now," she says. "I found that I was coming from a place of real chaos and woundedness, as somebody who grew up [around] addiction, and just people who struggled a lot. The thing about harboring deep and repressed unconscious wounds is that it makes you do crazy shit. When I look at people who are hoarding so much wealth that they could never spend it in fifty lifetimes, and yet they're still clear-cutting forests to get that palm oil and build their fortune, I'm like, something's happening with that person. They're scared of death, they're trying to impress their father; there's some deep psychological processes. If they could just confront the fear of death, if they could just confront the fact that their father is dead and is never going to approve of them, they wouldn't have to do psychotic things that are harming the planet."
Acknowledging and dealing with her trauma has enabled Curry to be more sympathetic to herself. She's begun to take an increasingly measured approach to her work, which has expanded from her original wheatpasting to include a range of practices like performance, architectural installations, and community-building projects around the world. "I realized recently that I was constantly adding projects and I was doing, like, ten at a time, and finally I got to a point where I was like, 'I can't do them all simultaneously, I need to alternate a little bit.' So I set down a bunch of my core practices, which were block printing, wheatpasting, and installation-making, and I put them on hiatus. Because if I didn't, I wasn't going to be able to teach myself new things."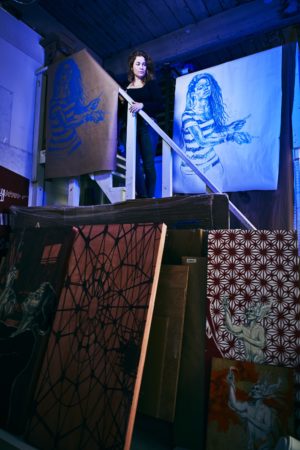 Curry's work often has a purpose or practical application, whether it's housing disaster victims, shedding light on climate change issues, or humanizing refugees. Throughout her career she has regularly blurred the line between art and activism—still, she views these things as fundamentally different. "Even though I very much love to harness creativity in service of social change, I also really believe that creativity needs a place to just be born raw," Curry explains.  
This renewed sense of self-sustainability and reckoning with her parents' addictions inspired a recent project Curry undertook with Mural Arts Philadelphia. There, she hosted art therapy workshops at the Kensington Storefront, a community center in one of the areas that's been hit hardest by the opioid crisis. The Storefront is a safe space where people can embrace creativity as a step toward healing—just as Curry has done herself. She acknowledges that these things may seem like small gestures, but for an issue that can feel insurmountable, it's a step in the right direction.
Curry has addressed many overwhelming issues with her work, and is open about the challenges of achieving her lofty goals. She says the abandoned church she's been trying to rebuild in Braddock, Pennsylvania as part of the Transformazium artist collective has been "a tough nut to crack." With the collective, she was able to establish a separate company called Braddock Tiles, which "works with folks who are aging out of the Braddock Youth Program and teaches them soft skills so they can get jobs," but they haven't been able to transform the church into a fully functional community center just yet. "I discovered that me not living there has just not quite worked out," she shrugs. "I'm actually looking to transition it. We're talking to some folks locally, and my hope is to find somebody who's doing work that's about bringing up the community, who's not just a gentrifying developer."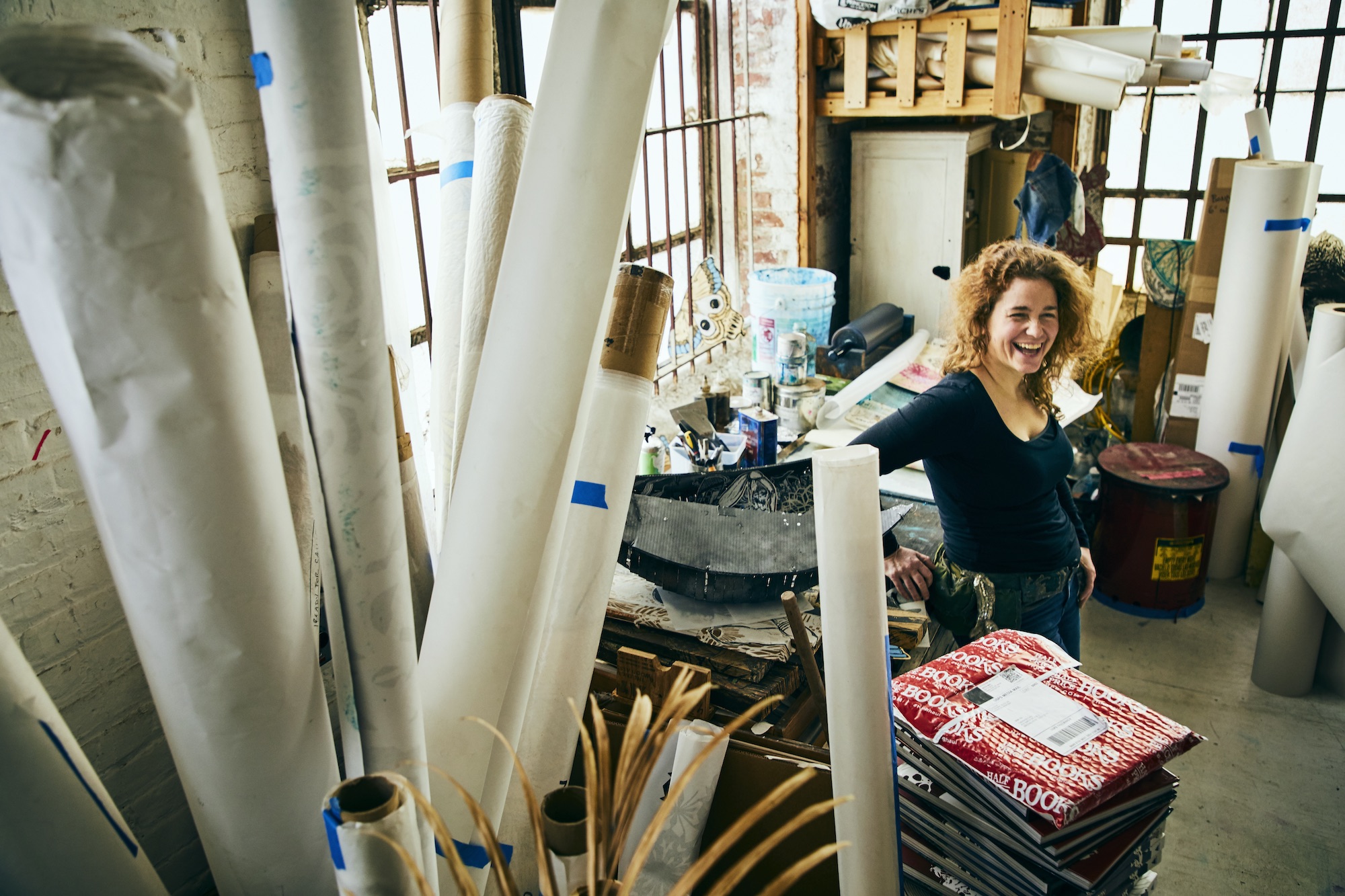 She acknowledges that it's important to know "when to call it, and be like, 'Okay, this is bigger than me, I need help, I need to pass this on.'" Sometimes ending something can be as challenging as beginning it. When she made the decision a year ago to shift away from her primary art practices, she was scared—even though she realized that it was necessary for her personal growth. "Your processes become like a security blanket, and people know you for them, they like them, and they want you to keep doing them. So you feel like, 'Oh my god, what's going to happen?'" she laughs nervously. "But you just have to do it!"
She continues, "I feel like, over and over again, my creativity has led me to places that made me feel a little scared. When we first made the rafts, I was like, 'Girl, what are you doing?' You could make your creative life so easy right now, but instead you're digging in dumpsters and living with thirty of your friends on a fucking raft! Like, why are you doing this?!' But there was a part of my brain that was like, 'I'm not listening!'"
Curry now incorporates ten-day silent meditations into her annual self-care ritual, along with three-month trips to Panama to surf and work on art away from the bustling city. Having grown up in Florida, she says surfing was a way of life. "When I was a baby, we'd spend months at a time living in some random place by the sea. We'd go to the beach every day, so I think it's just in my blood. The ocean is my happy place."
These days, downtime can feel like a luxury many cannot afford—but Curry learned the hard way how crucial taking a break can be. "I burned out a couple of years ago, and even though it sounds really decadent, I was like, 'Oh, I'm going to Panama to go surfing for three months!' It's a matter of self-care, and it's a matter of carving out time for primary creativity."
"When I started giving talks about my family and addressing trauma and doing all these things, I was like, 'I'm more scared doing this than I am being on a raft that's breaking down in front of a barge!' You know? There are different ways of facing your fears at different stages of your life."
This change in mindset is reflected in her work. As she's allowed more time for herself, she's put more of herself into her art, from Submerged Motherlands to her most recent exhibition, Every Portrait Is a Vessel, at Treason Gallery in Seattle, where Curry gave a talk on the very personal inspiration behind the work's exploration of trauma.
Now in her early forties, Curry can't believe that she's done some of the things she has. "Ten years ago I drove a motorcycle across India, and now I would never do that!" she admits. "Maybe I'm becoming a wimp." She's still doing things that scare her—she's just being more emotionally vulnerable, as opposed to physically endangering herself. "When I started giving talks about my family and addressing trauma and doing all these things, I was like, 'I'm more scared doing this than I am being on a raft that's breaking down in front of a barge!' You know? There are different ways of facing your fears at different stages of your life."
Since her earliest wheat-pastings, her work has cultivated curiosity, and twenty years later that light hasn't dimmed. Even when she's confronting the darkest, most harrowing subjects, Curry radiates hope. It makes sense that her first name, Caledonia, means "steadfast or hard-footed." It originates from an ancient Scottish tribe that fought off the Romans, she says.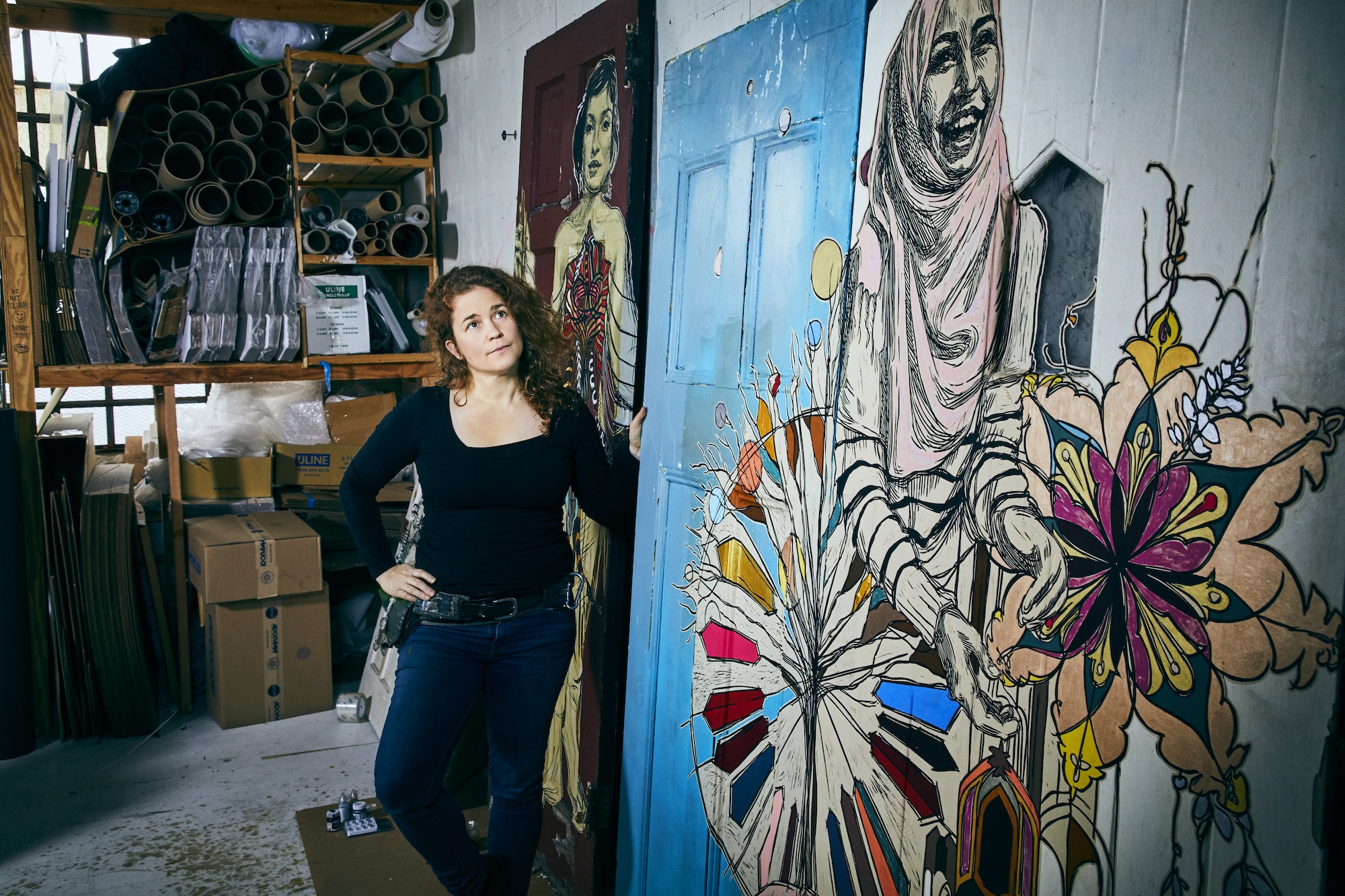 She points to a portrait on the wall of a beautiful woman laughing. "That's a young woman who had left the Syrian Civil War under extreme duress, as a refugee. Her family made their way to Sweden, and I was asked by folks there to help. Sweden had taken on 6 percent of its population in immigrants, and they were like, 'We need artists who will help us with this moment of welcoming this new community.' So I linked up with a friend of mine and she helped Maram tell her story, and I made this portrait and put it up in the museum," she says, referring to Skissernas Museum in Lund, Sweden.
"I was thinking, 'This woman has been through tragedy that most of us will never even imagine.' Society is at a place where it's struggling, but when I look at the news and the images that we're seeing of people like Maram, it's 100 percent focused on distress. And the situation is distressing, but if you look at somebody and you're only ever seeing them in distress, you're seeing them in a one-dimensional way, so you can't see the whole of their humanity. I was like, 'You know what? Maram is in this beautiful town now, she's starting a new life, let me show a different side of her! Let's see that she's actually a normal teenager and she just wants to be happy like everybody else.' So it was a conscious choice for me to draw her in this really celebratory moment, to show that there's more to her life than the suffering that she's been through."
If there's a key to solving any of the issues Curry has come up against throughout her career, it's empathy—whether we are looking inward or at someone else. "I think that people who are in that frame of mind will, in the long run, be making a more sustainable world," she smiles. "I hope so, anyway!" FL