This article appears in FLOOD 10. You can purchase the magazine here.
---
Though John and Molly Chester's current residence is just forty miles outside Los Angeles, it is worlds away from the lives they led as city dwellers. At first glance, their lifestyle change—which is detailed thoughtfully in the documentary The Biggest Little Farm, directed by John—smacks of the type of feel-good video clip that goes viral online, something pleasant and soothing which, by the time it arrives on your screen, is detached from context and merely delivers a kind of vicarious moral salve. Here is someone doing something nice; isn't that almost like I have, in fact, done something nice myself? 
Double pathos points if the story includes a dog, which this one does—namely Todd, a flat-coated retriever of some indeterminate mix, with stunning blue eyes and a serious barking problem. The Chesters rescued Todd from a hoarding situation and the loyalty his new family felt for him was immense. When faced with an eviction notice from their Santa Monica apartment due to Todd's excessive noise, the Chesters made a decision that would unlock a new outlook on life, and a changed relationship with this earth where we live it. Here is where their tale departed from the cutesy, feel-good realm, and the work began. 
The 130 acres of land in Moorpark, California that the Chesters bought was deadened, dried up, and overworked. That they were able to revamp it into Apricot Lane Farms, a functioning, profitable, biodiverse farm with—just for starters—an orchard of seventy-five different stone fruit varietals, seems a stunning example of the power of human imagination to make manifest the unlikely. It's not as if they'd never thought about farm life before the Todd of it all forced the issue. "We had definitely always talked about it, but it felt like this scary, impossible leap to make," says John. "Our commitment to the dog gave us courage."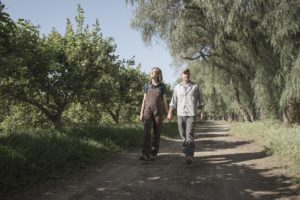 Molly, a chef and culinary writer, had long fantasized about living on a farm where she could grow and raise every component of any recipe she tried. The thought was, "Of course, if we have a farm, we are gonna grow everything," she says. This dream, pre-Todd, had only manifested so far as a small collection of plants on their LA patio. Still, the general shape of it, the desire to build a well-balanced, functional ecosystem of  fruits, vegetables, animals, and humans all growing together and sharing space, like a farm plucked from the pages of a children's picture book, remained the guiding philosophy as they endeavored to give Green Acres–ing it a go.
"We actually never use the word sustainable," says John. Apricot Lane Farms runs on principles of regenerative farming. Having never so much as kept a third grade tomato-plant-in-a-cup project alive long enough for it to bear fruit, the distinction between sustainable and regenerative farming at first seemed opaque to me, but unpacking the practical and philosophical differences swiftly illuminated the distinction. "Sustainable" is a buzzword sometimes used liberally to virtue signal that a farm, or a company, or a giant monocrop farm company, has made some efforts, great or small, to proceed in a way that minimizes environmental harm. Regenerative farming practices call for a far more engaged approach. 
"You have to be down with the problem-solving side of farming. But the cool thing is that if you're down with that, it's incredibly rewarding and inspiring." — John Chester
Merely trying not to further wound the earth is insufficient—regenerative farming means working the land in such a way that you are actively giving back to it. More to the point, says John, "It's environmentally proactive farming." As is common of pursuits plainly noble and worthy, creating, protecting, and nurturing a complex network of interconnected living beings demands not just critical thinking and elbow grease, but an ability to rebound from failures with your high hopes intact. Whenever the Chesters' lovingly constructed ecosystem fell out of whack—too much duck feces in the pond created a toxic algae bloom that killed their catfish; birds wiped out the bulk of a year's fruit yield; snails lined the trunks of trees in numbers recalling those of a biblical plague—they found creative ways to adjust, rebuild. The grand experiment of farming became, for the Chesters, something like a puzzle: a game through which they've learned how to work with, not against, their land to find solutions to whatever chaos may arise. "You have to fall in love with it," John explains. "You have to be down with the problem-solving side of farming. But the cool thing is that if you're down with that, it's incredibly rewarding and inspiring."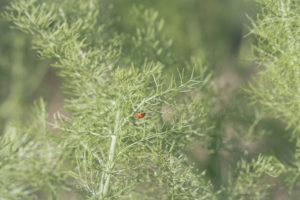 After several happy years on this farm where he was free to run, play, and bark to his heart's content, Todd—the dog who provided the Chesters the initial impetus to toy with the possibility of daring—passed on. During his time with the family, during the birth of this farm, the Chesters' relationship to death and dying had evolved into something both simpler and more intimate. Such is unavoidable when one has elected the task of raising up with compassion and affection animals they know will be killed for food.
"There's this endless wheel that is continuing," John tells me. "It's not the circle of life—it's really, truly, an 8 [or ∞]. There's the above ground, and the below ground." From life to death, from death back into the environment, to the earth, the ecosystem, the process of living and dying is communal and constant. This is true even if the extent of your interaction with nature is opening canned food for a house cat. This is true on the city bus. In a single tablespoon of soil, there are nine billion microorganisms built for the task of devouring what is dead to create life. That applies even if your soil is from Home Depot and used in a cracked plastic pot that holds anxious-looking hydrangeas on the front porch.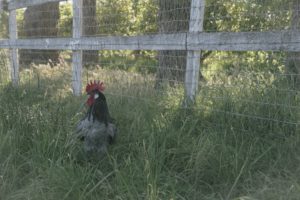 Farm work brought death into the Chesters' lives, into their hands, in a tangible manner that was first uncomfortable, then instructive. Be it shooting a coyote menacing their chicken coops or performing the chore of collecting those dozens of chicken corpses after a violent raid, to run a farm means to confront death constantly. Science—and most of the blood-soaked Western canon, really—dictates there is no other way but through that death to create so much life. 
"In the city, there's a general buzz," says Molly. "You're aligned with a city's energy when you live there." Being beyond the reach of such energies, and connected to those of nature, to the birds, the butterflies, and the labor to be done each day in their service, as a citizen of the earth, allowed her to meaningfully recalibrate. "You experience yourself in a new way," she concludes. FL