Khruangbin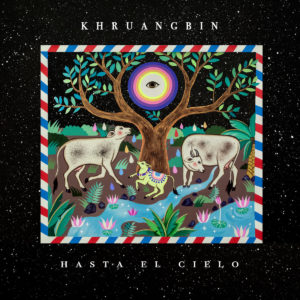 Hasta El Cielo
DEAD OCEANS
7/10
Hasta El Cielo, the latest offering from this Texan trio of international funk devotees, is a dub reworking of their 2018 album, Con Todo El Mundo. That record showed off a groove somewhat reminiscent of Turkish funk of bands like Moğollar or Ersen—bands whose work on the electric guitar is often accented with or imitative of the Turkish saz. 
Khruangbin are able to integrate this guitar sound, while also adding plenty of reverb-heavy surf twang. The bass and drums do a nimble back-and-forth boom-bap dance that calls to mind the beats of the golden age of hip-hop. And on top of that is vocalist Laura Lee, whose subdued-to-the-point-of-narcosis vocalizations have a kind of rock-steady vibe. 
Their music, which favors beats and atmosphere over songwriting, make them an ideal fit for the dub treatment. On this record, track levels are pumped up, bits are removed and tweaked, and sonics echo as if in some subterranean grotto. What the band most resemble is less international psych-funk innovators and more post-rave '90s comedown music. Think about the sounds that Air created on the Source label and on their debut, Moon Safari: luscious and lounge-friendly beats that sit mellow in the background, perfect for herbal get-togethers. Or think about all of the Isaac Hayes sampling trip-hop acts, without the vocalist acting as noir-esque siren. Think J Dilla meets The Meters meets Lee Perry—of course, nothing could be as good as that—but those are the ingredients. 
What would have been built out of loops and samples in the past is now coming from a post-Daptone world, where Khruangbin are able to fill out their grooves with sweetly psychedelic guitar plumes and locked-in drum patterns both raw and immediate, while also feeling that they should just shuffle into an infinite loop.