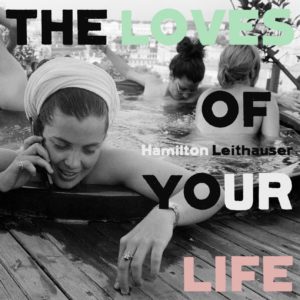 Hamilton Leithauser
The Loves of Your Life
GLASSNOTE
7/10
If you're still making music that listeners are generally still eager to hear after over two decades it's because you know what works, and how it works for you. You aren't so much pushing boundaries as exploring every nook and cranny of those you've already established. Hamilton Leithauser's new album The Loves of Your Life, his first since his 2016 collaboration with Rostam Batmanglij, is a supremely confident look at a veteran artist sauntering along his creative borders with glee, confident he's in no danger of falling off the edge. 
Leithauser has always stood out for his vocal dexterity, whether with The Walkmen throughout the 2000s NYC post-punk revival scene or as a solo act. This is no more evident than on "Here They Come," a playlist-ready standout whose verses of hushed, intimate whispers transition incisively to the song's wailing chorus, an endlessly catchy reminder of Leithauser's vocal idiosyncrasies. It's when Leithuaser stamps down these tendencies, like on "Stars & Rats" or the swaying, country-tinged "Wack Jack," that Loves ambles a bit too leisurely. Thankfully, it's not enough to bog down the proceedings, instead highlighting the more visceral highs. 
These peaks come when Leithauser embraces his more off-kilter sensibilities, like on opener, "The Garbage Men," whose horn-sample intro and herky-jerky drumline set the table for some of the album's more charmingly quirky moments. The record's most lasting single comes from "Don't Check the Score," a track whose whirling, hypnotic undertow of synthesizers and frothy wave of backing vocals—which feature Leithauser's wife and daughters—give us the closest thing we have on the record to another Rostam collaboration. This plays wonderfully when juxtaposed with some of Leithuaser's most intimate lyrics, where simmering lines like, "I think sometimes you let on / Maybe a tenth of what you know / I wish you'd say goodbye the next time you go" boil over into a frenetic, circular wall of noise. 
Leithauser knows how far he can stretch both his songwriting and vocal talents, and The Loves of Your Life works best the closer we get to those frayed edges. It's here that the record's peculiar characters, winding storylines, and eccentric arrangements complement each other best, and where Leithauser continues to surprise and excite.