You may not be familiar with him by name, but the surreal work of cartoonist and painter Jim Woodring has intersected with popular culture for years. His illustrations have graced album covers from the likes of Yo La Tengo, The Grifters, and Bill Frissell, while cultural icons including Matt Groening, Jeff Bridges, and Paul Allen have collected his work. No less than filmmaker Francis Ford Coppola wrote the foreword to Woodring's graphic novel, The Frank Book.
Scott Shaw!, the revered cartoonist and co-creator of San Diego's Comic-Con, told FLOOD:  "I've been a comics pro for almost fifty years. I've known the greats and the obscure, but I've never known a cartoonist like Jim Woodring, who's got the wildest, weirdest, most unique backstory—one that actually fuels his creative process."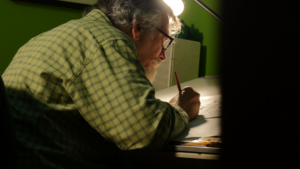 That backstory is now being told in a new ninety-seven-minute documentary directed by Chris Brandt, shedding light on the dramatic inspirations behind his mystical artwork. Woodring has suffered from hyper-realistic hallucinations and visions since he was a child, which was eventually diagnosed as autism and prosopagnosia (the inability to recognize familiar faces). Through it all, he found the confidence to control his visions through his artwork.
"Working with Woodring on this film was truly fascinating," Miguel Cima, the film's executive producer told us. "He opened up his private studio and led us deep into his quasi-spiritual, deeply colorful hallucinatory world. You will not be the same after taking this trip with us."
You can watch the full film below.