There is no avoiding the bastion of films that are 1980s teen classics. There is, of course, the John Hughes canon: The Breakfast Club, Sixteen Candles, and Pretty in Pink, among others. There are the edgier ones like Fast Times at Ridgemont High and Heathers. But there is one particular screen gem that has a special place in moviegoers' hearts: Valley Girl.
The 1983 film was made available for rent on digital platforms just last month—exactly thirty-seven years to the day from when it was first released in theaters. Directed by the visionary Martha Coolidge, it stars Deborah Foreman as the irresistible Julie, the epitome of the term "valley girl," and Nicolas Cage in his first starring role as her boyfriend "from the other side of the hill," Randy. Loosely based on Romeo and Juliet, Valley Girl shares that story's timeless appeal, its essential cast of characters, and its core message of love.
One of the most enduring memories for many is Valley Girl's iconic soundtrack—which reportedly ate up almost half of the film's budget (and music licensing issues held up the film's re-release all these years). Not only do Valley Girl's songs include Modern English's "I Melt With You," Psychedelic Furs' "Love My Way," Payola's "Eyes of a Stranger," and Sparks' "Angst in My Pants," the film also features performances by local heroes The Plimsouls and Josie Cotton.
For a film named after a tongue-in-cheek song by Frank Zappa and his fourteen-year-old daughter Moon Unit—coincidentally his biggest commercial hit, in which they poke fun at the slang talk of San Fernando Valley's stereotypical teenagers—Valley Girl has not only reclaimed its pejorative-ness, but has embedded its initially reviled vernacular as part of every day speak.
In fact, it's time to get tubular again because there's a totally bitchin' new adaptation of Valley Girl, this time as a musical. Written by Amy Talkington (Little Fires Everywhere) and directed by Rachel Lee Goldenberg, Valley Girl 2020 has been in the making for the last twelve years. Starring Jessica Rothe (La La Land) as Julie, and Joshua Whitehouse (Poldark) as Randy, the new film also takes place in 1983 and tugs at the same musical heartstrings as the original with an enhanced soundtrack that includes imaginative reinterpretations of '80s pop hits from Madonna, Cyndi Lauper, and The Go-Go's, among others. The cast of popular young actors does a trippendicular job with their fresh takes, as do Deap Valley, Futuristics, and American Authors, who perform in the film. Best of all, original cast members Foreman, E.G. Daily, and Heidi Holicker have quick but impactful cameos in Valley Girl 2020.
Foreman, Daily, Holicker, and Talkington gathered for a roundtable interview with FLOOD to talk Valley Girl, then and now, and how you can, like, totally, never take the Valley out of a valley girl.
The remake—also starring Alicia Silverstone, Mae Whitman, Logan Paul, and Rob Huebel, and featuring choreography by Mandy Moore—is available to stream now, and is playing in select drive-ins. More info here.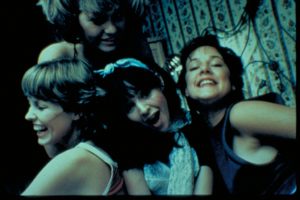 What is it about this film that stands the test of time?
Heidi Holicker: My mother asks the same question every year. It was so authentic. When we shot it, we were all just so present. Martha Coolidge did such an extraordinary job in every aspect of this film. All the stuff you don't see and you don't know about, she knew exactly what she was doing. We went along for this amazing ride. I think part of why it works is we had no frills, so we all did it really honestly and it just captures that moment in time. Each character is really well developed. We shot the whole thing in four weeks and two days, and I think we had two weeks of rehearsal. It just worked. It was just the chemistry. It was Nic and Debbie's chemistry. It was Elizabeth [E.G. Daily]'s chemistry with us, with Michael [Bowen], my chemistry with Cameron Dye. It brought us all together.
Amy Talkington: "Authenticity" is the word that comes to mind for me, too. I watched it first when I was thirteen in our family room in Dallas, Texas. It really felt like I was getting a truthful peek into a whole different world, the subculture of the Valley, really a truthful peek into what it means to be a teenager. And I do wonder if part of the authenticity and how truthful it feels is that there's a very strong female point of view that came from Martha. I can't help but think and hope that that is part of why it still resonates now, at least with women and girls. I know it resonates with a lot of dudes too.
"I do wonder if part of the authenticity is that there's a very strong female point of view that came from Martha. I can't help but think and hope that that is part of why it still resonates now." — Amy Talkington
E.G. Daily: It was literally the perfect storm of everything. You couldn't plan Martha's vision, which was so clear. She's such a great director. You couldn't have planned the casting better. You couldn't have planned the chemistry between the cast members. There wasn't a lot of money, we were just doing it out of love. Nobody expected it to blow up and become something monumental for the last thirty-seven years. It was the perfect storm, a slice of life—who doesn't relate to those feelings as a young person, as an old person? It was done so beautifully. And the perfect soundtrack. That was one of the best soundtracks of all time.
Deborah Foreman: I feel like movies are about love, power, or death. This movie stuck to the theme of love. When you're going through the rugged terrain that we were hitting during this guerrilla warfare that we were in when we made Valley Girl, at the base of it was love. We were doing it because we loved to do it. I was drawn to acting because of a love of it. I was drawn to any art and creativity because of the love of it. All of us had that same through-line as we were making this film. That's why it's still around thirty-seven years later.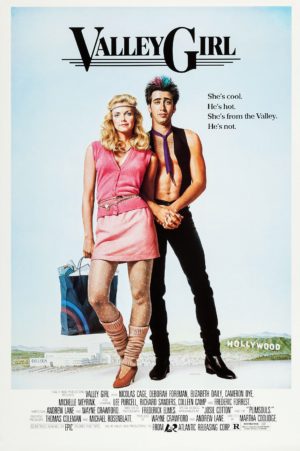 How do you feel the music helped tell the story?
E.G.: Martha was so particular about the music—she would tell stories about how she wanted this song and they couldn't get the rights. She was so clear that whatever ended up landing was so right. I think that was Martha Coolidge, the director.
Deborah: She talked about how this music was actually in place for another film that fell through. She had a lot of it already in the library.
How did the music have an impact on you, Amy?
"There wasn't a lot of money, we were just doing it out of love. Nobody expected it to blow up and become something monumental for the last thirty-seven years." — E.G. Daily
Amy: I was in love with everything about the movie when I saw it, and I was in love with the music. I don't know how much influence it had on me becoming involved with music. I started writing about music when I was still a late teenager for publications. Looking back at it, I'm just amazed at how brilliantly she created these sequences, married them with the perfect song. The love montage in the middle just gets your heart. "A Million Miles Away" was such a brilliant choice for creating the tone of that scene, but also the emotion you wanted in that scene and the lyrics are perfectly mirroring what Julie is going through in that moment. She just made so many brilliant choices. It was not just laying a song on top of a scene, it was really thinking it through. And of course having the finger on the pulse of all that music and presenting it to the world…these are songs that are still playing on the radio today.
E.G.: A great song is a great song through time. You could take the same song from thirty-seven years ago, recut it today. It just shows you, it's a simple formula, a great song is timeless.
Amy, why did you decide to make the new version a musical?
Amy: The musical idea was producer Matt Smith's idea, I think because he was in love with the soundtrack. I came in very early. I wrote the first draft and I've been with the script ever since. We were both in love with the soundtrack and we started talking about how we were going to keep it in the '80s and how we remember things through music. We both loved the original and it felt like doing it as a musical with such a tone could be perceived as enough of a different take on it that it wasn't like we're trying to remake it, or make it better in any way. We're trying to take a story that we love and retell it in a completely different way, but very much as a love letter to the original. That's what I hope people would get from it.
With your choice of songs, the lyrics tell the story.
Amy: Half of writing that script was figuring out the right song that would truly tell the story, would almost read as dialogue, and would work tonally, would work lyrically and build and tell our story. Half the time I was writing the script I was listening to '80s songs. The studio wanted them to be big, recognizable songs. I was trying to push in some sort of edgier stuff and smaller, quirky songs. That was a constraint that was put on me at later drafts. The first drafts had Ramones and Buzzcocks and slightly edgier stuff than what's in the final version. But it was a cool challenge to try and figure out how to tell this story with popular songs.
One thing we had to do was reinterpret the lyrics, or reinterpret the tone of the song, which we did in a few cases, like "Kids in America." It starts off in a melancholic place of Julie singing that she feels out of place in this world now. When the kids are singing the chorus, they're celebrating this world. There's a slightly different take on that song to help it work for the story we wanted to tell. We needed to be with Julie emotionally at that point.
Heidi: It definitely has it where Julie tries to pull away from her friends and go her own way, which has a nice ode to the original.
E.G.: How did Harvey Mason Jr. impact the songs or the choices? Did he have a place in that?
"I was drawn to any art and creativity because of the love of it. All of us had that same through-line as we were making this film. That's why it's still around thirty-seven years later." — Deborah Foreman
Amy: He wasn't involved with the choices. That was really, at first, me and Matt, and then Rachel, the director, came on. We changed a few songs based on her ideas. There was a mashup of an aerobics scene, trying to create this conflict. We stepped it up and it's getting to the breaking point between Julie and her friends. He got involved with that. We were really struggling and it really had to be, which songs are going to mash up together and make sense together musically? He helped us through that challenge. We had figured out most of the other songs beforehand. Of course, he brought so much to it then. Matt and Rachel worked with him much more closely than I did, but the tone, how we wanted to shape the tone to serve the story, was incredible.
Heidi: That scene—I was blown away because, wow, how are they doing that? Oh, they're doing it at the same time. My take was, the new film dances on its own feet. That's my feeling.
Amy: That's the hope. I know people who love and cherish the original so much—which I do as well—feel protective of it, and I hope it can be seen as something that's different but celebrating the original.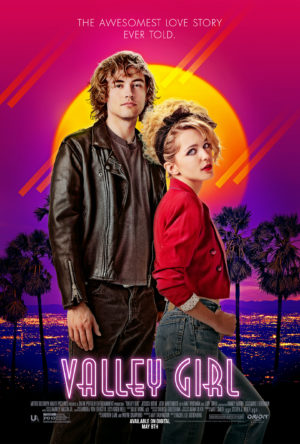 The interpretations of the pop songs in the film are so unique that it took me a second to recognize them. I feel like they would have been the alternate versions of those songs if they were done by non-pop stars.
Amy: We really hoped to create new interpretations and spins on each of the songs, so that's great to hear. Definitely tried to take the Madonna song, "Crazy for You" in a completely different direction. I think that one is really surprising. It's great to hear that they all feel fresh and different.
E.G.: It felt like a big art piece. It felt like there was a lot of creativity thrown in, which I really appreciated. The choices, the mashups, where songs came in, how you changed songs—there was a lot of art happening when I watched the screening, which is what I liked about it. It had its own life.
Heidi: I'm so envious of the roller skating scene because I used to roller skate—that's how we had our parties when we were teenagers. I wish I'd been in that scene because I love roller skating. It took me right back. It was exactly what we used to do. That's how we had our parties, our twelfth or thirteenth or fifteenth birthdays we'd go roller skating, so it was right on the money.
Amy: A few of the actors didn't roller skate at all, so we spent a lot of time not only learning to skate well, but then to figure out that whole number. That took a lot of dedication. They were incredible, the cast.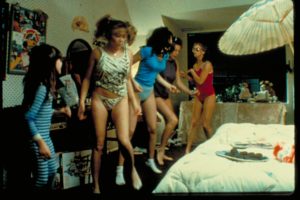 The new version is a new imagining of it. How does it translate to new audiences? 1983, when I was living it, seemed like a fantasy world at the time, too. Everything is candy-colored, glossy and glittery.
Amy: I feel like we heightened up the glossiness. That's part of the memory aspect, which we poke fun of ourselves in this 2020 version. "Mom, really? You were dancing on fountains in malls?" And she's like, "That's the way I remembered it." Playing into the slightly heightened memory of her experience in the early '80s and hoping that gives it a reason to be a musical. Many of my memories are through music. I thought that hopefully gave us a good entrée into both the musical element and the glossy element. And you also get real and edgy with Randy's world, which I thought Rachel did a really good job on it.
Heidi: It definitely got edgy with his world. I loved the whole thread of Alicia Silverstone playing Julie growing up. I loved that. I didn't quite know how that was going to work at first, because I didn't read the script. The actress who plays her daughter in present day gives it additional heart.
"Do what you really want, not what others think you want. That's basically the take away message for both films." — Heidi Holicker
Amy: That's something we came to. It wasn't in the first draft. Again, I think it just made sense, especially for me writing it. I'm a mom and it was like me telling my story. My story was slightly different. One of the reasons I wanted to write this is because I had a very similar experience that Julie did. I was in North Dallas, in shiny mall land, and I got introduced into the cool Deep Ellum punk scene. There was experimental theater and art, and it changed the course of my life. It wasn't just that I fell in love. I fell in love with art and creativity and life and music. That's one change I tried to bring to this, to give Julie something that she's passionate about, and that Randy could expand her world view and encourage her to follow her passion.
They decided to release the movie Mother's Day weekend—I think largely because of that framing device story of a mother telling a story to her daughter. I hope moms my age will show it to their teen/tween daughters and fess up about their shenanigans in the '80s.
Heidi: The actress who played her daughter did a really lovely job by not wanting to deal with the mom, and then all of a sudden they have blankets over them and they're drinking coffee and bonding. The same way Julie and Frederic Forrest's character had that lovely moment in our film when they were having that real conversation and that was really special moment between them. Do what you really want, not what others think you want. That's basically the take away message for both films.
The original was way ahead of its time with the choice of music, the messages, the girl power, the friendship, self-identification, independence. These are all the big topics that we're still talking about, but now we signal it a lot. Do you think about how you talked about these topics that young kids are dealing with now, thirty-seven years ago?
Heidi: It has a great message about love and commitment and finding your own path. Now we can look back on it and say, there was a message that we weren't aware of when we were in the middle of it. It's a beautiful film and we're so honored. I speak for all of us—and the guys too—we're so honored that we're beloved all these years later.
E.G.:  What you guys have done is taken a little piece out of that whole concept and made something new and fresh with it for now, which is just another testament to how Valley Girl keeps moving forward, to how cool something that's as good as it is can keep progressing. It just keeps sustaining over time. I'm excited to see how people respond. I'm excited to see something that's musical-based, too, because who doesn't love a musical?
Deborah: I think this is perfect timing for it to be coming out now. There's going to be more eyeballs seeing this musical than would have gone to the theater.
Amy: The remake has been twelve years in the making. I was nine months pregnant with my daughter and got the job, and she's eleven-and-a-half now, so I always know exactly how long it's been. It hit so many Hollywood roadblocks, one after the other, but it comes at this time when you feel like the world could really, truly use something like this. FL