Back in 2015, The Regrettes weren't thinking twice about squeezing into a van to tour. "We were honestly really lucky to have my dad's minivan," says singer Lydia Night. "A lot of bands use their day-to-day cars starting out." At the wheel was Night's dad, chauffeuring his then fourteen-year-old daughter and her band from gig to gig.
"My dad was willing to drive us around, so it was so different," she says. "I was a little kid, and the dynamics were different with the different band members at the time. It was just me experiencing so much for the first time—playing in different cities and a real tour. It just felt like my dad was taking me and my buddies on a little road trip."
The Regrettes have come a long way in terms of transport—they travel in a luxury touring van now. "There's so much room," jokes Night. "I can't complain."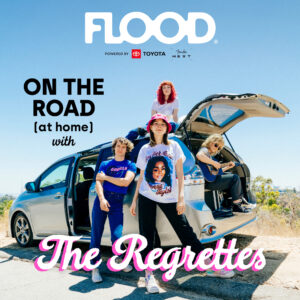 Earlier this year, the band—Night, along with guitarist Genessa Gariano, bassist Brooke Dickson, and drummer Drew Thomsen—played their last live show for the unforeseeable future at The Liquid Room in Tokyo before being sequestered in their respective homes in Los Angeles once the pandemic hit. COVID or not, The Regrettes are still in motion, albeit socially distanced. In July, the band released their first new single, "I Love Us," a follow-up to their second album, 2019's How Do You Love?
Peppered in more pop than perfunctory punk, "I Love Us" finds Night in a different space with her amatory lyrics. Recorded prior to lockdown, "I Love Us" is technically directed toward one person, the singer's partner, and reveals a more unabashed, mature take on relationships with Night crooning, "I hope one day I'll be on your list / Maybe things will make sense if we kiss / I got so good at lonely but how things can change."
"It's really about celebrating what two people create together, and what that relationship turns into when you're with someone you know you should be with," shares Night. "I think the best relationships are when you grow with that person and you learn from that person, and you create this new bond that you haven't had before."
Night, the band's primary songwriter, doesn't recall when exactly she wrote "I Love Us," since songs just come to her. "I have no idea when I wrote it," says Night. "But the song, to me, is really special, because I normally don't write love songs directly about a person. It's usually a breakup song to that person, or about a friendship or whatever."
Now in a relationship that is respectful and nurturing, Night is more subjective about love's real-life ups and downs, singing, "Every fight and every touch, I want it all."
"It's always unique and special with two people combining and coming together, whether that's a friendship or a partnership," says Night. "For me, it was really just celebrating my own partnership. It's such a beautiful, cool thing. We're able to communicate and get past things, and we've created this bond that is so powerful. I've never written from that perspective, because I don't think I've ever felt that strongly about a connection with someone."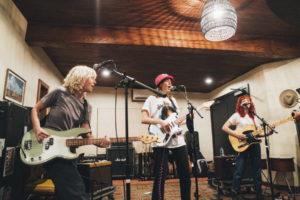 Sure, Night admits that she's had some pernicious relationships, but that's all in her past. "I was in some bad relationships, particularly one before I released 'Hey Now,' and it's just so funny how much you realize when you're with someone who treats you with respect," says Night. "It really shines a light on what's not OK, and that's so important."
Now, the the soon-to-be twenty-year-old (on October 13) Night admits she's grown up immensely in the past five years, personally and creatively, as she explores genres beyond The Regrettes' punk roots.
"I'm really letting myself be super free in my songwriting because I love pop music," says Night. "I love hip-hop. I love a lot of old school country. I've loved so many different genres for so long that I feel like I had to prove myself, especially being a young woman in music. I needed to prove that I'm cool to these dudes in bands, and that I write rock songs and stay in that lane."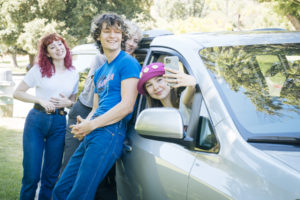 Everything was different when Night was younger, first forming a skeletal two-piece punk band before The Regrettes took form. Night says she always felt pressure to "prove herself" since the beginning, even spouting off "You're talkin' to me like a child / Hey I've got news, I'm not a little girl / And no, I won't give you a little twirl" on Feel Your Feelings Fool!'s "Seashore."
Still, The Regrettes' have moved on from the high school, coming-of-age rants about pimples, prickly legs, and stupid boys on that 2015 debut. "Feel Your Feelings Fool! was about having fun and being a kid just starting high school," recalls Night. "I was writing about high school drama and my crushes, with some of my personal feminism or politics…it was me learning about that and growing with that, which was cool to capture."
By the time How Do You Love? rolled around, Night was already in a different state, ruminating on more cautionary tales of toxic relationships. "There's a story being told there," says Night. "There's a few different relationships, but it really does follow the dynamic of one really awful one. Most of the songs on there, at least most of the negative ones, are about that person I was referring to before. It's a really emotional album for me, because even though some specific songs weren't written about him, the story is about him and it holds a really interesting and vulnerable spot for me."
Shifting more into pop was a natural progression for Night, who has always loved the genre. "Now, my natural gravitation has always been writing pop, which I've strayed away from in the past, but now I'm like, no one cares," she says. "I can bend whatever genres I want. It's about what I like to listen to, and that's how I should really base my songwriting."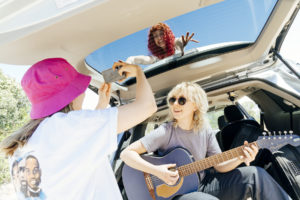 This realization has been completely freeing for Night. "I'm focusing purely on songs, not on "Does this fit the vibe?" or whatever, because who cares about that," she says. "It shouldn't matter, and music should come naturally. Knowing that has been really liberating."
For Night, Los Angeles is home, but she can't help but shake some of the mixed  emotions tied to The Regrettes beginnings. "It's a bittersweet thing for me, I think, because part of it is so special, being surrounded by so many cultures and so many of my friends who are in bands and going to my friends' shows and them coming to my shows. It's such a community of musicians. That is so special. The other side of it is that for me, growing up and playing shows made me feel like I had to prove something."
Before moving with her family to California, Night, born in New Orleans, got an early start singing when she was only two, belting out the Ramones' 1976 single "Beat on the Brat" during sound checks at her father's then-owned Shim Sham Club in the French Quarter. By the time she was seven, Night thrust herself into 1-2-3-4 punk-rock chants with her first band LILA (Little Independent Loving Artists).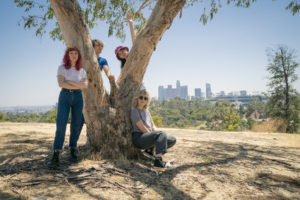 Moving on to The Regrettes at fourteen was a taller order. "I was always so much younger than a lot of bands and thought the older bands were really cool," says Night. "Being young and in those bands, I felt like I had to prove something, but maybe that's why I'm where I am now. That's not something anyone should have to feel, but at the same time, it's definitely not a black and white thing for me."
Still below the legal drinking age, Night says she's done seeking validation for her craft. "I don't blame it on LA or those bands," says Night. "I blame it on me being a fourteen-year-old girl. I look at that time where I was super invested in the LA music scene and in OC music and whatnot, and I was like, 'Why did I feel that way?' But maybe it's good to have had that push."
Even if the future of performing live—and some semblance of "normal" everyday life—is still uncertain surrounding COVID, Night can't help but feel like it's an exciting time for her personally, as a songwriter, and for The Regrettes. Remembering one of the last live shows she attended—Brockhampton at LA's Fonda Theatre—Night recently pulled it up on YouTube to rewatch and was in disbelief.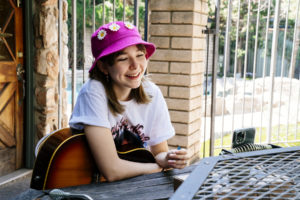 "I was watching it and I was like, 'How was I there?' How was this real? All of us were in a room together with so many people and that was OK?"
At the moment, the band is writing a third album remotely—and may release new material before then. After months in lockdown, The Regrettes recently returned to their minivan roots, packing into a Toyota Sienna for a brief reunion (after they all tested negative for COVID, of course). Traipsing around LA, the band had their very own day-in-the-life in LA, including a radio interview with Night, and stops at LA faves like Bloom & Plume Coffee, Elysian Park, and an overdue rehearsal session at Balboa Recording Studio.
"We were in the minivan and were just like, 'Wow, we should go back to this?" laughs Night, recounting the intimate reunion with the rest of the band. "It was fun being in a setting where we weren't at a show, and there wasn't a goal. It had been a few months since the last time we hung out, and it was just us doing our thing and being together."
She adds, "At first it was really trippy, because we are so used to living together for months and months on end for such a huge portion of our year—this is obviously the most time we've spent apart," says Night. "So seeing them in such a familiar setting…it didn't feel real. It felt like it was a total dream, but then it was like seeing siblings. Sometimes you don't see them for a year, but then you see them and it just clicks."
Now, five years in, everything is in place for band's next chapter, and there are clearly no regrets with The Regrettes. "I see us putting out the music that we want to put out and having fun," says Night. "That's what I keep going back to: What music is going to let us have the most fun and feel free with what we're doing? That's all I ever want to keep putting out for everyone." FL
For more from the day with The Regrettes, peruse the gallery below.