This article appears in FLOOD 11: The Action Issue. You can purchase the magazine here. All proceeds benefit NIVA (National Independent Venue Alliance) and their efforts to save independent venues across the United States. #SaveOurStages
---
During the run-up to Donald Trump's 2017 inauguration, the city government of the District of Columbia, anticipating throngs of protestors in attendance, released a list of items that would be banned from ticketed viewing areas on the U.S. Capitol grounds. Backpacks, weapons, and explosives were unsurprisingly listed, but signs, posters, and banners were also flagged as forbidden. For Aaron Huey, founder and Creative Director of Amplifier, a Seattle-based design lab dedicated to "amplifying the voices of grassroots movements through art and community engagement," these latter restrictions—which seemed purposely designed to squash displays of dissent—represented both a worrying development and a creative opportunity.
"It was the most restrictive inaugural route policy in history," recalls Huey, "but we figured out a hack: They couldn't stop people from carrying newspapers." In less than two weeks, Amplifier's "We the People" campaign raised 1.3 million dollars from nearly 23,000 Kickstarter backers, using the funding to purchase full-page ads featuring images by artists Shepard Fairey, Jessica Sabogal, and Ernesto Yerena in the pages of the January 20 edition of the Washington Post. These ads, which included such messages as "Defend Dignity" and "Protect Each Other," could then be carried and displayed in the restricted areas without fear of confiscation.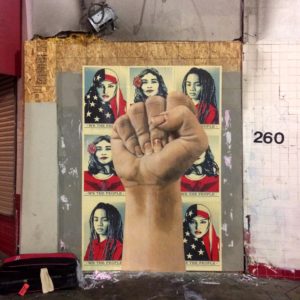 Such creative "space hacks" have always been part of Amplifier's modus operandi. "We're constantly in pursuit of ways to get our artwork and messages into new spaces," Huey says. "In the digital space, people put a lot of value in impressions, where someone sees something in their social media stream for maybe half a second. While we're also trying to get those impressions, I think that some of the most important work we do is the analog pieces that live on a teacher's classroom wall for the entire school year, or in the window of the coffee shop that you walk by every day. If you see a graphic every single day on your way to work that says, 'We're Greater Than Fear,' it lands in a different way. It sticks; you don't swipe past it. It just does more work, I think."
Huey's passion for finding new ways to disseminate thought-provoking combinations of image and message has its roots in his earlier career as a photojournalist. "I was working on really big stories," he recalls, "but the publications I was working for, it wasn't their job to do activism. So a lot of what people were telling me in the streets, things that I thought were some of the defining stories of our time, had no outlet. My dream was to find a way to break out of the structure of magazines and the limitations of editorial, to bypass publications and take it straight to where people couldn't choose to subscribe or not subscribe."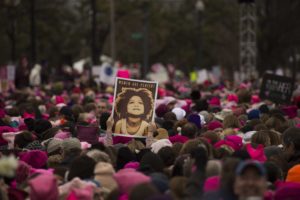 Huey initially worked with Fairey and Yerena to create artwork amplifying the voices of Indigenous communities, which was then made available to the public via free high-resolution downloads. "We wanted to make everything infinitely accessible and movable," Huey explains. "The free downloads also created some protection, because we needed plausible deniability for when that work showed up in illegal places."
"If you see a graphic every single day on your way to work that says, 'We're Greater Than Fear,' it lands in a different way. It sticks; you don't swipe past it. It just does more work, I think." —Aaron Huey
The project's potential to achieve a broader scope in artwork, messaging, and audience was almost immediately apparent. "It became very quickly obvious that if this was going to be movement work, it was not appropriate for it to be my lens, since I was not from these communities," Huey says. "It became a larger community conversation as artists came in and as it expanded in topics." Formally founded in the winter of 2014-2015, Amplifier now boasts a massive portfolio containing the work of thousands of artists—90 percent of whom are women, gender non-conforming, and/or BIPOC—speaking truth to power on subjects ranging from voting rights and economic justice to climate change and the COVID-19 pandemic.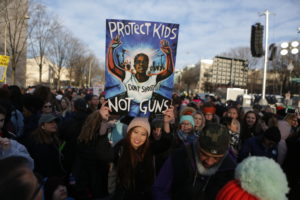 "Through our open calls to artists, we've been able to take a snapshot of artists' interpretations of these very specific moments in history that we've gone through over the past five years," says Cleo Barnett, Amplifier's Executive Director. "And they're completely unfiltered; it's a completely open platform where people can share whatever their thoughts and feelings are to this moment. So while we have around 150 artworks now added to our free downloads at Amplifier.org that people can use, we also have 10,000-plus artworks living in this archive on our website that really showcase how everyone was feeling in that moment, whether it was the Women's March, March for Our Lives, or now in this moment of COVID."
In all, Amplifier has launched over thirty art campaigns in collaboration with more than 65 grassroots movements, which have distributed over 10 million pieces of artwork across the U.S. But perhaps the most powerful and potentially influential of Amplifier's projects is its "We the Future" campaign, which highlights ten young leaders from ten different movements that are working for positive social change in America. The foundation provides free artwork and teaching tools related to those leaders and movements to over 20,000 educators around the country—including parents who are home-schooling their children—in an effort to inspire and engage the next generation of voters.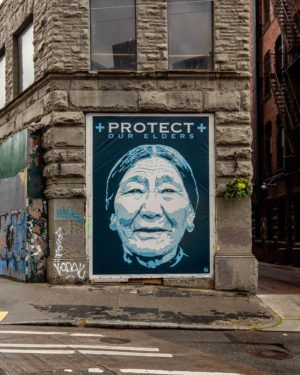 "When our 'We the People' artwork started showing up in schools," Barnett explains, "we got a lot of call-outs from parents, students, and teachers saying our artwork was stimulating all these conversations in the classroom, but there were no tools to guide the conversations in a healthy way. So when we launched 'We the Future,' it was really important for us to think through the tools that we're creating that go alongside the artwork. With this campaign, we send free artwork to classrooms, but we also send lesson plans and discussion guides created to drive the conversation one step further."
"When we launched 'We the Future,' it was really important for us to think through the tools that we're creating that go alongside the artwork. With this campaign, we send free artwork to classrooms, but we also send lesson plans and discussion guides created to drive the conversation one step further." —Cleo Barnett
As the November elections loom into view, Amplifier is taking a multi-pronged approach to voter education and outreach. "We're working with a combination of grassroots movements that are locally focused," says Barnett, "as well as national movements and distribution channels so that we can build campaigns locally, but then help distribute the work nationally. And we have very specific target audiences. We're working with one group on the youth vote, and then we're also working with other organizations to tap into older audiences. It's all very hyper-segmented."
Huey reveals that Amplifier has some new media experiments up its sleeve for November, as well. "We're in the process of designing an app and filters that will bring some of our art to life where the art can literally interact with you, and talk to you," he says. "I still believe that these like two-, three-, five-word hooks and powerful imagery are important to gather us under common symbols. But how do we go beyond that couple of words to a deeper level of conversation? Sometimes, I think that literally needs the human voice. So we're going to try to do that with this augmented reality." FL