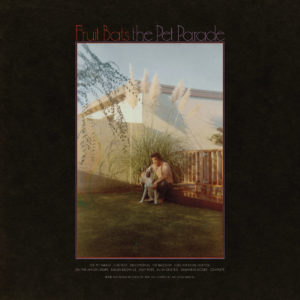 Fruit Bats
The Pet Parade
MERGE
7/10
What does it mean to truly be alive in this moment? Over the past two decades, Fruit Bats have worked to answer that question. On their latest record The Pet Parade, the band continues to entrance listeners with their dreamy, vintage vibrations. Pet Parade has a cinematic quality to it, almost as if you can picture each song within a movie. That comes as no surprise, as songwriter Eric D. Johnson says film is essential to his music. "I think most songwriters I like write within a world," Johnson said in a recent interview. "I've always been a film person, and I really wanted to be a filmmaker growing up. So I like to think of [my songs] as movies. They sort of exist as sequels and prequels to each other." 
While Fruit Bats have consistently undergone personnel changes, it's no secret what keeps the band alive and thriving: Johnson's incredible knack for incorporating a dreamy film style into his songwriting. As each song of The Pet Parade plays out, you can hear the intention behind every chord, every lyric. It's the signature Fruit Bats style we have come to love, while also making us crave watching an indie movie about a high school kid finding themselves in the world. Johnson also revealed in that interview that there really was a pet parade that inspired the album's title—when he was a child he would go to his grandmother's house in Illinois, and go to a parade where people dressed up as pets. If that doesn't sound like the epitome of an indie movie, I don't know what does. 
The album opens with the title track and leads us to question what the purpose of it all is. As you listen through each song on the album, you see the self-discovery and journey of figuring out your truest purpose in life. Through "Discovering" to "All in One Go" the journey is laid out before us of the strength it takes to discover yourself, as we all just float along. 
As you walk away from this record, Fruit Bats leave you feeling refreshed and full of life—ready to take on anything and everything that comes your way. Maybe you still aren't sure what your purpose is in this waking world, but with The Pet Parade you may be finally on your way to finding it.