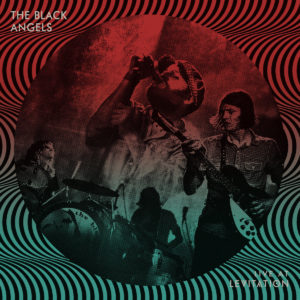 The Black Angels
Live at Levitation
THE REVERBERATION SOCIETY
7/10
Live at Levitation was recorded between 2010 and 2012, back when the festival was known as the Austin Psych Fest and The Black Angels were still in their early days as a psych-rock band. Like a memoir, Levitation tells the story of The Black Angels on the rise. These performances, encased in amber, reveal musical strengths evident even in the early days of the group—the wild vocals of Alex Maas, the drone guitar riffs of Christian Bland, and the ferocious drumming of Stephanie Bailey indicate the band's potential at that moment, and with the benefit of hindsight, underscore the early promises the outfit have now fulfilled. 
The album opens with the dark, dissonant, and gritty "Manipulation," which captures and conveys the exuberance and rush of feelings that come from experiencing live music. The performance features sitarist Rishi Dhir (Elephant Stone), whose playing counterbalances low, heavy, and psychedelic guitar riffs from Bland. Maas' vocals vary from sounding deep, to high and wild. There's something about his shouts from a live event that translates fantastically on this album. The song is at times surreal, creating a sludgy instrumental effect.  
"Better Off Alone" changes up the energy of the previous track, recreating the feeling of being at a concert by concocting a balanced mood and atmosphere of sound on record. "Surf City" features some truly top-notch drumming from Bailey, on top of her mesmerizing shaker percussion. The beats complement Maas' vocals as he sings, "I'm feelin' good, I feel alright." The song exemplifies the grittiness of The Black Angels in concert and on recordings. "You on the Run" begins with Bland's fantastic, dissonant guitar licks. Joined by a howling Maas, the experimental and noise rock vibes, particularly during the solo, are powerful. There's a lot of groove to go around, too. 
The sinister surf-rock vibes on "Empire" are powerful, particularly with the guitar playing. The fierce drumming and vocals create an intriguing hook with a suspenseful atmosphere. "Young Men Dead" is a tried and true Black Angels hit that has been a classic since they burst on the scene. The band's signature drone effects are present in spades here, and in terms of finales, the Austin rockers offer a climactic conclusion to remember. 
With the release of Live at Levitation, The Black Angels treat listeners to an incredible live performance that sounds as slick and awesome on record as they did when they took to the stage to record it. It certainly makes the case that The Black Angels are a live band. Levitation is a fine addition to their discography.