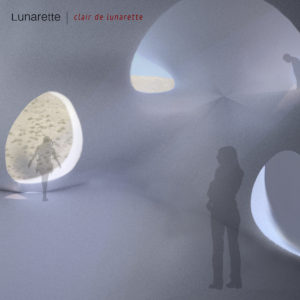 Lunarette
Clair de Lunarette
TOPSHELF/BABE CITY
7/10
When NYC dream pop darlings Gingerlys disbanded in 2018, it seemed like the end for the underground luminaries. The Jackie Mendoza–fronted quintet's run only lasted long enough to produce an EP and one full-length, but that's all it took for the band to amass a loyal following. Just as memories of Gingerlys began to fade into the quiltwork of DIY shows past, four members of the act returned with a new project under the moniker Lunarette. On their debut EP Clair de Lunarette, Mendoza, Brian Alvarez, Kevin Doxsey, and Colin O'Neill serve up some of their breeziest work to date. Released at the dawn of a verdant, hopeful spring, these songs shimmer with the golden glow of nostalgia.
Clocking in at under 20 minutes, Lunarette carries on Gingerlys' tradition of charming brevity. Shuffling opener "Austin St." recalls the work of Slowdive, were the gloomy shoegazers to make a record on a Carribean island. "Lucky One"'s driving synth basses evoke the glamour of Manhattan's '80s art scene. Channeling Debbie Harry, Mendoza showcases some of her coyest vocals to date, while a propulsive disco groove recalls the feeling of speeding a racecar in an arcade game. Best of all, "Mercury"'s churning guitars ride atop a crash cymbal–led drum machine beat. As Mendoza and O'Neill harmonize a bleary chorus, a slightly detuned riff soars in the background. As much as the track brings to mind Lunarette's prior incarnation, it harkens bands like Cleaners From Venus, Dehd, and early Beach Fossils.
Enlisting Connor Hanwick—a multi-instrumentalist who's played in The Drums, produced acts like The Ruby Suns, and soundtracked Marc Jacobs commercials—to helm the boards, Lunarette's debut may be sonically different from Gingerlys, but it touts a starkly similar ethos. While the band's previous form turned the energy up to 11, Lunarette allows its music more room to breathe. However, both of the groups' endeavors overflow with pensive, wistful emotion. It's not hard to imagine Clair de Lunarette coming out as the third Gingerlys record. No matter how they package their music, the quartet have a commendable knack for writing songs that beg to be played while watching a late-summer sunset at your favorite local spot.
Much like Gingerlys' self-titled 2017 album, Clair de Lunarette arrived as a split release between Topshelf and Babe City Records. The jangly instrumentals that defined Lunarette in their past life have been replaced with warm, retro synthesizers and sequenced percussion, but even their new musical palette can't distract from the group's distinctive chemistry. "Perhaps you need some time," Lunarette's singers drone in a minor key deadpan on the closing track "Penny Connection." The crew's reintroduction to the world asks to borrow your attention for fewer minutes than it takes to vacuum your apartment, but the EP exudes a compelling, familiar ardor.