Music can often be a reflection of humanity's current state, and there's no genre that does it in a more honest way than hip-hop. There's a lot to rap about these days—police brutality, technology and the internet having more of a role in our everyday lives, the wealth gap, gentrification, the surveillance state, the COVID-19 pandemic that we've been dealing with for over a year now. Edmonton native and current Toronto resident Rollie Pemberton has been delving into topics like these for over 15 years under the moniker Cadence Weapon. His fifth album, Parallel World—due out on April 30 via eOne Music—ups the ante of his craft in numerous ways. He's more direct and intense with his lyrics, while dishing them out in an unapologetic fashion. 
We recently had a talk about how the album deconstructs our society, a music video he put out with race cars, being a former Edmonton poet laureate, and working on a bunch of collaborations. 
Do you view this album as a reaction to the times we're in, or is it something you've been wanting to make for a long time?
I would say that it's a little bit of both. I feel like all my music has a sociopolitical focus, but I feel like I really amped it up on this record. Especially considering being heavily influenced by last summer's George Floyd protests and seeing the institutional decline of all these entities that the world just kind of ignored and took for granted. I've spent a lot of the past year deconstructing the world around me.
You put out a music video for the track "Senna" that was mostly shot at a speedway with a couple sports cars. Where exactly was the music video made, and how did you go about getting the cars and the red racing suit? 
We shot the music video at a place called Sunset Speedway in a small town called Innisfil located in Ontario. The video was directed by a guy named Scott Pilgrim and it was produced by a company called Pique. Basically Scott rented the racing suits and he got all of these patches made, and if you look closely—and you're from Montreal, where I used to live—you'll notice that some of the businesses are famous institutions based there. One of them is a shout out to a restaurant called Pumpui.
We got the cars because Jacques Greene, who collaborated on the track with me, is a big car aficionado and he has some homies that he knows off of Instagram who had access to these Porsches, so we decided to take them out for a spin on the speedway. It was also pretty interesting because it was in between lockdowns in November—it felt like a race against time to shoot the video and get it all done, so I'm really happy with how it turned out. 
It's a cool video, and you have so many things at play in it while paying tribute to the late Formula One driver Ayrton Senna. How did you come across his story? Have you always been a fan of racing?
I really found out about Ayrton Senna from the documentary about him that came out in 2010 called Senna. I was blown away by that film, it resonated with me a lot with the idea of him being such a leader and such a maverick while having this certain spirit about him. I was surprised that no one had ever made a rap song that referenced him before, and it was something that just came out of the studio. It wasn't like I went into the studio with Jacques to be like, "Hey, we're going to make a song about this race car driver today," but it's what ended up happening. He's definitely a legend, for sure.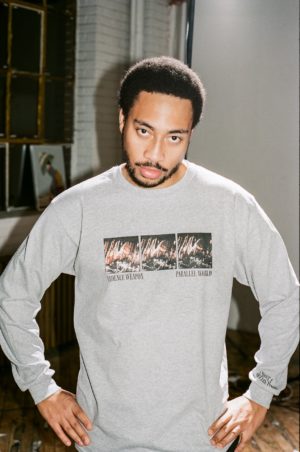 You're the 2009 poet laureate of your home city of Edmonton—how did you get that title?
I became the poet laureate of Edmonton after being nominated by a filmmaker named Trevor Anderson. I was well known in Edmonton from being a musician—I was renowned for my lyrics and I got the opportunity to show some poetry that I'd written. I have a background in journalism and all kinds of writing, so they liked what they heard and I ended up receiving the position for two years. It was an amazing period in my life because I think it was a big surprise for a lot of people in Canada, and at that time rap wasn't appreciated on the same level that it is today. We weren't having Drake on the radio every five minutes back then, it was just a different time. Some people were a little skeptical of a rapper being named as a poet laureate, but it was something that really helped push people's perception. 
When it comes to living in Edmonton versus living in Montreal or Toronto, are there any major differences between the three cities?
There's definitely huge differences between each of those cities. I would say Edmonton has a very close knit creative community that's super small, but some of the best artists have come from there. Artists like Mac DeMarco, Purity Ring, and Faith Healer have come out of there, along with a bunch of others that you wouldn't really know. Edmonton is definitely a place where it's very working class and scrappy, but it has a really great arts scene there.
Comparably, when I moved to Montreal it was like this artistic mecca where every creative person from every town across Canada converges. I feel like that happened with me when I was living there—my neighbors were Blue Hawaii, Grimes, and all of these different artists. It's very ingrained in Montreal that the arts are important on every level. The government supports the arts. Lots of grants go to artists, and when it comes to the nightlife people know how to party there in a way that it's a lifestyle. It's very intoxicating to be there, I love Montreal. 
In Toronto, where I live now, I would say that it's definitely competitive. People from there will say that it's like New York City or something, but it's more like Detroit. It's a great city. It's a really good place for rap and it has a great African and Caribbean diaspora. I love how multicultural it is, and it's been a really good place to live because I'm closer to the Canadian music industry, which is based in Toronto. It's been nice to be here. 
What are your plans after Parallel World is released? I know you collaborated with Alice Ivy on the track "Sunrise" that came out last year, so do you plan on doing more collaborations like that or do you plan on laying low until you can hopefully tour in a post-pandemic world later in the fall?
I really want to be doing some shows to support this album. Hopefully I'll be playing some festivals this summer, I'm currently looking into it. I've been recording some collaborations and I put out a song with The Zolas called "Another Dimension" last month. I've done some tracks with a few other bands and artists, so there's definitely going to be a lot of collaborating in the future. I got some other music I'm putting out with Jacques Greene that's pretty much done, and I've also written a book. 
Wow.
Yeah, during the pandemic I've been writing a book about my life and it's going to be coming out next year. It's called Bedroom Rapper and I'm really excited about it. FL