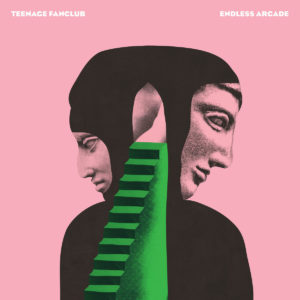 Teenage Fanclub
Endless Arcade
MERGE/PEMA
7/10
Endless Arcade is a fit title for Teenage Fanclub's 11th album and first studio effort since the 2018 departure of bassist Gerard Love. After the split with Love following a sprint of 2018 shows in which Teenage Fanclub performed five recently reissued albums they recorded for Creation Records during the '90s, the band reconstituted itself in early 2019 with longtime bandmate Dave McGowan. McGowan switched over from guitar/keyboards to fill in the bass position vacated by Love, and Euros Childs joined the group on keys.
The Scottish outfit faced their fair share of bumps in the career path, but still managed to deliver sunny power-pop tracks at an unrushed pace since the early 1990s. Where they once oddly traded blows as AOTY contenders with Nirvana for their 1991 Creation Records breakout, Bandwagonesque, the current band is deeper in the Big Star pocket than before, even after the lineup musical chairs since 2016's Here.
Norman Blake (vocals/guitars) reportedly kicked off the recording sessions with "I'm More Inclined," a shuffling power-pop track that jangles in the sunshine even if the writing on the wall mentions heartache and failing to find religion. Endless Arcade is an agreeable, yet predictable, verse-chorus rock album with plenty of pop accoutrements throughout its compact, 44-minute runtime. New keyboardist Childs adds to much of the appeal for "The Sun Won't Shine on Me" and "Living with You." Harpsichord and '70s-style synth bring a nostalgic bluster to several tracks.
Dreamy power-pop opener "Home" is reminiscent of "The Concept," a classic Teenage Fanclub track from arguably their best effort Bandwagonesque, but the seven-minute single really hits its stride when Raymond McGinley (vocals, lead guitar) stretches his solo out in that classic '70s rockstar style. There's a thick patina of wistfulness throughout Endless Arcade that can drag it down when compared against the recent discography, but there's enough sweetness to each bite to draw you in and want to stay awhile once more.