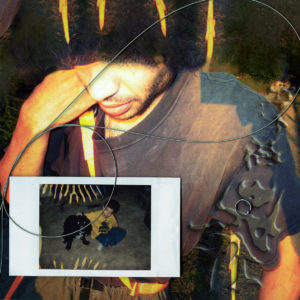 Body Meat
Year of the Orc
SELF-RELEASED
7/10
Using a hotwired rig of electronic percussion and MIDI to lay the framework for Auto-Tuned vocals, Christopher Taylor's music under the moniker Body Meat shouts and whispers, quivers and quakes. Body Meat's objective has always been to push the boundaries of pop, and Taylor's latest EP, Year of the Orc, is the project's most extreme endeavor to date. It sounds like scratching the shit out of a Brockhampton record and then throwing the maimed LP on your turntable for a spin. Borrowing from a wide array of global rhythmic influences, the record largely defies convention, but brings to mind Animal Collective's 2012 album Centipede Hz.
An art school dropout raised in a trailer in rural Maryland, Taylor bounced around the American West for a few years before settling in Philadelphia. Body Meat came to life in the same gritty studios as those occupied by groundbreaking artists like Spirit of the Beehive and Pleasure Systems. While Body Meat's fluid synthesis exists in the same vein as those acts, Taylor's gurgling production feels as indebted to producers like Dean Blunt and Sporting Life as it does to Alex G. The clattering drum machines and tub-like tom sounds on "This Is Something" ebb and flow, going hard in brief spurts before they explode into oblivion. Opening track "Twigs"'s sparse-but-pounding percussion and triumphant air horns disguise the frantic hook: "I don't fuck, I don't bleed / I'm alright, I don't fake when I talk / When I'm here, I'm alright." Belted over inexplicable sounds that bring to mind fireworks going off in outer space, the track's verve sets the scene for an EP that thrums with buoyant singularity.
While Year of the Orc's vocals are largely mangled by pitch shifting and discombobulating effects, the lyrical moments on the EP that shine through are riddled with wide-eyed paranoia. Where Body Meat's early efforts grappled with love and family, these tracks have a jittery neurosis that feels as tweaky as the record's skittering instrumentals. "All that money made me anxious," Taylor sings on standout track "4700" before bursting into the chorus: "Pull me out the ground fightin' / I was made to be like lightnin' / I don't wanna die like this." The song's funky, colorful composition wouldn't be out of place if played at a smokey warehouse party, but Taylor's lyricism feels like the product of a world plunged into surreal chaos.
At its best, Year of the Orc sounds like an early Chance the Rapper mixtape jolted by the shock of a defibrillator. As indebted to radio rap as it is to beloved experimentalists like The Books, Body Meat increasingly proves to be a project that can captivate the energy in any room. On "Ghost," swelling pads and monstrous bass sounds paint a backdrop for a feature from beloved multi-instrumentalist Laraaji. Taylor may be just half a decade into putting out music, but he's already broken enough ground to hold his own alongside one of the most beloved, enduring avant-garde musicians of our time. Body Meat's genre-spanning works flaunt a high art attitude, but listening to Year of the Orc is like putting Mentos in Diet Coke. The record's eruption is as fun as it is mesmerizing.