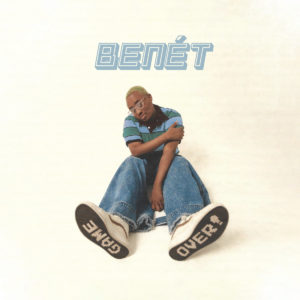 Benét
Game Over!
BAYONET
7/10
Benét's debut EP Game Over! does an incredible job of expressing painfully real emotions through a lens of romantic interest. I like to think of a debut EP as a glimpse into what's to come from the artist, and a good EP generally tells a story with enough substance to satisfy, but hides enough to keep you craving more. Game Over! does just that. 
At its core, the EP is about anxiety. On opener "Ready," Benét sings about being prepared for the person they like to ask them out. It's that inner plea that we've all experienced—we could be the one to do it, but we want them to make the first move. The lyrics stir anticipation while the music pumps lightly, giving off a dancey energy. Benét's deep voice during the verses, in contrast to the repeating harmonial vocals during the chorus, gives the song even more layers. Their voice is calming, and it's the chorus and the beats during that chorus that create the anticipation. From the first song, Benét does a great job of using the instrumentals in their music to better capture the feeling they want to convey.
"Shoot Your Shot" and "Plz" continue to show the anxiety and pain first conveyed in "Ready." The former builds on the inspiration of dance music throughout the EP, uniquely combining these sounds with very tender emotions. It's an uncommon pairing, but it works well on this EP. "Shoot Your Shot" also builds on the emotional story aspect—in the song, Benét questions whether this person is even interested in them or not, even though all signs point to yes. Meanwhile, on "Plz," the relationship has taken a turn, the shot has hit its mark, but now Benét is experiencing the new anxiety of begging someone to open up with them. Benét uses harmonies on the track and throughout the EP to contrast their slow, low voice from the pulsing beats.
Closer "Are You Real?" examines the satisfaction and, again, anxiety that Benét feels now that they're with this person. It's fulfilling and worrisome for them to be with this amazing someone—the song, however, has a more upbeat feeling to it. Benét sings at a higher range, complementing the music instead of contrasting with it. It gives "Are You Real?" a feeling of finality that the rest of the EP doesn't have. All in all, Game Over! examines deep feelings in a different light than what you may expect—and with precision. This, combined with the relatability of confused emotions, makes for an exceptional debut.