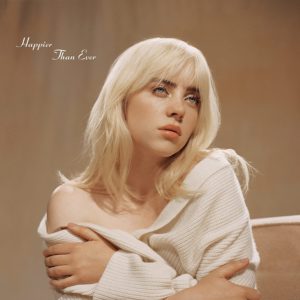 Billie Eilish
Happier Than Ever
POLYDOR
7/10
There's something charming about Billie Eilish's utter horror at the Grammys as her debut album When We All Fall Asleep, Where Do We Go? swept many of the major categories in 2020, including Album of the Year. While the few artists who attain her lofty status either embrace the acclaim or feign modesty, Eilish seems genuinely put off by all the attention, unable to enjoy her success because it came accompanied with too many eyeballs, too many voices undercutting her.
Happier Than Ever, Eilish's sophomore album, looks inward to reckon with the aftershocks of her breakneck ascent—the way it has poked at and sharpened her insecurities, scrambled her day-to-day life, and exerted strain on her relationships and mental health. As far as sophomore albums go—from Room on Fire retread to the thorny provocation of MGMT's Congratulations—Happier Than Ever falls on the more difficult end of the spectrum. Which isn't to say that this is an impenetrable album; Eilish's gift for melody and the production from her brother Finneas are as undeniable as ever. It does, however, feel like a calculated pivot; each single and nearly every other song broadcasts her disinterest in churning out another "Bad Guy" just for the sake of an easy hit. She's much more interested in what comes organically, even when it brings the album's pace to a crawl. It's reactive, moody, and often pretty lonely.
It's also markedly more mature than its predecessor and just as compelling. The whole "single sounds better in the context of the album" cliché has rarely been truer than here; where "Lost Cause" once felt sluggish, it now sounds breezy and sensual. "Your Power" and "my future" seem similarly improved. And that isn't because the songs around them are subpar; despite a mild dip in its second half around the time "Not My Responsibility" spells out what her other lyrics have been saying more nimbly, Happier Than Ever is a consistently strong record. It's strikingly candid in nature and immersive in structure and sonic construction. 
The album is best when it toys with our expectations; the halting finale on "I Didn't Change My Number" recalls the most surprising flourishes of When We All Fall Asleep, as does the second-half catharsis of the title track. "Oxytocin" nods at the sharp-edged propulsion of her early singles just as the listener becomes convinced that sort of thing won't be arriving. And despite early reports that the album is a dour slog, Eilish's sense of humor is as winning as ever—her writing on "I Didn't Change My Number" and "NDA" is barbed and sly. Happier Than Ever, good as it is, is curiously self-defeating; it spends its duration bemoaning the suffocating trappings of Eilish's newfound fame while also ensuring that she's going to have to deal with the plaudits and attention for at least a little while longer.