Supergrass are a peculiar band. The Oxford trio released their debut album I Should Coco in 1995 at the height of Britpop and Cool Britannia, and their biggest hit "Alright" propelled them into the mainstream with mind-numbing speed. Supergrass were never the smartest, sexiest, loudest, or most popular members of the Britpop movement, but they were staggeringly consistent, with all six albums possessing a distinct identity—from the speedy punk-pop flair of their debut to the summery, psych-tinged rock of In It for the Money, or the grief-stricken balladry of Road to Rouen, they always flipped the script.
While the happy-go-lucky "Alright" and its famously waggish music video are what often come to mind for the average person, Supergrass' adept musicianship and interesting albums shouldn't be forgotten. Frontman Gaz Coombes was one of the most formidable guitarists of his time, and the group's second album, In It for the Money, could easily be deemed the most underrated of all Britpop records. Because it had been out of print since its release in 1997, that album became highly sought after until last month, when the band released a remastered version on CD and vinyl along with rarities from that period.
Supergrass split up in 2010, and in the years since, Coombes went solo, bassist Mick Quinn joined Swervedriver, and drummer Danny Goffey released music as Vangoffey. But in late 2019, they played their first shows together in a decade, leading to a formal Supergrass reunion tour a year later, which was cut short by the pandemic. They also released a career-spanning box set titled The Strange Ones and a collection of recordings from their reunion shows titled Live on Other Planets. Now they're back playing open-air festivals and clubs again, eager to celebrate a dynamic, singular back catalogue. To celebrate the occasion, we talked to the band about their first rehearsals in a decade, the prospect of new material, the making of In It for the Money, and more.
People have a lot of opinions about reunions and how they affect a band's legacy. Did the band discuss those things together?
Gaz Coombes: Yeah, sort of. When we had the first phone conversations together about it, I definitely wanted to keep it just as a live thing. In fact, I was imagining it quite short—literally three concerts and a box set or something. But we chatted more, and once you get going, it's good to explore the festival season and all those things. All the way through, it's been about performing live. I just think it'd be a bit weird to try and get back in the studio. I don't know if everything that split the band has been resolved. I mean, fuck it, it doesn't need to be, necessarily, it's just these things come to an end, and that's the way I saw it. It feels a bit weird to explore new material, but then sometimes we do a great gig and get really hammered afterward and start going, "We could do that, man! It would be mental!" And then we wake up the next day and go, "No, it's good. It's OK as it is." It's just about enjoying it. 
"All the way through, it's been about performing live. I just think it'd be a bit weird to try and get back in the studio. I don't know if everything that split the band has been resolved. I mean, fuck it, it doesn't need to be, necessarily." — Gaz Coombes
What was it like getting reacquainted with the songs for the first time in so long and trying to build up that musical chemistry?
GC: We were all curious how the dynamics would be in rehearsal. It's tricky, the first couple albums—they're teenagers playing punk rock and roll. The thing is, you always want to be able to deliver it with real intensity, purity, and honesty. So that was definitely something, like, "How's it going to feel when we play 'Caught by the Fuzz' or 'Alright?'" "Fuzz" was one of the first we tried when we got into rehearsals, and it was quite mad without being too corny about it. There was a chemistry that immediately hit, and it's just the feeling we all had as we started playing. You realize where Danny's fills hit, and it's really different to any genre I've been playing with for the last 10 years since we split, and you just feel that again. When we did the first vibey club show to try it out on stage, it was pretty amazing—just how tight and good it sounded. I think we've hit a good point. At this age, we can still deliver the energy that we did back in the day with a bit of added professionalism, which is cool.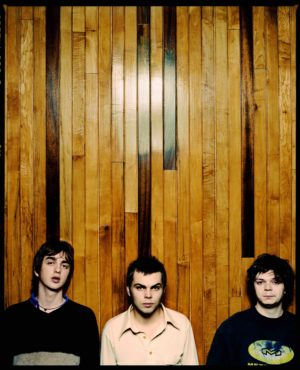 You just reissued your second album. What do you attribute to its funkier, very-'70s sound? How would you describe that musical shift?
GC: It was just a slight change in songwriting. There were moments like "Sun Hits the Sky" or "Richard III" that if they had been, like, four BPM faster, they could've easily worked on the first record. There was definitely still some writing that was in that zone. I think I Should Coco sounded the way it did less because of any influences, but more the environment that we wrote it in. When we started playing in a small bedroom, Danny's cymbals were so loud that I turned my guitar up, and then Mick would turn his bass up, and I'd fill in lots of gaps because there were only three of us. I felt like that became our sound. People would say we sounded like Buzzcocks and the late '70s, but we didn't really listen to that much punk. I think we were probably more into Bowie or the Beatles. So maybe the second record brought out more Bowie-ness in our creativity, just wanting to explore more stuff. I don't really know how that musical change happened. Just life experiences and that American tour, being away for seven weeks on a tour bus, you grow up a lot.
"You get some massively genuine Supergrass fans in America. I prefer it, to be honest, because it hasn't got that cachet of 'Why aren't you playing all that knees-up Britpop?'" — Mick Quinn
Do you have memories of being out on the water outside Sawmills Studios when you recorded that album?
Mick Quinn: Most of the time we were in the studio working our heads off, but if we did get time off, you could. It's such a beautiful area around there. You're at least four-and-a-half hours from London, so anybody from the record company or management just can't be bothered to come down, which means you're isolated. We were on an estuary that leads down to the sea. It's a very ancient smugglers' area. [Our co-producer] John Cornfield grew up around Cornwall. He's got a massively broad Cornish accent, and we can't understand him half the time. It feels like it's dropped out of the 17th century, and you've got all these smugglers' pubs and stuff. I remember they used to have kayaks at the studio. You could take them out on the estuary and try and not get run over by cargo ships.
What was it like briefly recording outside the studio for that album? 
MQ: We gave that a go, but sonically, it didn't work very well. A lot of the sound of Sawmills is actually the reflections off the walls, so once you get outside, they disappear. But I think "Hollow Little Reign" survived from there, and I think "Tonight" we recorded outside. We were just wildly experimenting, but it probably took about a day to set up all the gear outside and build a makeshift tent over the drum kit in case it rained, and then get all the mic positions. Then, we brought all the faders up a bit. It didn't sound that different. It was a bit of a waste of time, but you have to do these things. You have to experience it. 
You were set to play reunion dates in New York and LA in 2020, but they were cancelled due to the pandemic. Can you describe Supergrass' long relationship with the U.S.?
MQ: It's always been an underground thing. You get some massively genuine Supergrass fans in America. I prefer it, to be honest, because it hasn't got that cachet of "'Alright' is your biggest song, and why aren't you playing all that knees-up Britpop?" I think we've got a wider fanbase of people who are interested in the music and could see more widely what we were doing. We've always had a good reaction there. You get a lot of bands coming up to you afterward saying, "I really enjoyed that." That's the most flattering for me. Foo Fighters were huge fans of ours, and there's definitely differences in how bands approach music in America and England. American musicians seem to be much more precise, and if they hit a bum note, they almost want to commit suicide. I think that used to fascinate bands like Foo Fighters. They would watch someone like Danny, who used to play completely erratically, and speed up and slow down, and do these drum rolls like he was going to fall down the stairs, but it still worked. They could never work out how he did it, and it used to intrigue them so much. FL