When Deirdre O'Donoghue died on January 21, 2001, she left behind a deep archive of KCRW interviews and performances, offering a glimpse into some of most influential independent artists throughout the 1980s. To honor the longtime LA DJ who revolutionized live performance on the radio, and who brought attention to the underground artists and college rock of the era, KCRW is releasing the first episode of "Bent by Nature: Deirdre O'Donoghue and the Lost SNAP! Archives," a 10-part audio documentary series, next Thursday, October 28.
Hosted by Tricia Halloran of KCRW's "Brave New World," the series will feature interviews with artists recollecting their time on the DJ's original radio series "SNAP!" (an acronym for "Saturday Night Avant Pop"), including Julian Cope, Michael Stipe, Henry Rollins, Syd Straw, Glass Eye's Brian Beattie and Kathy McCarty, Dave Newton of Mighty Lemon Drop, David Lowery of Camper Van Beethoven, and many of the other artists who squeezed into her studio to perform on her late night show.
"Deirdre was a huge influence not only on what I listened to, but how I appreciated music," says Henry Rollins, who's featured on the final episode of the series with a special essay he wrote for O'Donoghue. "The degree to which she opened my mind to music I might not have ever found on my own is profound. Now and then, I get an email from someone telling me they like my show on KCRW. I thank them but it's just what Deirdre taught me. I'm trying to be like her."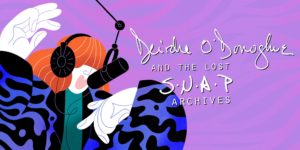 Born in 1948, O'Donoghue started working at WBCN in Boston in 1974 before joining KCRW-FM in 1980. For some time, O'Donoghue was also working simultaneously at KCRW and KMET—the latter is where she launched the Sunday morning program "Breakfast with The Beatles." Throughout her tenure at KCRW, O'Donoghue was known for supporting then-unknown LA artists like Dream Syndicate, Concrete Blonde, and Downy Mildew, while welcoming more established artists like Robyn Hitchcock, Graham Parker, Tom Waits, and Bob Mould. "No categories, no definitions, no pigeonholes," said O'Donoghue in January 1984, "just combinations of things that seem to go together."
Produced by KCRW podcast hosts Bob Carlson of "UnFictional," who also served as the house engineer for many of O'Donoghue's original sessions, and Myke Dodge Weiskopf of "Lost Notes," both spent the past two years transferring and restoring old reel-to-reel tapes and cassettes within the O'Donogue archives for the series. In addition to the series, KCRW will also launch an online archive featuring more unreleased interviews and in-studio performances pulled from newly remastered recordings spanning O'Donoghue's career. 
Check out the audio teaser for the series here, and prep for it with a playlist KCRW threw together compiling music from the series.