This article appears in FLOOD 12: The Los Angeles Issue. You can purchase this special 232-page print edition celebrating the people, places, music and art of LA here.
"A typewriter is a thing," says Vanesssa Ragland, explaining the mascot of Dynasty Typewriter, the comedy venue she co-owns with Jamie Flam. "But it's used to tell stories and to transport and to take you into other worlds. One typewriter can yield endless different realities." Flam's family owned a typewriter factory in the 1920s, which is where the "dynasty" part comes in. "It's sort of timeless," says Ragland of the venue's name. "There's definitely a nostalgic feel."
The first time I visit The Hayworth, the Westlake theater that houses Dynasty Typewriter, an employee is changing the marquee outside. The prestigious industry festival/showcase Just For Laughs has recently ended, and Roy Wood Jr., the popular stand-up and Daily Show correspondent, is soon to arrive. This more or less sums up the space Dynasty occupies in the comedy landscape: big enough to attract a "name," small enough for up-and-comers, and cool enough for, well, this magazine.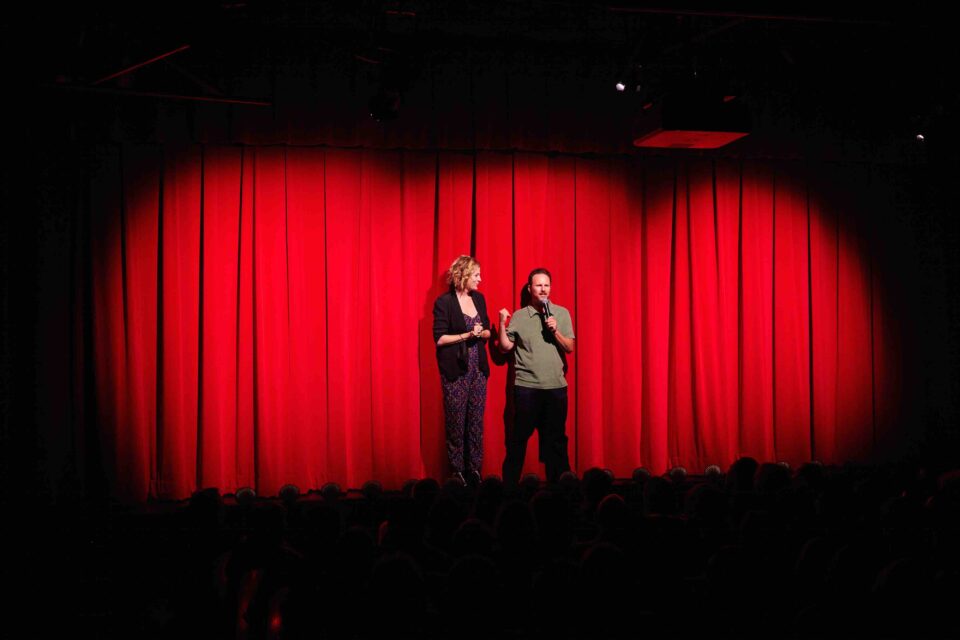 It doesn't look like a regular comedy club. There's no brick wall to lean against or little tables for the audience's cocktails. It's a true theater, with 190 plush velvet seats in rows, each bearing the name of either a donor or someone the founders "just like." (That night, I sit in "Guy Branum.") The deep stage is decorated with vintage furniture, courtesy of Flam's family, and vintage typewriters donated by a fan. They're currently working on a liquor license; in the meantime, patrons can purchase popcorn in the lobby, with or without candy mixed in.
Reggie Watts, who just finished a residency at Dynasty, wants to make sure I've tried the popcorn. "We ordered a popcorn machine very early on," Ragland tells me. "It was really like kids realizing they got to make the decisions." "We really hang out around that popcorn," agrees Flam. Adds Ragland, "We created a world around that popcorn."
"It's been part of our ethos to be the most artist-friendly venue on the planet."

— Jamie Flam
And what a particular world it is. There are more typewriters in the lobby, some topped with animal masks, a record player, and—on a corner table—a jigsaw puzzle of a world map. Backstage, every inch of the walls is covered with maps, tapestries, show posters, and vintage postcards. The office is crammed with fake candles and plants, incense, crystals, and a ceramic cookie jar. In the green room, there's a mini-fridge stocked with cold beverages, plus faded rugs and comfy floor pillows; half the lamps contain colored light bulbs. Hacks star and tonight's closer Hannah Einbinder calls it "one of the most beautiful green rooms I've ever seen."
It would all be, frankly, a bit twee, were it not the product of genuine thought and care from Ragland and Flam, who have clearly poured their hearts into the place. Clubs on "The Strip" are adorned with headshots of famous alums; indie improv shacks are intentionally messy, covered in "funny" graffiti from bored team members. But at Dynasty Typewriter, every area is decorated with care and with artists in mind. On Halloweens past, they've turned the space into "Dynastyland," sort of a haunted mansion of delights with themed rooms containing magicians and Tarot readers, and a smoking area soundtracked by the music of Burt Bacharach. Ragland and Flam see Dynasty Typewriter as a combination of The Magic Castle and Largo. Reggie Watts calls it "a more elegant Muppet Show."
"This is a place where people who love comedy flock. They've embraced alternative talent in a way that I think other venues don't."

— Hannah Einbinder
Oh, and there's a ghost. It whispers employees' names when they're closing up shop alone late at night. But it's friendly. Everyone at Dynasty is friendly.
"They really take care of their people," another performer, Pam Severns, tells me before going on stage to do puppetry. There will also be songs from Luke Null, and crowdwork-heavy stand-up. There's a little bit of everything at Dynasty Tonight, the closest thing they have to a house show. Though Flam and Ragland, who are also co-artistic directors, recently hired a full-time booker, this is the show they book themselves. And they do take care of their people. In an industry that doesn't always pay performers, they do. Though they don't say it, their politics are on clear display in their choice of performers—always a diverse bunch, never the kind to disguise bigotry as edginess—and their approach to audience safety. They tell me they're not even sure what the policy is for California venues checking vaccination cards, but they've been checking since they re-opened, and ask everyone to stay masked in between bites of popcorn. The bathrooms are marked "urinal" and "no urinal." "It's been part of our ethos to be the most artist-friendly venue on the planet," says Flam.
"Dynasty is more than just a space. They've done a really nice job since they opened of cultivating a community, a vibe," says Joel Kim Booster, who is also on this evening's Dynasty Tonight lineup. "They attract people with taste who are comedy nerds. I love performing at the clubs here in LA, but it's a real mixed bag of people who are in from out of town and people who are like, 'I want to try comedy tonight.' Whereas with Dynasty it's people who have a deep love of comedy." Booster spent the summer filming Fire Island and felt rusty and a little nervous returning to the stage. He chose Dynasty to get his feet wet again, he said, because it felt safe and welcoming.
Einbinder agrees about the audience here. "This is a place where people who love comedy flock," she tells me backstage. Before she was a performer, she was one of them, coming by to see "really any of the lineup shows, various live podcasts, clown shows. I saw the musical parody of The Fast and the Furious here." She cites Julio Torres' "'Favorite Shapes," which he later taped for HBO, as a favorite. "They've embraced alternative talent in a way that I think other venues don't," says Einbinder, and it's this atmosphere that makes it a great place to try out new material. Case in point, Einbinder later remarks, "When I pulled up tonight I saw the line around the block and I was like, 'Oh, these people are so cool. If I wasn't a stand up comedian, I don't think I would know what or where this place was.'" This sentiment makes it into an off-the-cuff section of her set not 30 minutes later.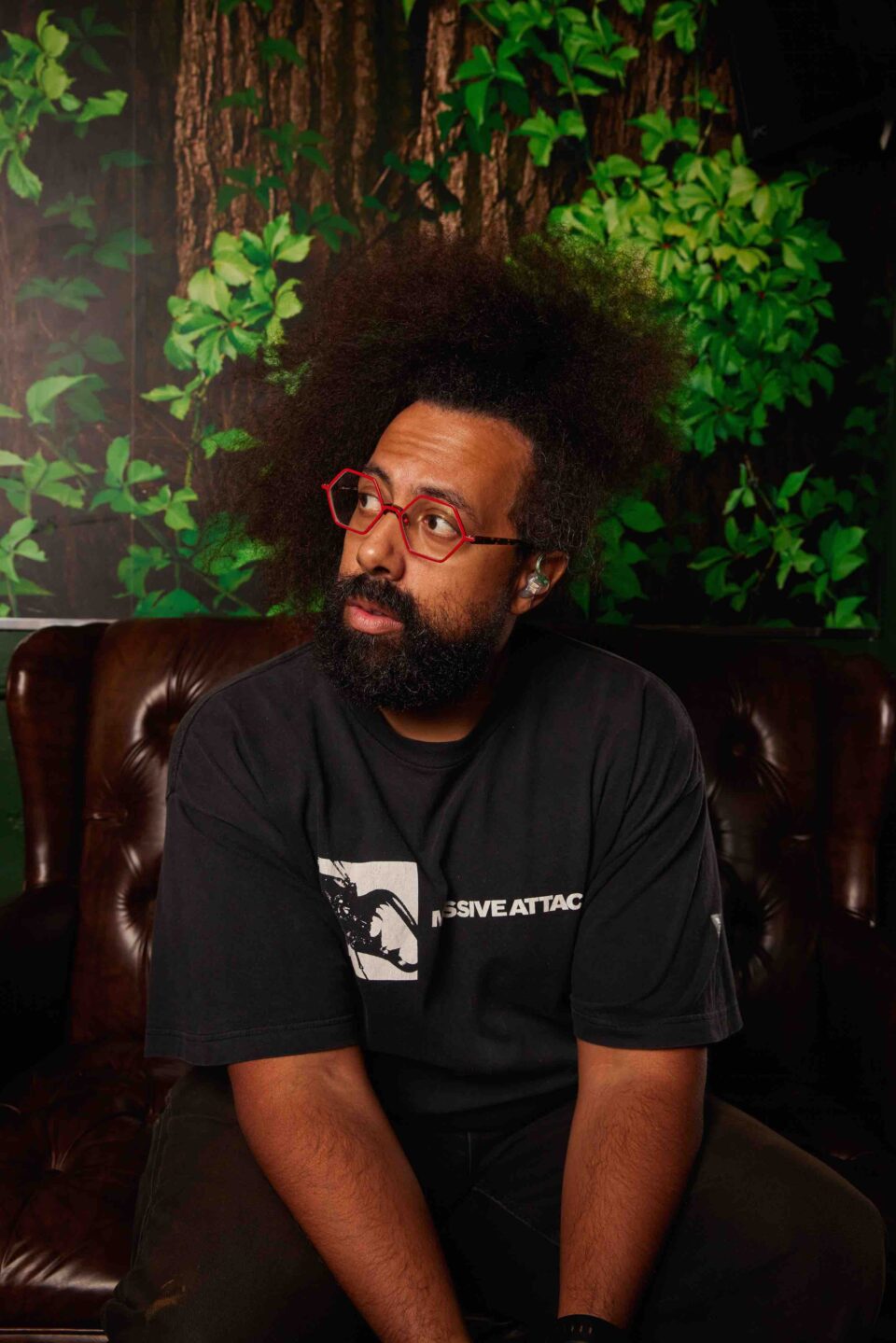 Reggie Watts calls Dynasty Typewriter "a more elegant Muppet Show."
Einbinder is right about the cool factor, too. Everyone in the crowd is pretty hip, including a young woman who showed up early and asked me, outside, if the box office was open. It was her first time; she'd seen Nori Reed, also on the line-up, at the indie show "Rod Stewart Live!" and liked her enough to buy a ticket to her next show. This is typical Dynasty. Audiences find it organically, as do performers. Watts initially became interested in a residency here because he was "jealous" after seeing friend Marc Maron get one.
Watts also cites the aesthetic, the vibe, the "dope people," and, of course, the popcorn as draws. "It reminds me of film festivals in Seattle in the '90s," he says. From his first visit, Watts wanted to get involved as much as possible, and even paid to upgrade the space's soundproofing and acoustics. Paul F. Tompkins gave Dynasty Typewriter a clock, and recently launched a sketch show on their stage. Kevin Pollack didn't like the coffee in the green room, so he sent over a Nespresso machine. Dynasty is a little like the comedy field of dreams: Ragland and Flam built it, and their heroes all showed up (plus one actual ghost).
"We created lives for ourselves full of these people that we love and trust, we want to make the most magical world and we want it to be so inviting, [while] realizing we also have to, in hopefully the most respectful way possible, maintain those boundaries of the magical world and gatekeep."

— Vanessa Ragland
The two friends met over a decade ago when Ragland interned at the comedy theater where Flam worked and they joined the same improv team. They filmed sketches together for the internet, realizing they shared a sensibility and worked well as collaborators. Ragland performed with Groundlings while Flam worked at the Hollywood Improv, enjoying being in charge of his own space but frustrated with the "corporate club." Flam's brother-in-law's dad put him in touch with the guy who owned The Hayworth, and he "fell in love" with the space immediately. In 2010, he and Ragland put on a comedy fundraiser there for the Leukemia & Lymphoma Society, using the occasion to beef up their Rolodexes and calling on friends they'd made along the way like Bob Odenkirk and the comedy-folk duo Garfunkel and Oates. They liked the idea of opening their own theater, but The Hayworth was in disrepair and needed millions in refurbishments. Then in 2016, Flam got "a random email from a producer friend saying, 'Hey, a buddy of mine just bought a building and they're looking for someone to take over, whether it's programming or to lease it from them.' And it turned out it was The Hayworth."
The producer's buddy was Christopher Noxon, then-husband of Weeds and Orange Is the New Black creator Jenji Kohan. The couple had bought and renovated the building, turning the upstairs area into offices and refurbishing the theater. Over the next year and a half, Ragland and Flam finalized their business plan, negotiated a lease for the theater, and launched a $100,000 Kickstarter to get Dynasty Typewriter at The Hayworth up and running. The first Dynasty Typewriter performance was on November 16, 2017, and the venue has been going strong ever since. When the pandemic hit, they went online immediately and managed to keep their momentum going until it was safe to re-open.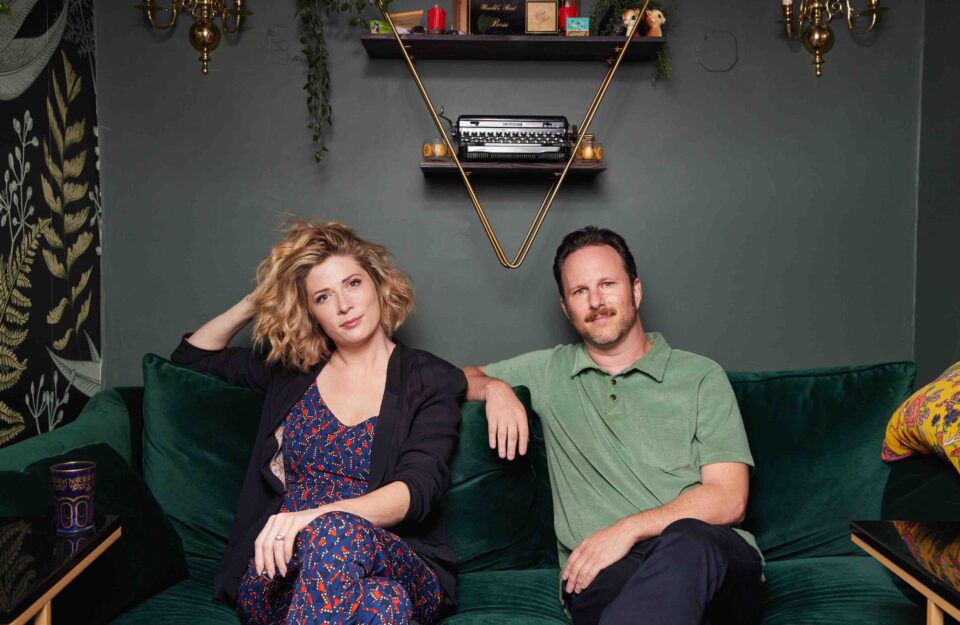 "Dynasty is the only alt venue that's really survived," says Einbinder. "The Satellite was another one that went under during the pandemic, so this is one of the only places in LA at the moment, and it happens to be the best." If anything, the challenge seems to have made the community around it stronger. As other theaters look for new locations (or struggle to come back at all, like UCB)—or deal with fallout from, for lack of a better term, social justice scandals—Dynasty's steady, continued presence has positioned it as one of the crown jewels of the LA scene. For performers itching to get back on stage, and comedy lovers anxious to see the people they've watched online all year in person, there's a renewed joy in sharing this meticulously curated space.
"Over the pandemic, they really made me feel like a comic consistently," Booster says of his online shows with the theater. "I don't know if Dynasty wasn't around if I would have felt connected to this part of myself in the same way over the lockdown, and so I'm eternally grateful to them for that."
On the sidewalk, having their picture snapped under the marquee, Ragland and Flam are joined by a friendly local dog, and as a cyclist passes by Flam remarks, "That's our DoorDash guy." In an alienating city, they know their neighbors. The spot next door, La Fonda, used to be the go-to post-show hang, but it shuttered during the pandemic. Once they can sell beer in the lobby, they predict everyone will stick around. The performers already do, according to Einbinder, playing with the jigsaw puzzle or plucking at the double piano in the lobby.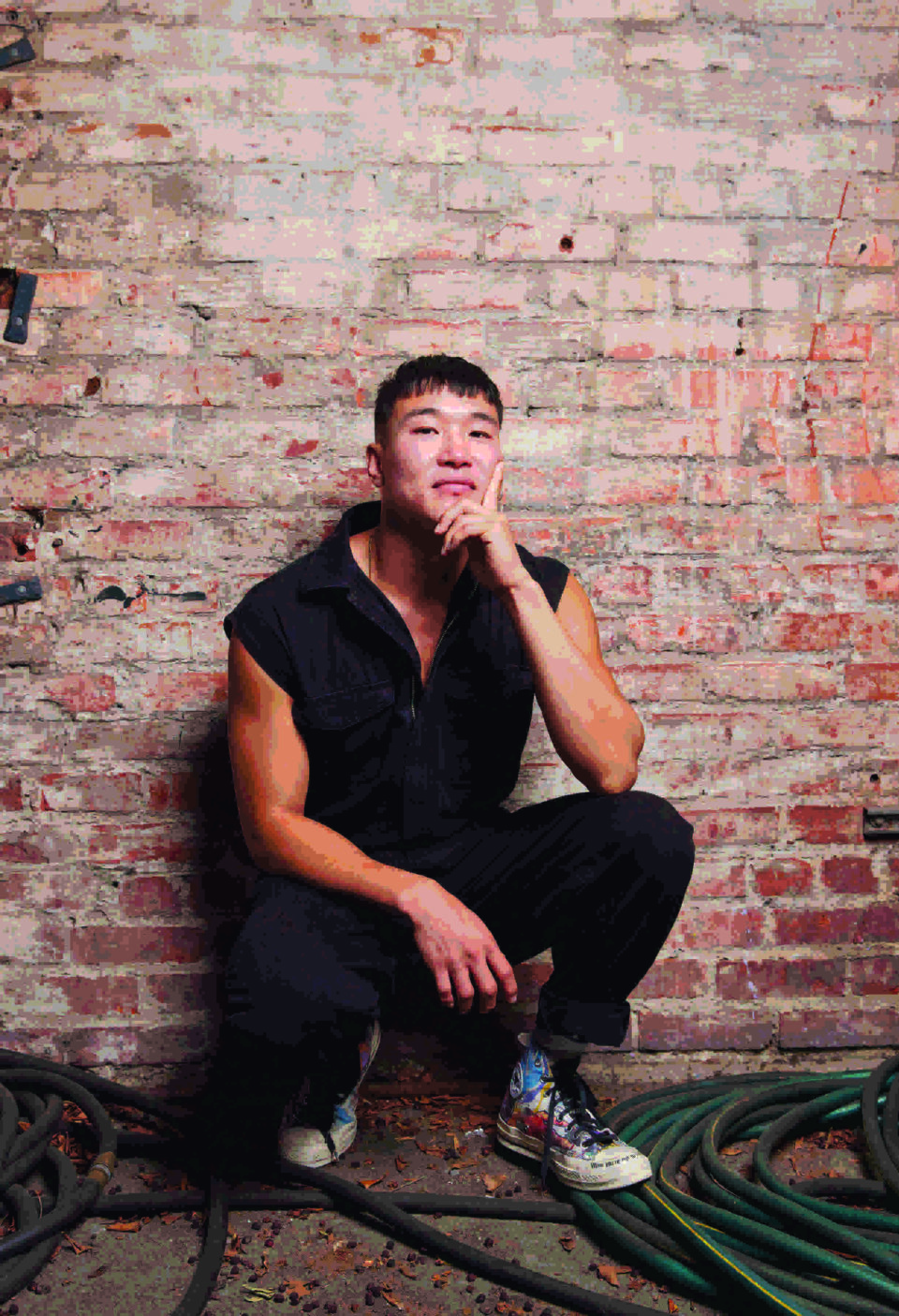 "Dynasty is more than just a space. They've done a really nice job since they opened of cultivating a community, a vibe. They attract people with taste who are comedy nerds."

— Joel Kim Booster
"We do know the people that run Dynasty on a personal level," says Booster. "When I do clubs, I do my set, I go to the next spot. When people ask me where my home club is, I usually will say Dynasty because it's the one place I like to hang out. I'm not somebody who always hangs out after shows; I'm tired, I've got stuff to do. But tonight I was like, 'I know [Vanessa's] gonna book people that I'll want to chill [with] in the green room.' It's that kind of vibe that they cultivate, too, that's really important and makes it feel more like a community."
But as cozy as they may be in the slowly reanimating neighborhood, Ragland and Flam have much grander ambitions. To start with, they plan to book more music, continue live streaming, and start some kind of school. They want to make podcasts and sell shows. They just hired a new General Manager. They want to open more venues in other cities someday. And in their spare time, write a musical. "That is a genuine hope that one day we will produce something that can go on Broadway," Flam tells me.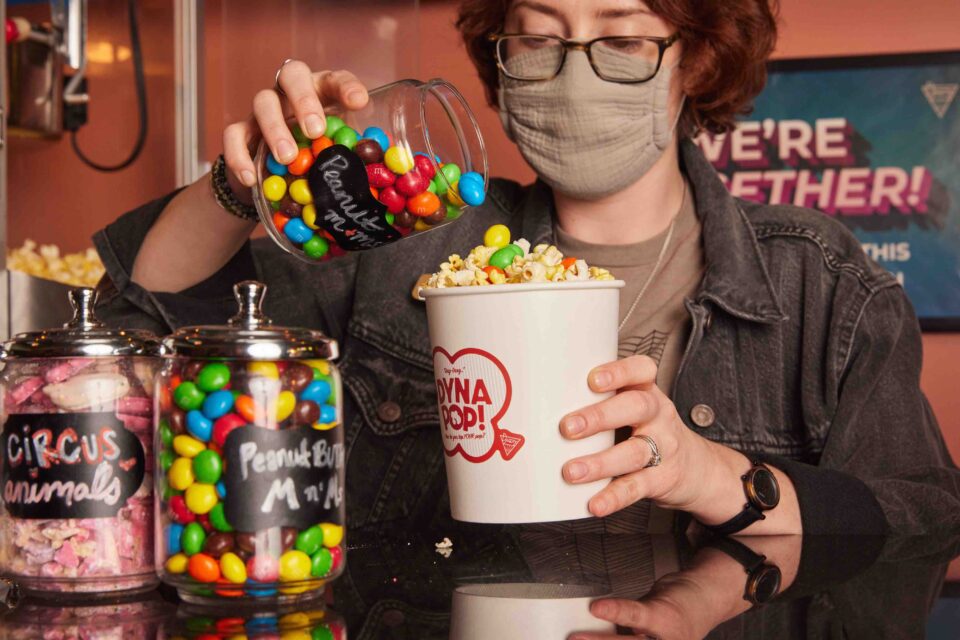 I don't doubt them. If anything, the challenge will be not in the pace of expansion, but how to keep the spirit of the rebellion alive as they grow to the size of the empire. Though their decade-plus friendship allows them to work together somewhat seamlessly, this isn't the case for everyone. At the end of the day, it's not Narnia, it's a business. Says Ragland, "We created lives for ourselves full of these people that we love and trust, we want to make the most magical world and we want it to be so inviting, [while] realizing we also have to, in hopefully the most respectful way possible, maintain those boundaries of the magical world and gatekeep. We're in the position of the people that, before, we were shaking our fists at. We've developed a lot more respect, in hindsight, for people that we maybe didn't understand why they made those calls at different places." Where they once approached life "with childlike wonder, now we also have to be the grownups in the world."
Adds Flam, "It's really tough, and there's no one, when you own your own business, that you can blame. Coming from some of these other places there's always the corporate overlords or whoever it is, and you can get angry at them. But this ultimately does always fall on you. And so all the things that you might have been avoiding looking in the mirror at inevitably have all come up."
Not many companies can take the playground atmosphere global, but I'm excited for them to try. In fact, I'll be watching from the corner, snacking on popcorn. FL