"I don't really like fucking around too much; I like to keep it pretty real."
What Courtney Barnett is referring to is the intensely concentrated process of recording her proper full-length debut, Sometimes I Sit and Think, and Sometimes I Just Sit, but it wouldn't be hard to believe that she's talking about any aspect of her approach to music. Barnett wears her heart and her wit on her sleeve, leaving nothing to hide behind. No wonder she doesn't like to fuck around: she's got too much to say.
Within each of the eleven tracks that comprise her follow-up to 2013's excellent The Double EP: A Sea of Split Peas, the twenty-seven-year-old Australian succeeds at staying true by implementing a wide array of inviting melodies—from woozy, dreamlike ballads to angst-filled declarations of intent—and lyrics that strike the perfect balance between personal, everyday moments and the familiar emotions that swim through one's head on a regular basis.
"The observational always needs some sort of injection of the emotional side to make [the song] make sense," says Barnett. "The emotions need to be there to give it personality or meaning. I don't actively think about adding it in, it just depends on the story that I'm trying to tell."
Sometimes I Sit is a showcase of Barnett's never-ending saga of her own internal conflict and resolution. It's an album full of pairs of songs that help the listener understand how the singer-songwriter's cogs turn when thinking about her friendships ("Nobody Really Cares If You Don't Go to the Party," "Debbie Downer"), all aspects of death ("Depreston," "Dead Fox"), and an overwhelming feeling of helplessness ("Kim's Caravan," "Pedestrian at Best") through two different lenses.
Here, Barnett discusses specific moments of songwriting influence and how the importance of her process ultimately outweighs the final product.
Her Father's Salvaged Chairs 
I started drawing the chairs that are seen throughout the album's booklet when I was messing around with the title. My dad collected old chairs; he used to always find some random chair from a vintage store that was all broken and he'd bring it home. My mom would say, "Oh, not again!" as my dad would spend a whole year fixing it up. There were always mismatched chairs all around our house.
Most of the chairs that I've drawn are chairs that I actually have around my house. There's not any real deeper meaning than that, but I just love the details and the character of each chair. Even the way the chairs are labeled is funny to me! My favorite is the "comfy wooden chair with brown cushion." It's just about taking the time to look and see what's in front of you in a very simple way.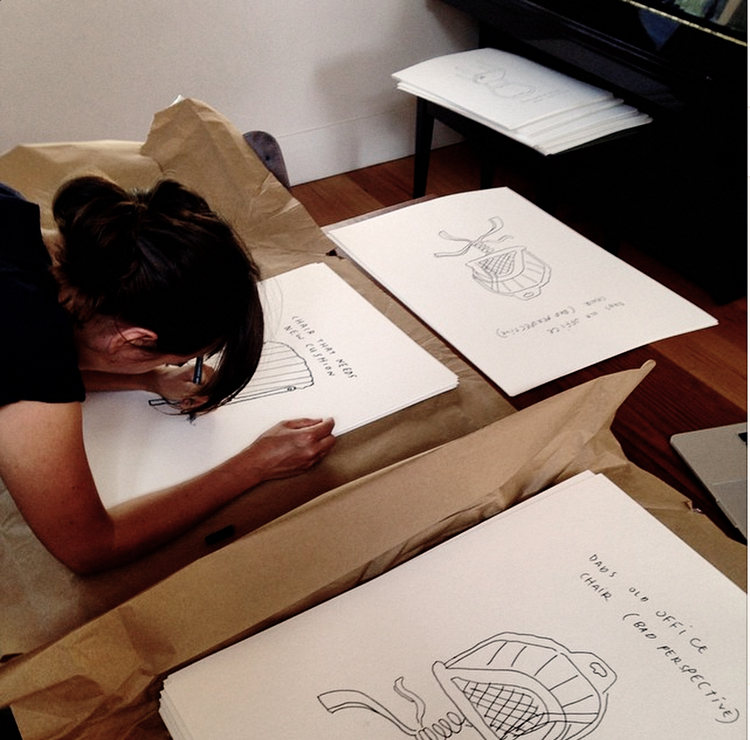 Leonardo Da Vinci   
I was reading art biographies about Vincent van Gogh and Leonardo Da Vinci, and I think that reading about them inspired parts of the album. There was a specific moment in the Da Vinci book that I thought was pretty cool [when] Da Vinci and his friends were talking about their least favorite seasons. His friends believed that most people would choose winter [as their least favorite] because it's when you are sad, and most people would choose summer as their favorite because it makes you happy. But Da Vinci said that spring was his least favorite season and someone asked him why—ugh, it's the most beautiful quote—he said because it reminds him of all of the beautiful things that he will never be able to create. It was this really dark passage. He looked at the seasons so pessimistically, but what he said was so true! We'll never be able to make anything more beautiful than what nature makes, no matter how many or what paints or instruments we have.
Living on Easey Street 
I used to live on Easey Street in Collingwood, Australia. The Fitzroy Swimming Pool was just down the road and we used to swim there a lot. On the [facility's] back wall, in huge letters, it said "Aqua Profunda"—which means "deep water" in Latin or something—and it just stuck with me. I wrote [the song] "Aqua Profunda!" a while ago. There are actually a couple of songs on the album that were started before the year that I was actively writing [for Sometimes I Sit], songs that I was just never able to finish. I started them and would think that they were cool, but then I wasn't able to think of a second verse or something, so I just chucked them to the side and then picked them back up when I started writing this album. "Aqua Profunda!" was one of those. I love it; it's just a cool summer song.
The Real Estate Lady      
The basic story behind "Depreston" is that I went to look at a house in [the Melbourne suburb] Preston—a lot of the houses in Melbourne look like California bungalows—and while she was showing us around, the real estate lady was saying all of the normal real estate stuff, and I started noticing all these kind of personal effects around the house. We figured out that this old lady had passed away, and that the family was trying to sell the house. I had a kind of sentimental moment of reflecting on the cycle of life and death. I thought about all aspects of it, like how for the real estate lady it's about selling the house, making the money, and moving on, but for that family it's probably something much different.
Her Bandmates  
By the time that I'm ready to go into the studio, the songs are pretty much done and finished, but with regards to arrangements and specific musical parts within each song, the rest of the band adds invaluable input. They're such great players, and while I bring a nearly finished skeleton of each song to recording, they totally shape the song. I probably wouldn't want to be in a band with them if they didn't add any of their thoughts or talent, because what they do is so important! Like "Kim's Caravan"—you don't even hear the guitar until whenever it comes in, it's just drums and bass at the start, but it's that contribution that helps finish things. The general idea of the song is always already there, but [my bandmates] are always there, just being awesome.
The Emotional Rollercoaster of Everyday Life   
I quite like that this album has such highs and lows within each song. The album is a reflection of the year or so that I wrote these songs over. It's like an emotional rollercoaster, but just the general rollercoaster that you have daily, or weekly. Every day, anyone can have a happy or sad moment, or even an extreme happy or an extreme sad, and I think that [the album] reflects that pretty well in its musicality and even its lyrics—some of them are so angry or so happy or so sarcastic. I think that it covers all of the bases? I can't really put my finger on what kind of album it is because the mood jumps all over. Maybe that says something about me? [Laughs.] FL