BACKSTORY: Emerging rapper from the Abstract Media crew
FROM: Born in New York, now based in Atlanta
YOU MIGHT KNOW HIM FROM: His viral hit "Maytag (Tax Free)," which has cracked a million YouTube views and hit #1 on Spotify's Viral 50 in several countries
NOW: Having just unveiled a new visual for his track "Finsta," Reilly has a new project dropping soon
Ben Reilly packs a lot of information into a condensed period of time. Whether he's rapping at a blistering pace on his "Maytag (Tax Free)" single, mix-matching beats on high-impact tunes from his Freelance EP, or talking as if he's daring the listener to keep up, the Atlanta-based rapper demands attention.
The shifting instrumentals, in particular, have a specific purpose. "I feel like that keeps people very interested," Reilly says. "Nowadays, the attention span is short. I like to rap, and I know a lot of times that could be a lot for a person to digest, so I try to find different ways to make it interesting, to keep you engaged. The reason why the songs are so short is for that as well. I want to keep you interested and I want you to be able to finish the whole song without getting bored and then skipping."
Reilly has hedged his bets against that happening with Freelance, which packs a wallop. He delivers deep emotional introspection, relationship travails, and impressive braggadocio backed by alluring and arresting tracks and their accompanying videos, to which he applies an equally imaginative take.
"Nowadays, the attention span is short. I like to rap, and I know a lot of times that could be a lot for a person to digest, so I try to find different ways to make it interesting, to keep you engaged."
"We've always been very into the art of directing, set design, really dope camera angles, and what a visual says," Reilly shares about his Abstract Media troupe. "It's been very important to me to make sure the visual matches the aesthetics of a song. I know with a lot of other rappers, they just have someone else come up with the idea for them. I don't want to say that's cheating, but when I come up with my song ideas it's fun for me to come up with ideas for a visual to help accentuate that."
In his viral "Maytag (Tax Free)" video, for example, Reilly showcases his imagination by taking the clothes-washing motif to an unusual rap video location. "I wanted to hang laundry outside in the video and walk around with a laundry basket to accentuate that the song was about washing people," he says. "Shooting the second half outside of a car wash was really just to emphasize that. That's really what it was for me, and I felt like it would be fun to play with that. When we used to wash clothes back in New York, we didn't have a dryer in the crib, so we would hang clothes through the alleyway. I always thought that was pretty cool and I felt, visually, that that would look really cool on video."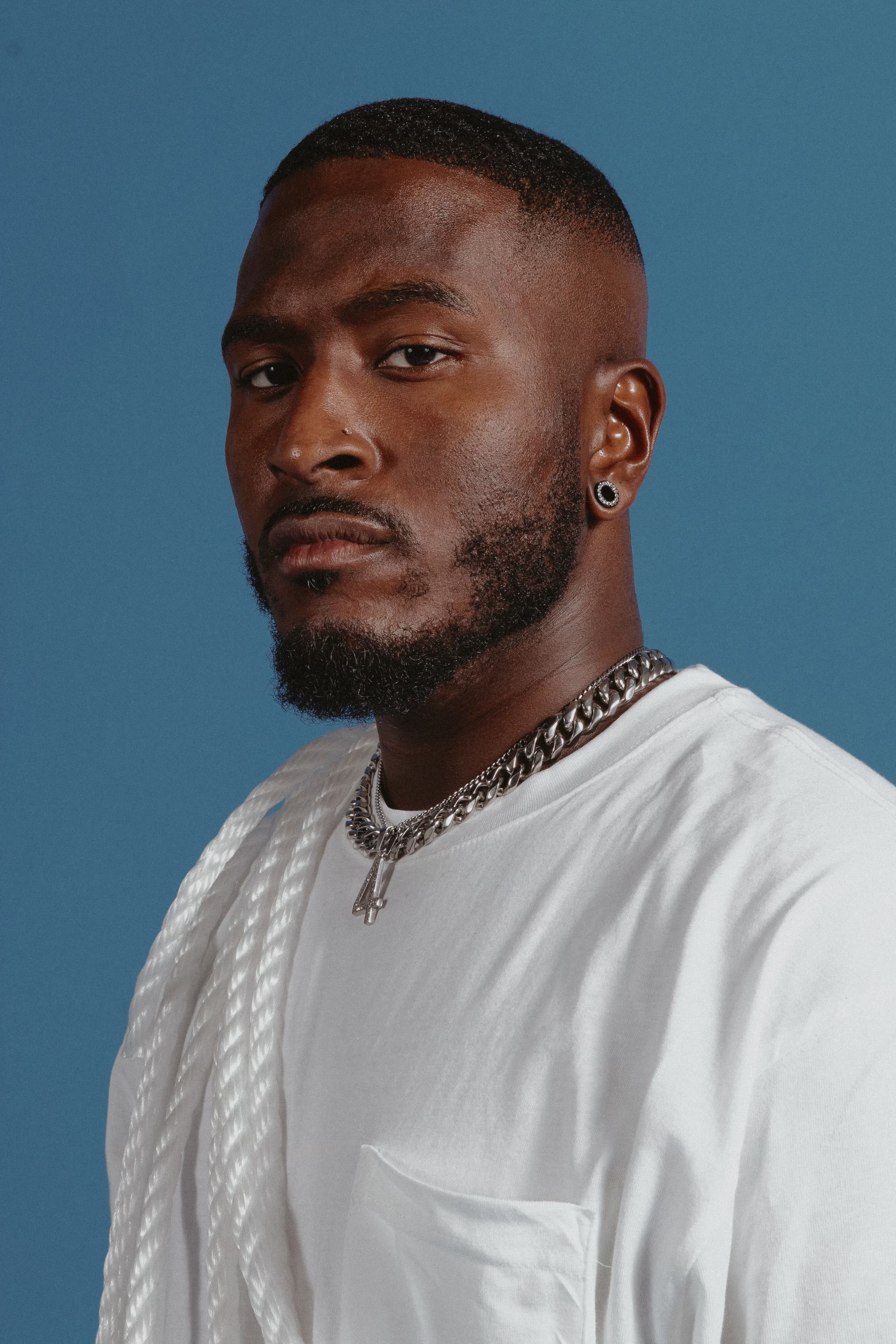 An interesting sound is what drove one of Reilly's aural selections on Freelance cut "She Likes My…Deep Pockets." He scoured the Internet for a particular aesthetic before selecting a female Spanish speaker delivering a sexual ASMR clip. "'Pockets' was inspired by a girl I went on a date with," Reilly says. "I could just tell this is gonna be a superficial relationship. I wasn't really into it, but it inspired me to write that song. I took the first half and I wanted to really emphasize, 'OK, this one's shallow.' I wanted to also emphasize that deep pockets—and, for lack of a better word, deep pussy—have so much in common, and that what she has to offer in terms of the relationship is super cut and dry. This is what she has to give and what I have to give may feel like much more, but it's also not very much."
"It's been very important to me to make sure the visual matches the aesthetics of a song. When I come up with my song ideas it's fun for me to come up with ideas for a visual to help accentuate that."
Similar to "Deep Pockets," much of Freelance features Reilly rapping about letting go of things and people that are no longer helping him. Reilly realized he needed to free himself from stress, which was a painful process. "At the time, I felt super-duper restricted and super-duper stagnant in life," he says. "I felt like it was because I was having trouble letting go of emotions and how some of my relationships and friendships used to be. I felt like I had to let go of that in order to shed a new skin and find where I would be afterward. It was very hard for me to do that. I was going through weird things with my ex and even weird things in my friendships that made me realize I needed to let go, to 'Let go and let God.' I'm not the most religious person, but I believe in God and I believe that's a very, very true saying that I feel like a lot of people have to abide by. Sometimes you gotta let things play their own course." FL