This article appears in FLOOD 12: The Los Angeles Issue. You can purchase this special 232-page print edition celebrating the people, places, music and art of LA here.
If you're a fan of LA's rich pop cultural history, you're probably also a fan of Vintage Los Angeles, Alison Martino's massively popular Facebook account which regularly digs up incredible photos, amusing artifacts, and informative trivia tidbits from our city's fabulous past.
A lifelong LA resident (and daughter of legendary singer and actor Al Martino) as well as an accomplished television producer—her credits include the popular E! TV series Mysteries & Scandals—magazine columnist, and entertainment reporter, Martino brings her passion for LA's past to just about everything she does. So when FLOOD asked her to take us and our readers on a tour of some of her favorite spots of musical importance (and in some cases infamy), she was more than happy to oblige. Take it away, Alison… — Dan Epstein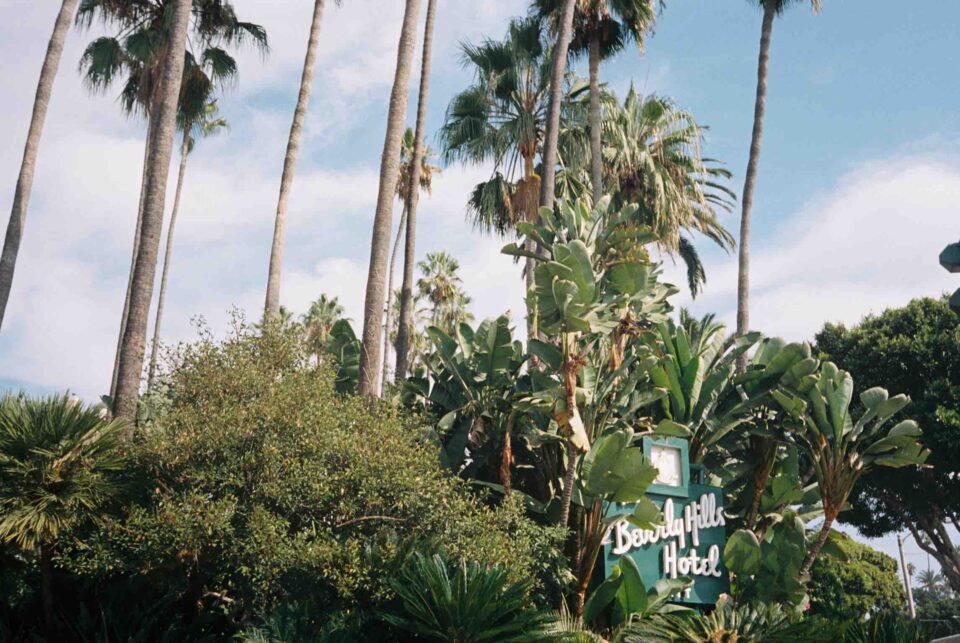 THE BEVERLY HILLS HOTEL
9641 Sunset Boulevard, Beverly Hills
The iconic record cover of The Eagles' blockbuster 1976 album Hotel California features a gorgeous dusk shot of The Beverly Hills Hotel in all its Mediterranean Revival glory. Nicknamed the "Pink Palace" for its stucco exterior, the hotel has been a home away from home for movie stars and famous musicians since 1912—Frank Sinatra and Dean Martin were regular guests here, and John Lennon stayed in the bungalows on several occasions, both with Yoko Ono and with May Pang. Don Henley and Glenn Frey also hung out here regularly during the mid-'70s, and later revealed that the lyrics of "Hotel California" were at least partly inspired by the place. The album's cover was shot by photographer David Alexander with help from art director Kosh, both of whom spent some nervous hours harnessed to an aerial lift cherry picker platform while waiting for the exact moment when the sun would set behind the building. Should you stay at the historic hotel, remember you can check out any time—but don't expect to capture the same exact shot for your Instagram unless you're suspended 60 feet off the ground!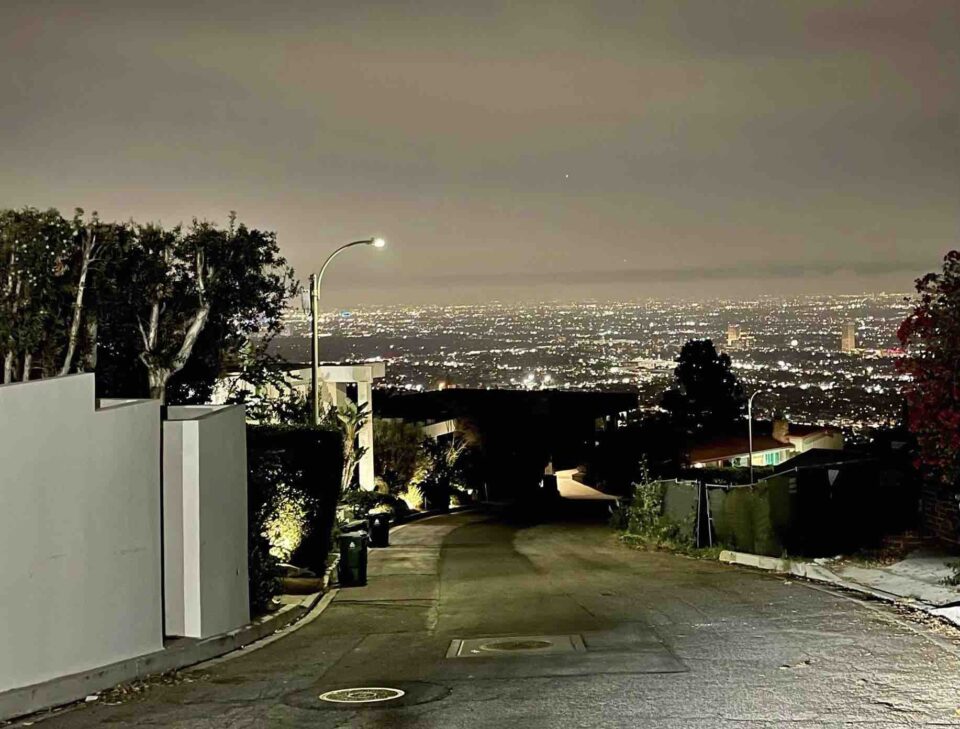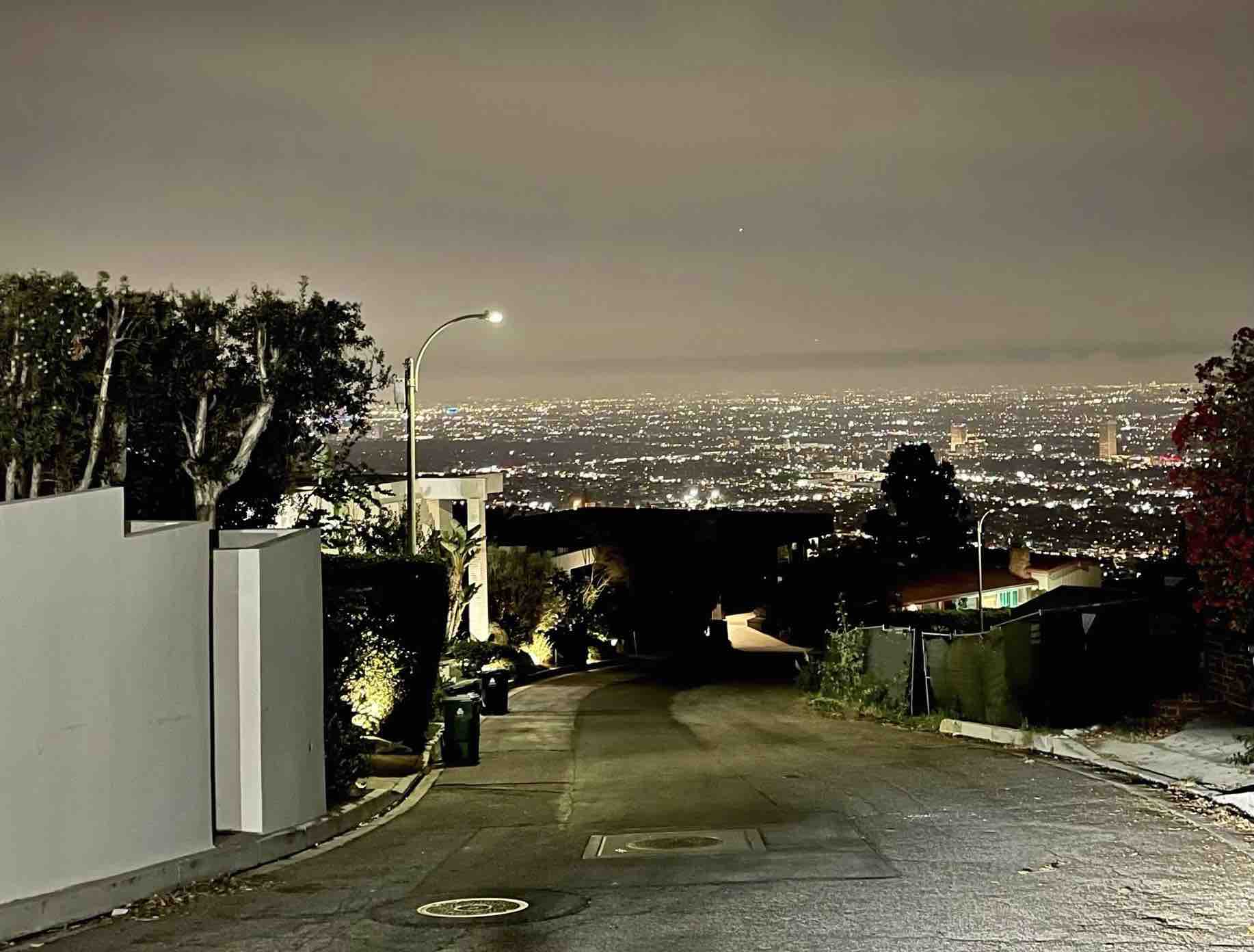 BLUE JAY WAY
1567 Blue Jay Way, Los Angeles
On August 1, 1967, a jetlagged George Harrison wrote "Blue Jay Way" here at this mid-century modern house in the Hollywood Hills, which he was renting during a West Coast visit that would also take "the quiet Beatle" up to San Francisco. Beatles publicist Derek Taylor was supposed to meet him at the house with some important paperwork, but he'd gotten lost in the area's winding "Bird Streets." To pass the time and keep himself awake until Taylor arrived, George wrote a song about his tardiness on a little Hammond organ that was sitting in the corner of the house; as he wrote, a fog started to rise over the city, giving George his memorable opening line, "There's a fog upon LA." The resulting song ended up as one of the psychedelic highlights of 1967's Magical Mystery Tour, and the house—which was built in 1964—still overlooks the Sunset Strip today.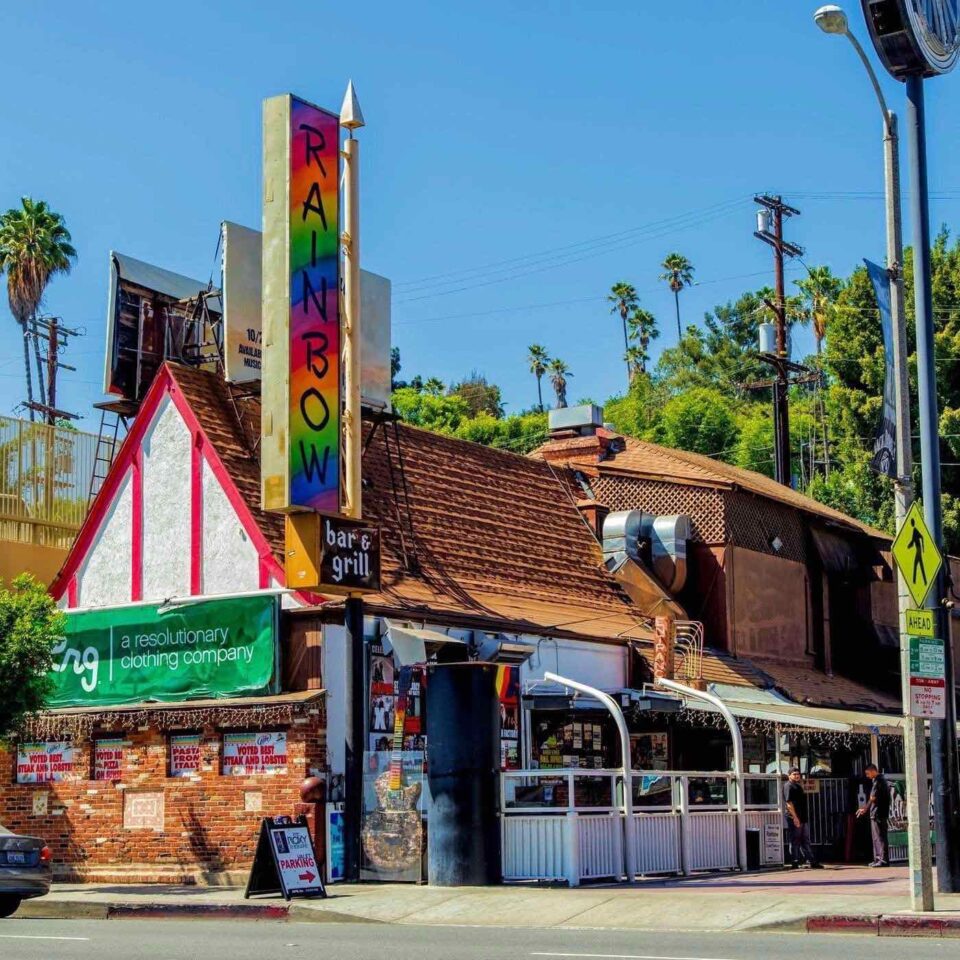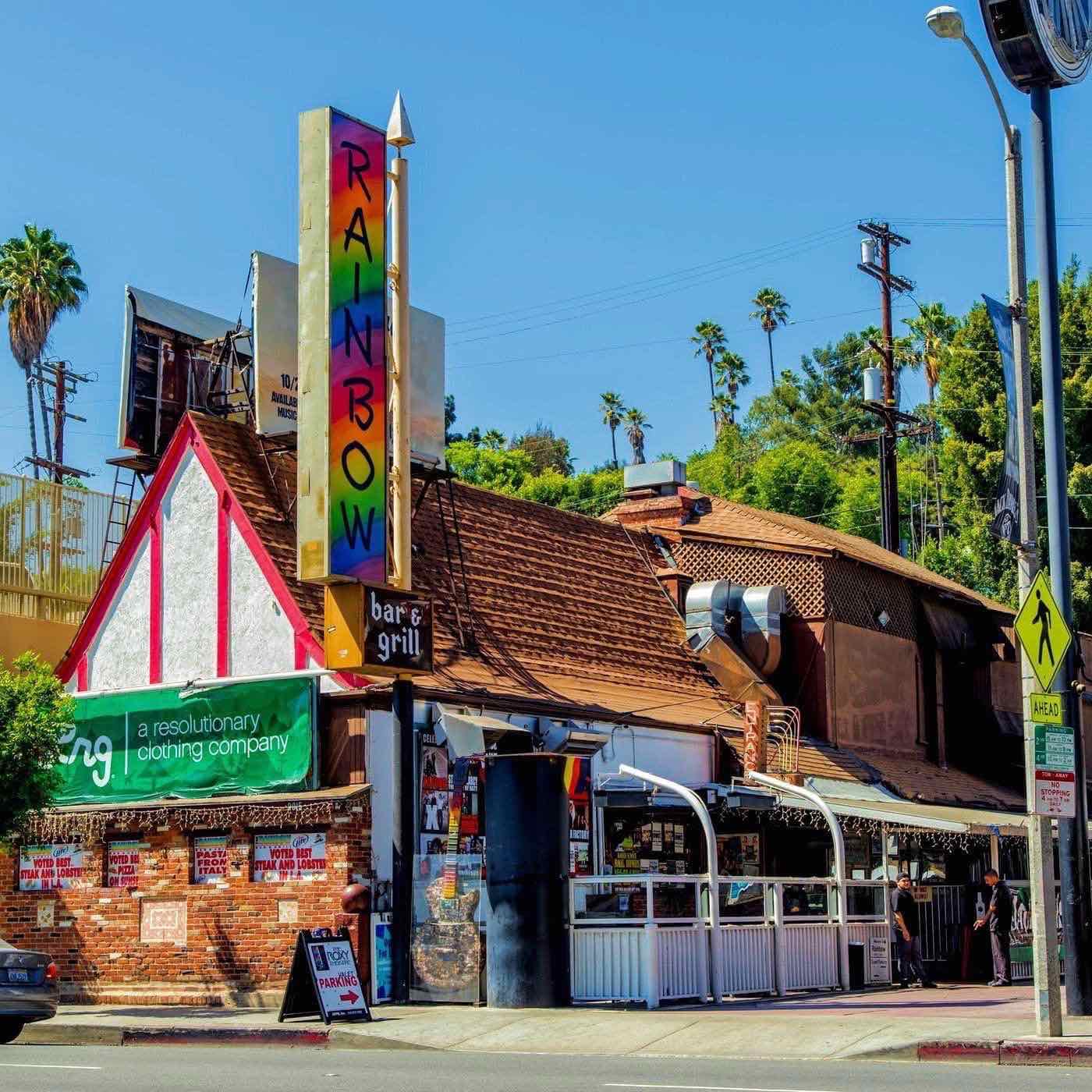 THE RAINBOW BAR & GRILL
9015 Sunset Boulevard, West Hollywood
The Rainbow Bar & Grill opened on April 16,1972, and has been a wildly popular rock 'n' roll hangout ever since. The restaurant was founded by Whisky a Go Go founder Elmer Valentine, record executive and film producer Lou Adler, and Whisky manager Mario Maglieri, and it opened with a party held for Elton John, who had made his American debut at the nearby Troubadour two years earlier. "The 'Bow" not only became a favorite destination for John Lennon—who occasionally joined Alice Cooper's Hollywood Vampires drinking club (whose membership included Mickey Dolenz, Keith Moon, Harry Nilsson, and Ringo Starr) in the secluded upstairs bar that became known as "The Vampires' Lair"—and John Entwistle of The Who, but it also later became a second home for Lemmy Kilmister from Motörhead, who whiled away countless hours here playing bartop video games. After Lemmy's passing in 2015, the outside bar was renamed "Lemmy's Lounge" in his honor.
TROPICANA MOTEL (former site)
8585 Santa Monica Boulevard, West Hollywood
The Tropicana Motel had a brush with celebrity even before it became a hangout for rock stars: Dodgers great Sandy Koufax bought the West Hollywood inn—which was built in the 1940s—as an investment in 1962, right as his Hall of Fame career was really taking off. As the rock music scene grew in the 1960s and 1970s, the Tropicana became its unofficial home base. It was an affordable dump that had charm and was close to the hot nightspots; once a cool band stayed there, word spread and other bands wanted to stay there, too. Janis Joplin, Bob Marley, Alice Cooper, Iggy Pop, The Runaways, Ramones, Blondie, New York Dolls, and The Clash all stayed here while performing or recording in LA, while singer-songwriter Tom Waits became a permanent resident in the '70s and even moved a piano into his room without permission. (Rickie Lee Jones is said to have written her 1979 hit "Chuck E's in Love" on that very piano.) Sadly, the wild days of the Tropicana came to an end in 1987 when the motel was demolished to make way for a $20 million Ramada Inn. The new place is nice enough, but you won't see anyone lugging a piano into any of the rooms.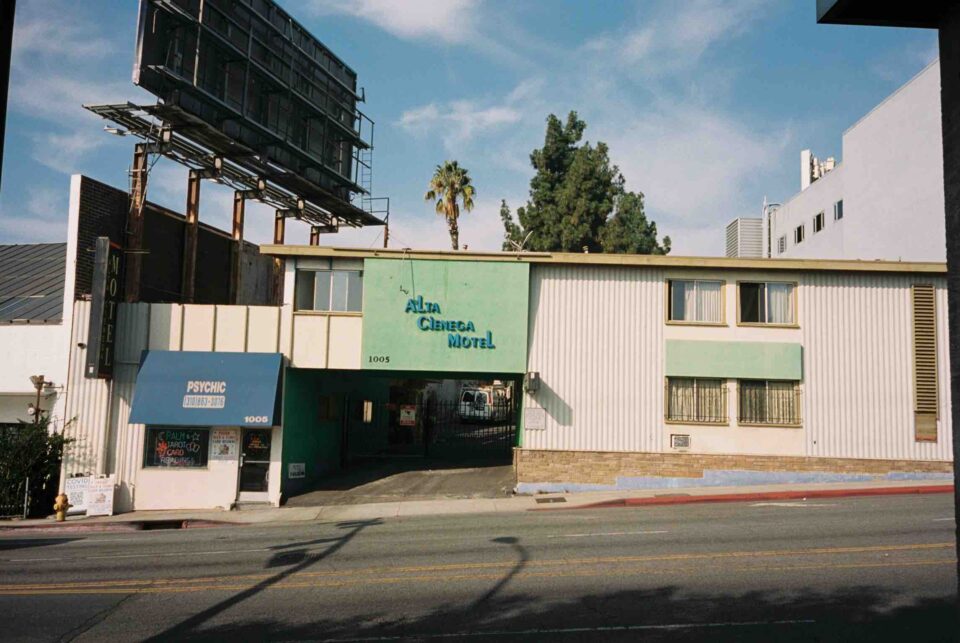 ALTA CIENEGA MOTEL
1005 La Cienega Boulevard, West Hollywood, CA
From 1968 to 1970, legendary Doors frontman Jim Morrison lived in Room 32 at the Alta Cienega Motel. He chose this location because it was close to The Doors' office and the headquarters of Elektra Records, the band's label. It was also a hop, skip, and a blurry-eyed stumble from local bars such as Barney's Beanery and several liquor stores. At times it felt like Jim's private sanctuary whenever his girlfriend, Pamela Courson, kicked him out of their apartment on nearby Norton Avenue.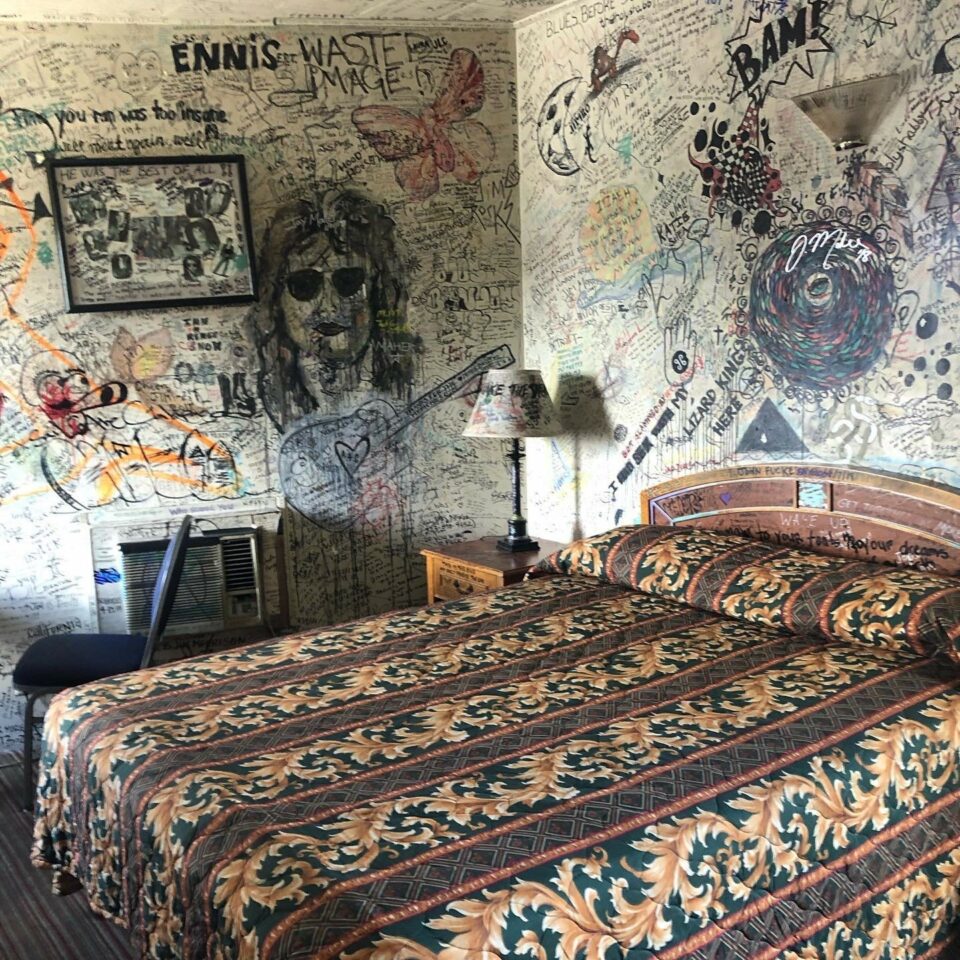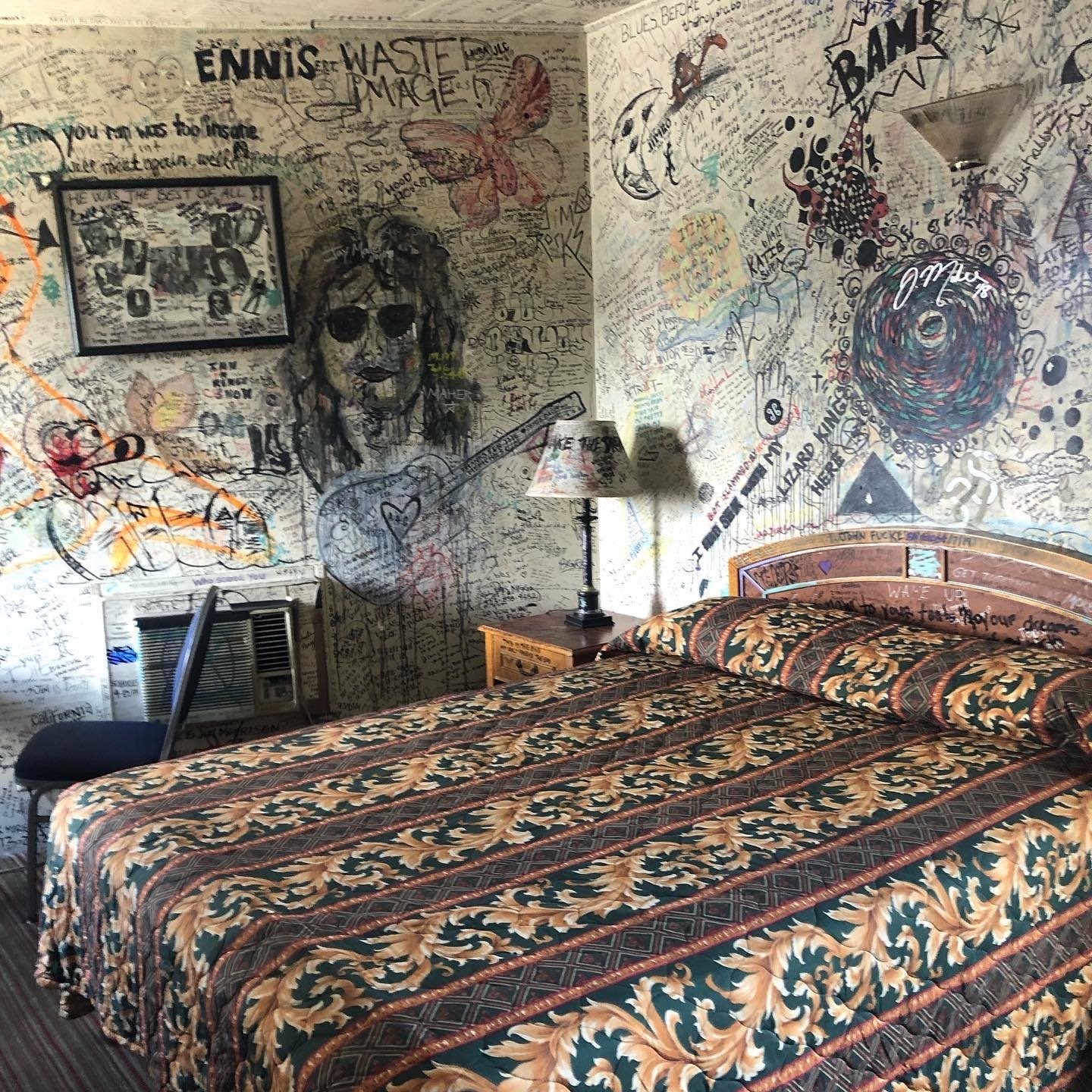 Fans from all over the world book Room 32, and the walls are covered with graffiti, poetry, messages, and, of course, Doors lyrics. Owners of the hotel understand why it's almost always occupied, and even sell a Room 32 souvenir keychain at the front desk. It will cost you $200 a night to sleep in the same room Jim slept in (or 20 bucks for a few short minutes if you can hustle the right employee on the property), although I suggest booking it in person since the hotel has an unlisted phone number and is rumored to be up for lease.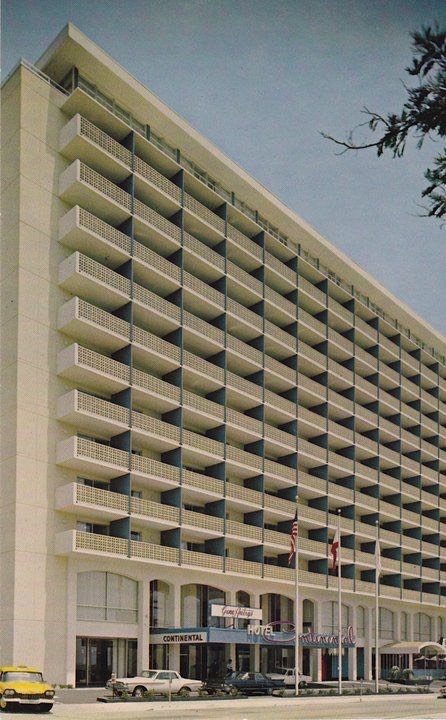 THE ANDAZ WEST HOLLYWOOD (a.k.a. "The Riot House")
8401 Sunset Boulevard, West Hollywood
Originally known as Gene Autry's Hotel Continental when it opened on the Sunset Strip in 1963, the Continental Hyatt House was ground zero for so much rock star debauchery that it was actually coined "The Riot House" at some point in the 1970s. Jim Morrison was booted from the hotel for hanging out a window by his fingertips, Keith Richards and Keith Moon both dropped television sets from their balconies, Lemmy Kilmister wrote the song "Motörhead" in the middle of the night on his balcony while staying there as a member of Hawkwind, Warren Zevon immortalized the Hyatt House in his hit song "Poor Poor Pitiful Me" (made famous by Linda Ronstadt), and Little Richard lived in room 319 during the '80s and '90s. The Riot House is also where Led Zeppelin stayed at the height of their career; the band would rent six floors for themselves and their extensive entourage whenever they were in town, and there's a famous 1975 photograph of Robert Plant exulting "I am a golden god" on one of the hotel's balconies. Director Cameron Crowe filmed scenes for his 2000 movie Almost Famous here; parts of the hotel were refurbished with exactly the same décor it sported in the 1970s, and when Billy Crudup's character Russell Hammond cries out, "I am a golden god!" it's meant as a direct reference to Plant. The hotel—which was renovated in 2008 and reopened the following year as the Andaz West Hollywood—no longer has any balconies, which is probably for the best.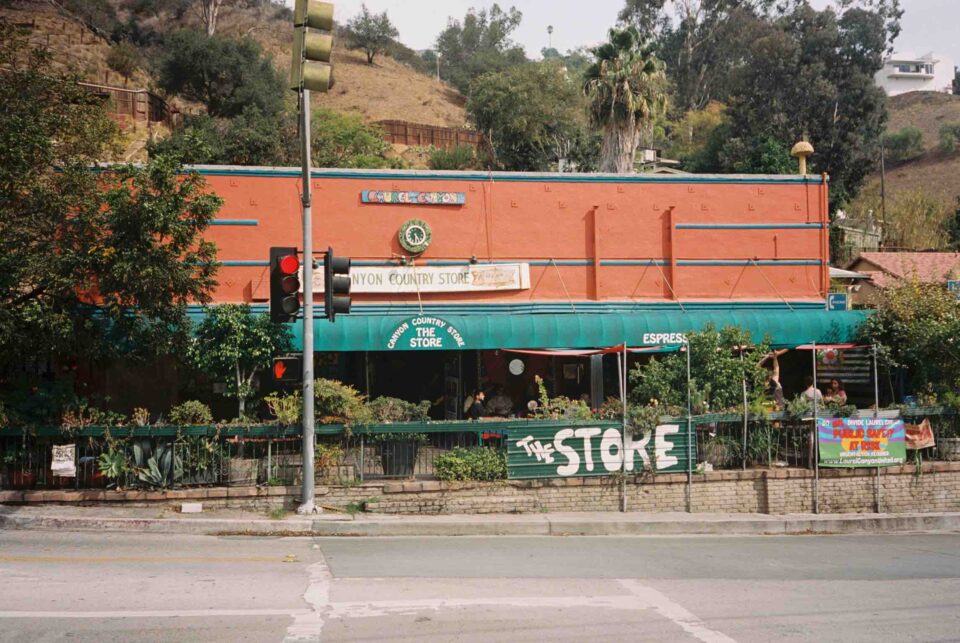 LAUREL CANYON COUNTRY STORE
2108 Laurel Canyon, Los Angeles
Not much about the Country Store has changed since Stephen Stills, Frank Zappa, and Joni Mitchell lived just up the street, and a pre-fame Cass Elliot lived in a bedroom underneath the establishment. Jim Morrison and Pamela Courson lived for a while in a cottage behind the beloved market on nearby Rothdell Trail, and he wrote "Love Street" after watching her walk to the store; in 2018, the LA City Council renamed part of Rothdell as Love Street in his honor, and there was a "love-in" style ceremony as part of the dedication. It still feels like the Summer of Love when you walk into the Country Store; fresh fruits, wonderful wine, sage, and incense fill the aisles, and hippie murals invoking peace and love surround the structure. And you never know who you might run into here—I once saw Jackson Browne buying grapefruit juice and some veggies.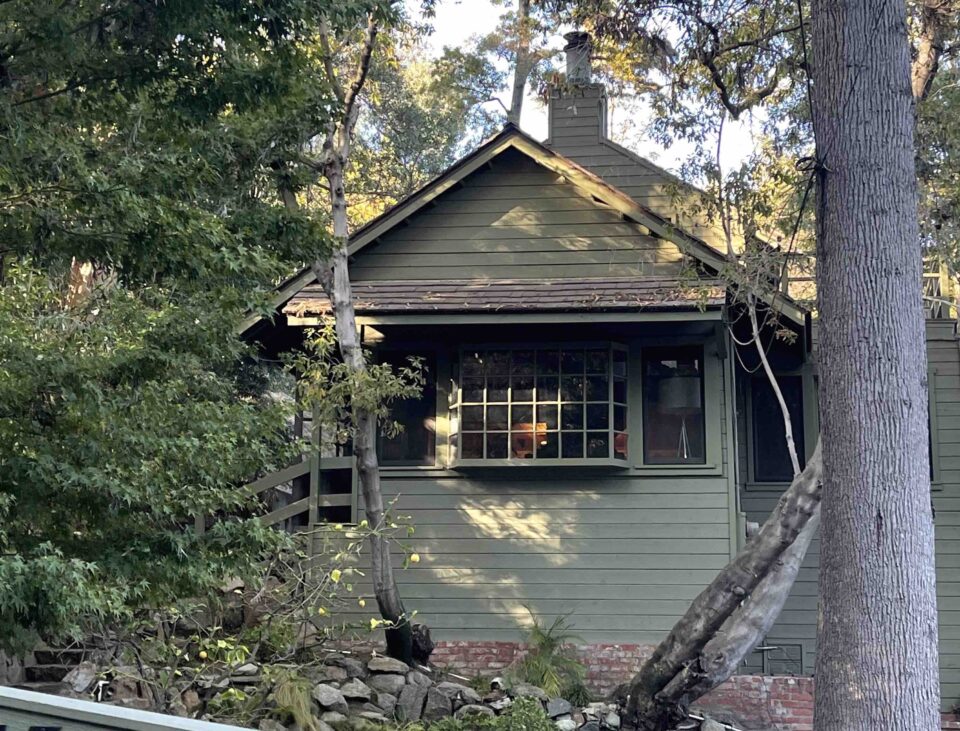 JONI MITCHELL'S LAUREL CANYON HOUSE
8217 Lookout Mountain Avenue, Los Angeles
Joni Mitchell's little blue house in Laurel Canyon was the hub of the West Coast music scene in the late 1960s. Graham Nash of The Hollies, Stephen Stills of Buffalo Springfield, and David Crosby of The Byrds found their unique three-way harmony blend here during all-day jam sessions in July 1968 that led directly to the formation of Crosby, Stills & Nash. Nash, who lived here for a while with Joni (and "two cats in the yard") immortalized this "very, very, very fine house" in 1969 when he penned the CSNY hit "Our House" on her piano. Most Joni fans know that she wrote her 1970 album Ladies of the Canyon here, as well as some of the songs for her 1971 follow-up Blue. But you may not have known that she still owns the house and rents it out!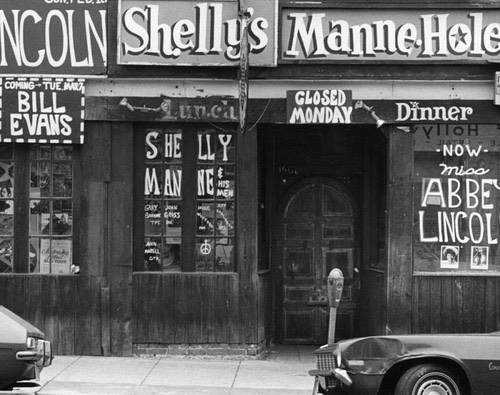 SHELLY'S MANNE-HOLE (former site)
1608 Cahuenga Boulevard, Hollywood
From 1960 to 1972, drummer Shelly Manne operated one of the most popular jazz nightclubs in Hollywood, while also performing as a prolific jazz recording artist in his own right. His Manne-Hole hosted some of the biggest jazz names of its day, such as Miles Davis, John Coltrane, and Les McCann.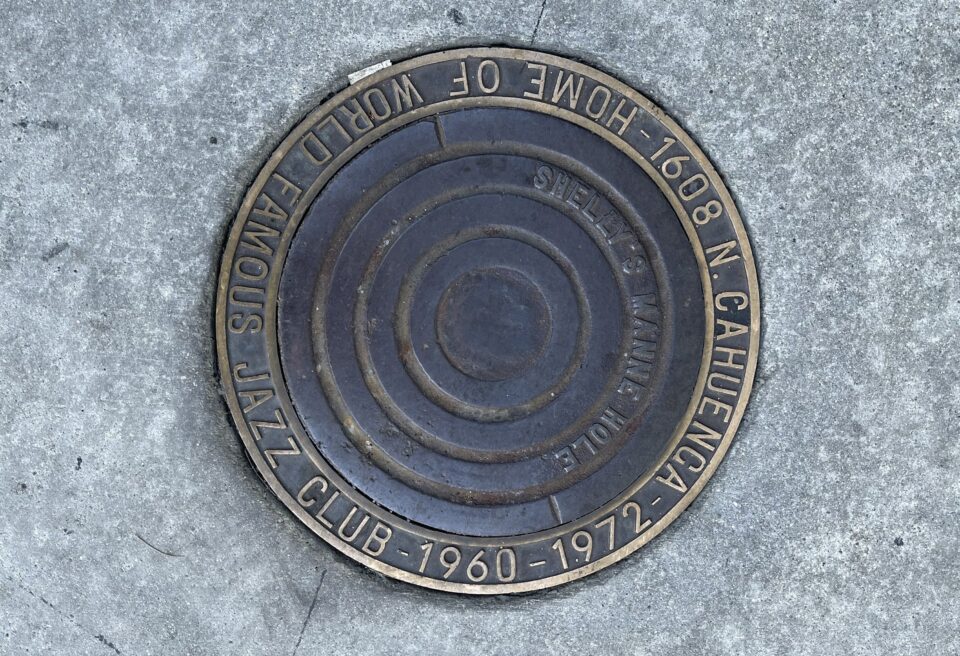 Numerous live albums were recorded here, as well, including ones by Mose Allison, The Bill Evans Trio, and French film composer and jazz pianist Michel Legrand, the latter of whom released At Shelly's Manne-Hole in 1968, the same year he won his first Academy Award (for "The Windmills of Your Mind" from The Thomas Crown Affair). Though the legendary club is sadly long gone, a commemorative manhole-shaped plaque decorates the sidewalk in front of it where so many jazz heroes once stubbed out their cigarettes.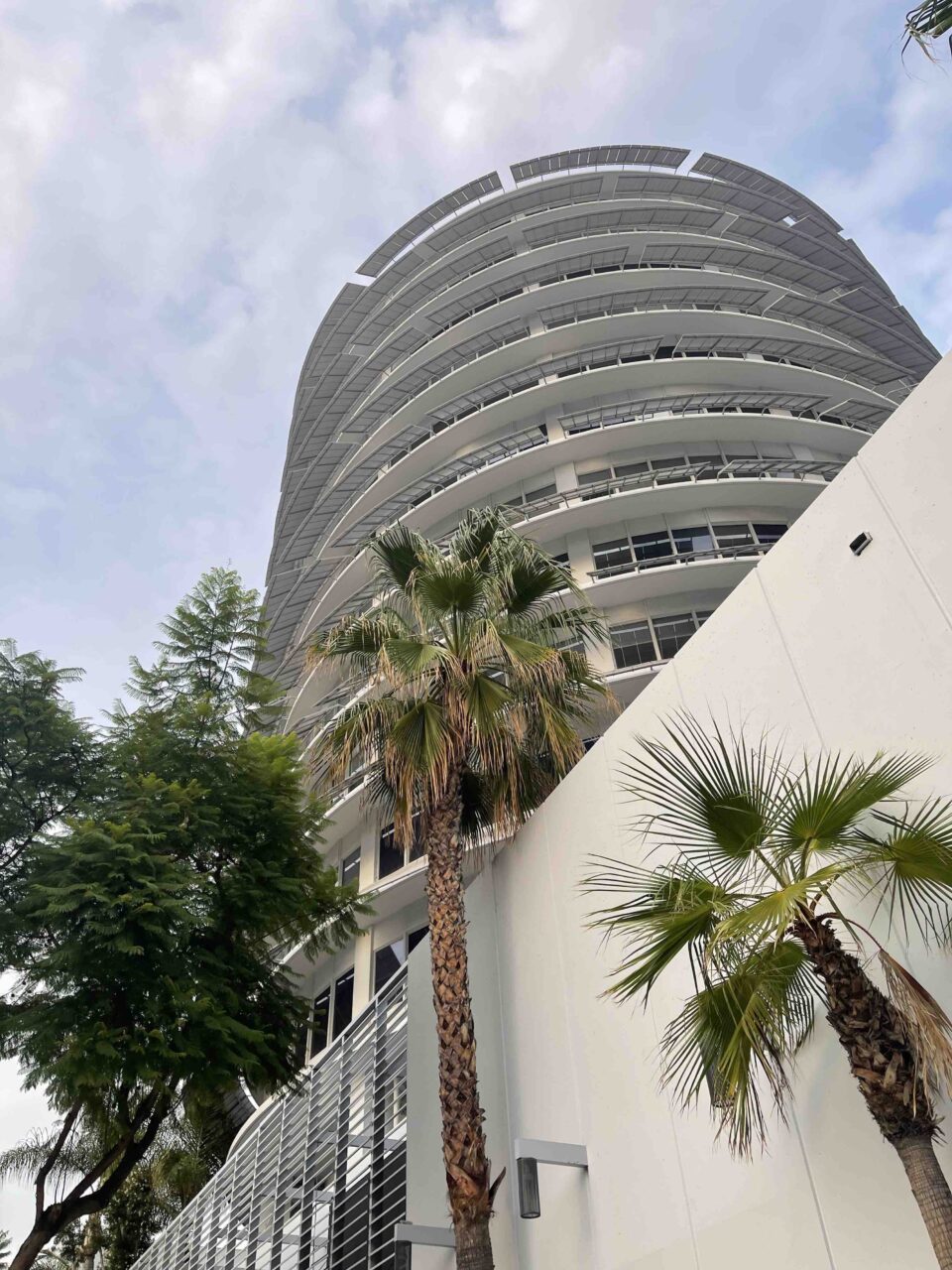 CAPITOL RECORDS BUILDING
1750 Vine Street, Los Angeles
Designed by Louis Naidorf of Welton Becket Associates, the 13-story Capitol Records Building has often been described as resembling a stack of records on a turntable, with the tower's famous 90-foot spire resembling a turntable's spindle. (And here's some cool trivia: A blinking light atop the spindle spells out "H-O-L-L-Y-W-O-O-D" in Morse code, and has done so every night since the building was erected in 1956. In fact, Leila Morse, Samuel Morse's granddaughter, flipped the beacon switch!) Frank Sinatra, Dean Martin, The Beach Boys, Bob Dylan, Paul McCartney, Beck, and Elliott Smith are among the many great artists who have recorded in the building's state-of-the-art studios, which feature eight subterranean echo chambers designed by Les Paul.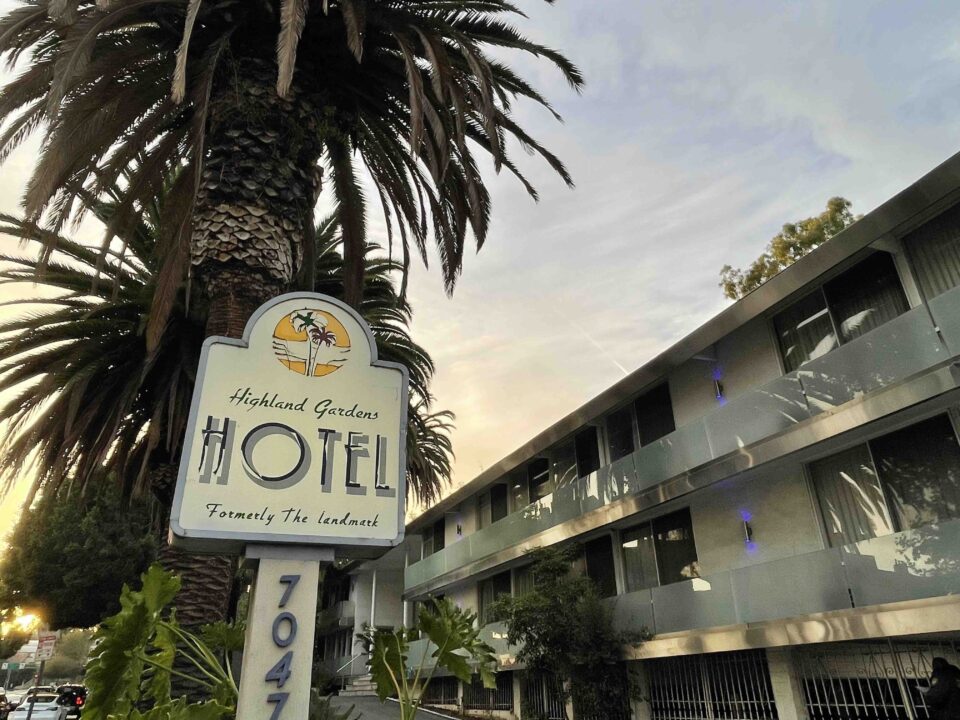 HIGHLAND GARDENS HOTEL
7047 Franklin Avenue, Los Angeles
Opened in the mid-1950s, the Landmark Motor Hotel (now renamed Highland Gardens) has hosted many famous musicians over the years—Jefferson Airplane, The Moody Blues, and the ubiquitous Jim Morrison have all stayed here—but the Los Feliz establishment is best known today for being the spot where Janis Joplin fatally OD'd on the night of October 3, 1970.
The 27-year-old singer was found dead in Room 105 with fresh needle tracks in her arm, her lifeless body wedged between the dresser and the bed. There's a plaque posted outside the room in Joplin's honor, and another one inside the room's closet, which fans who spend the night here have turned into a graffiti-covered (and Southern Comfort bottle–filled) shrine to the late singer.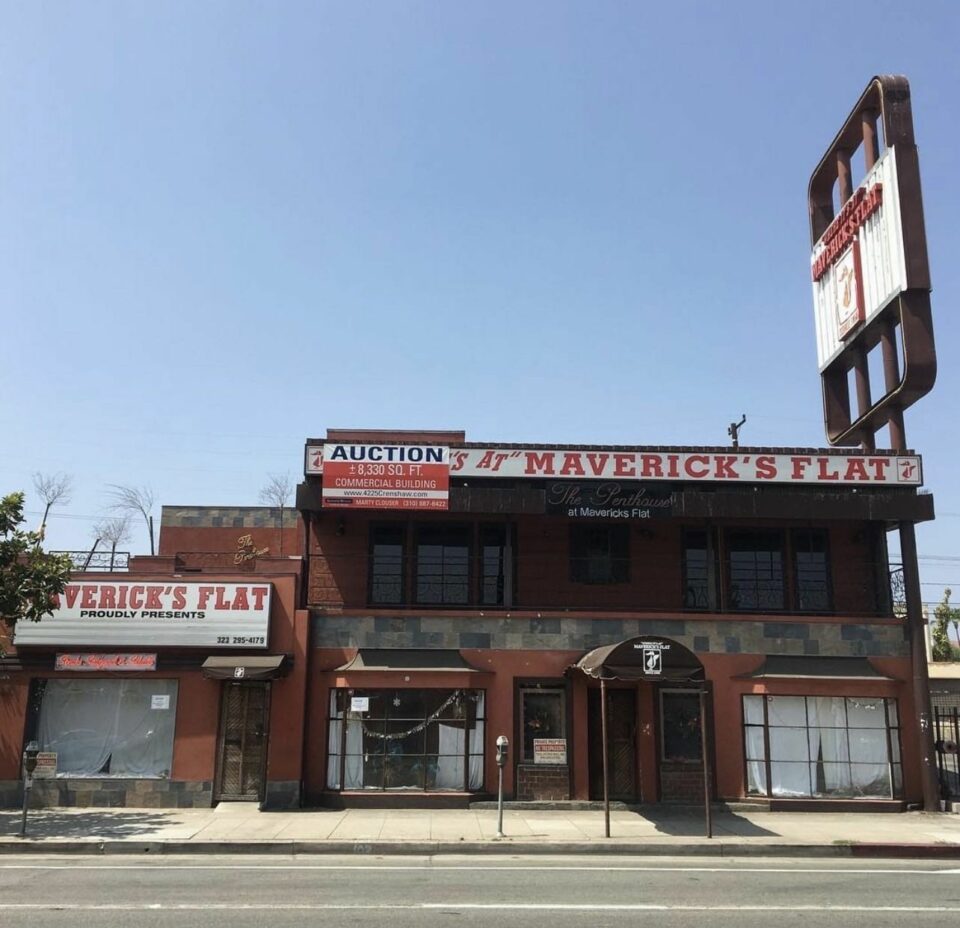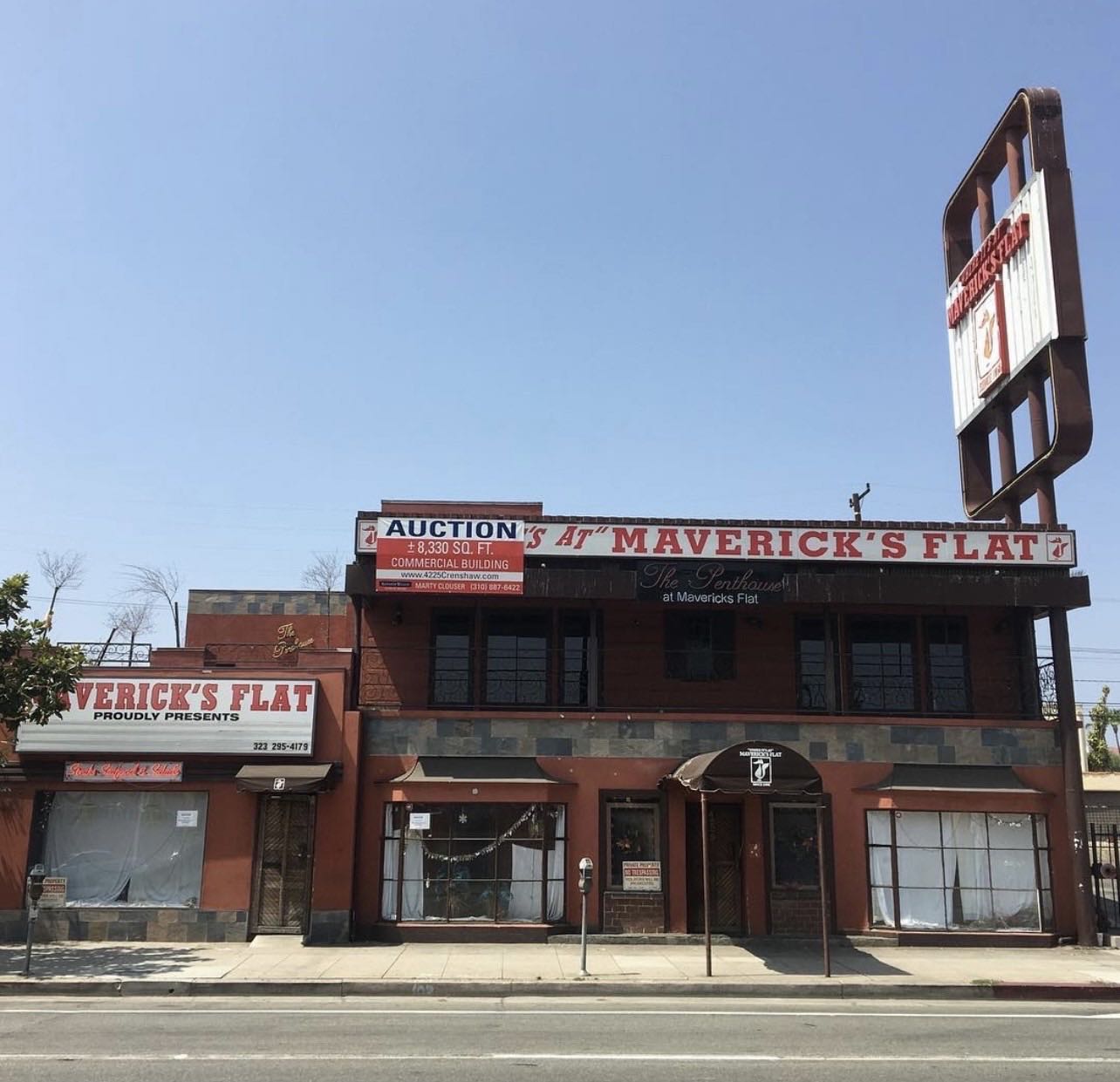 MAVERICK'S FLAT
4225 S Crenshaw Boulevard, Los Angeles
Opened in 1966 by John Daniels, Maverick's Flat brought new energy to the South Central music scene at a time when the nearby Crenshaw Avenue jazz clubs were starting to fade. The Leimert Park nightspot soon became the city's foremost showcase for top-rank jazz, soul, and R&B artists, and was often described as the "Apollo of the West." Marvin Gaye, The Four Tops, Ike and Tina Turner, The Commodores, Richard Pryor, Isaac Hayes, Chaka Khan, and Willie Bobo all performed here, and Motown songwriter and producer Norman Whitfield was so blown away by the club that it inspired "Psychedelic Shack," his 1970 hit for The Temptations. After falling on hard times in the early 2000s, the club—an official LA historic-cultural landmark—was beautifully renovated and reopened in 2011. Unfortunately, the club closed during the pandemic; but Maverick's Flat will hopefully return and be "where it's at" once again. FL