With two LPs and a slew of singles and EPs already released, yesterday Major Lazer announced details for its third full-length titled Peace Is The Mission, which is due out this summer. According to a press release, it will be "the first in a series of Major Lazer albums to come over the next year."
Not to be outdone, the group has also shared news that, on April 16, FXX will premiere a new cartoon based on the renegade commando mascot featured on the Major Lazer album artwork. The cartoon will feature guest appearances from Aziz Ansari, Ezra Koenig, Andy Samberg, Riff Raff, and Charli XCX, among others.
Beyond releasing details about the upcoming album and the soon-to-be classic TV show, Major Lazer dropped the visually stunning video for Peace Is The Mission's lead single "Lean On," which was shot entirely in India. Major Lazer mastermind Diplo said of the video, "India is special and its beauty absolutely humbled me. When we toured there as Major Lazer, it was mind blowing to see our fan-base and we wanted to incorporate the attitude and positive vibes into our video and just do something that embodies the essence of Major Lazer."
Peace Is The Mission is due out June 1 on Mad Decent. Check out the guest-heavy tracklist, artwork, and Major Lazer's tour dates below.
Peace Is The Mission tracklist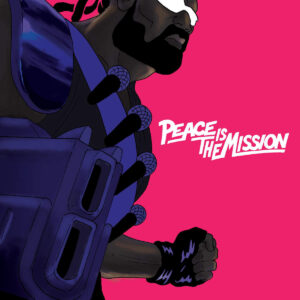 1. Be Together (ft. Wild Belle)
2. Too Original (ft. Elliphant & Jovi Rockwell)
3. Blaze Up The Fire (ft. Chronixx)
4. Lean On (ft. MØ & DJ Snake)
5. Powerful (ft. Ellie Goulding & Tarrus Riley)
6. Light It Up (ft. Nyla)
7. Roll the Bass
8. Night Riders (ft. Travi$ Scott, 2 Chainz, Pusha T & Mad Cobra)
9. All My Love (ft. Ariana Grande & Machel Montano) (Remix)
Major Lazer tour dates
April
19 – Las Vegas, NV – Encore Beach Club
May
16 – Gulf Shores, AL – Hangout Music Festival
June
6 – Ozark, AR – Wakarusa Festival
7 – Houston, TX – Free Press Summer Fest
14 – Las Vegas, NV – XS Nightclub
18 – Las Vegas, NV – Encore Beach Club
July
12 – Las Vegas, NV – XS Nightclub
November
11 – 15 – Miami, FL – Cozumel, Mexico – Mad Decent Boat Party