Urban naturalist painter Sage Vaughn has a theory as to why surfing and art—particularly photography—make such a good match: "As a surfer, you're sitting out, you're watching a horizon, and you're looking for pulses of energy that are traveling across oceans. And the only way you can detect them is by the light playing off the surface. It's one of the reasons I think Rob and some other surfers are really interesting photographers, because [they have] just a really interesting perception of light."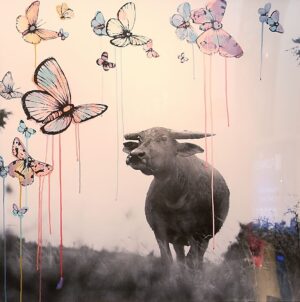 The "Rob" in discussion here would be world-champion surfer Rob Machado, "Mr. Smoothy" himself, who recently teamed up with Vaughn to create Convergence, a collaborative exhibit experimenting within the realms of art, surfing, painting, and photography. Naturally, the installation features a grip of surfboards, which were originally shaped by Machado and then subsequently painted on by Vaughn, who used the set to depict a full ocean scene, dusk spanning to night. To complement this arrangement, the exhibit also includes eight of Machado's photographs, each one reworked with touches from Vaughn's paintbrush, the color literally dripping off the page.
Catching up with the two at the exhibition's recent FLOOD Gallery showing in Los Angeles, Machado and Vaughn are ace representatives for the collision of their respective worlds. "Surfing is art to me," notes Machado, a man who has used his world travels to cultivate a stunning portfolio of landscape and portrait photography. "Pure creativity," adds Vaughn, who speaks from experience and is no slouch of a surfer himself. Sitting together, they both emanate the contradictory but quintessentially Californian vibe of appearing relaxed and stoked at the same time.
This unlikely balance of mediums and sensibilities extends further. Take, for example, the occasion of art lovers gathering to swoon over a display of surfboards, which, at their core, are designed to be tossed around in the sea (and as it happens, they are, since Rob and Sage have their own boards just like the ones used in the show). Or consider, perhaps, Vaughn's mixture of bright, flowery images, with more sinister undertones of mortality and darkness. And most notably, to be sure—despite the fact that this project celebrates one another—both artists drive the focus of the event to the cause at hand, which is the Rob Machado Foundation, a nonprofit aiming to increase environmental awareness among children. "It's a really humble, attainable, charitable goal," says Vaughn.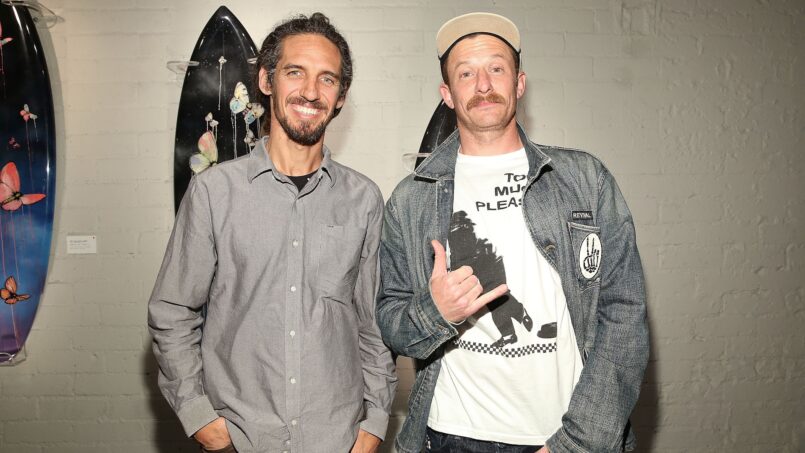 When it comes down to it, though, in its purest form, Convergence is simply a project between friends. "This is something that just culminated on the time we've spent together," says Machado. "We've only known each other for like, I don't know, three years now? When was the first time that we met…?" Cracking up at their own inability to wrap their heads around the details of the past, both Machado and Vaughn pause at the question of their future working relationship.
Speaking like the true surfer he is, Machado provides the answer: "First, we're gonna take a little breather. Ride a few waves. And then, wherever it goes, it goes." FL