BACK STORY: Singer-songwriter with a penchant for big hooks, '90s references, and raw, emotionally bruising lyrics
FROM: Born and raised in New York City, currently based in Los Angeles
YOU MIGHT KNOW HER FROM: Her anthemic singles "Olympus," "Kiss City," or "Joiner"  
NOW: Preparing for the release of her self-titled debut album while on the road with with Suki Waterhouse
Sounding like a long lost cut from the Empire Records soundtrack, Blondshell's "Olympus" arrived in a blaze of '90s-referencing glory in mid-2022. The track was met with an outpouring of critical acclaim and the general consensus that a noteworthy newcomer had arrived. However, overnight success was a long time coming for Sabrina Teitelbaum. On her grind since moving to Los Angeles at 18, the pieces didn't fall into place until the pandemic hit. "I didn't know how much work it would take, and I didn't know how much I didn't know," Teitelbaum says of her arrival in LA. "I didn't realize it would take years of playing in bars to two people."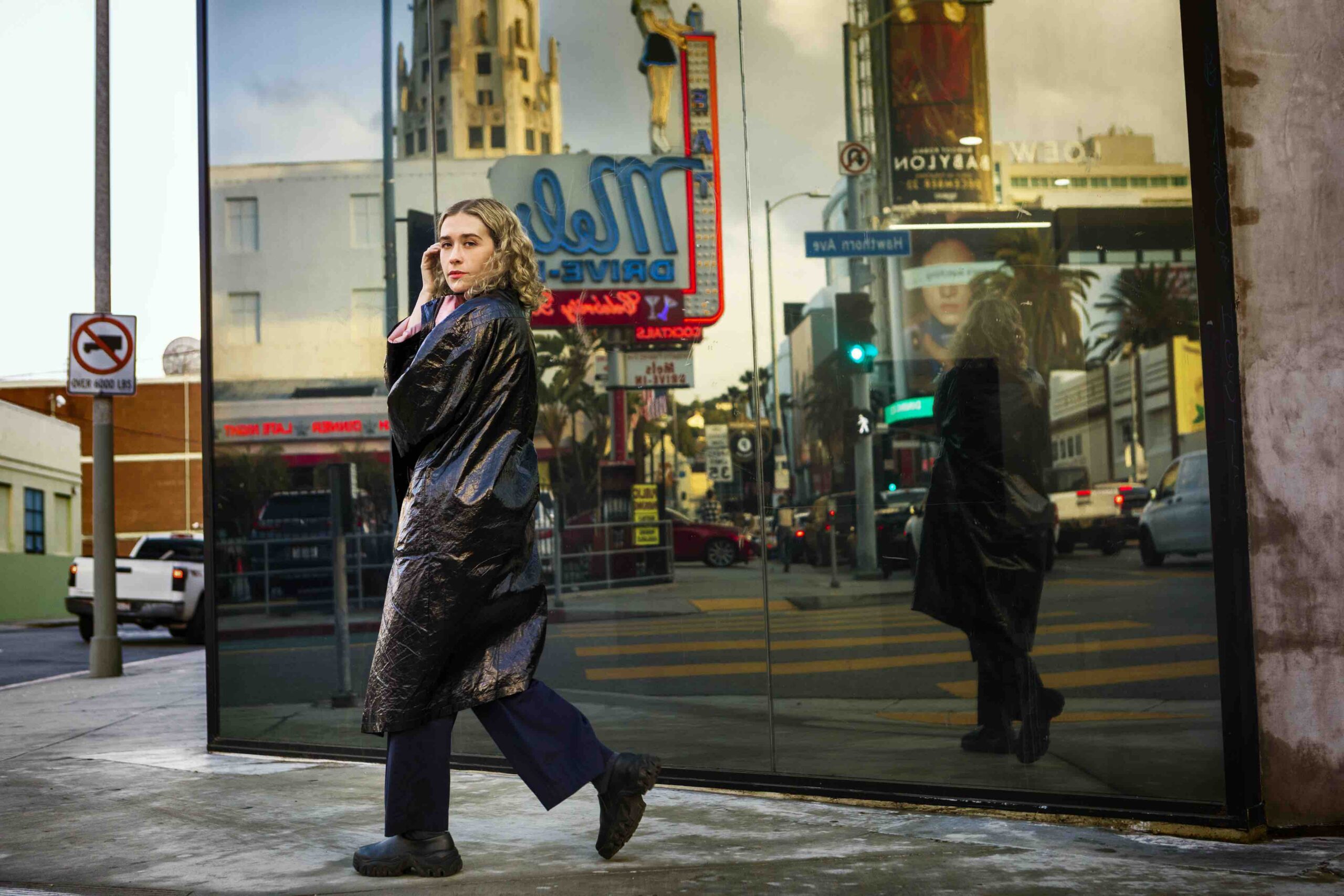 The songwriter slowly made connections and released music under different monikers before meeting producer Yves Rothman. After collaborating on several songs, Blondshell stumbled onto her own sound when she penned "Olympus." "It was so different from anything else that I'd written or recorded," she explains. "It sounded like the kind of music I actually listen to, so it was just so much more genuine for me." However, self-doubt set in and she wondered if she could do it again. Emboldened by the response from friends, she forged ahead and wrote a whole album.
"It sounded like the kind of music I actually listen to, so it was just so much more genuine for me."
That self-titled project is now set for release in April via Partisan Records—over two years after it was recorded. "I wrote all the songs in deep COVID, early 2020," Blondshell recalls. "It was just me in my apartment." Laying down the vocals was a similarly insular experience: "It was just me and Yves." Creating in a bubble turned out to be a freeing experience for the songwriter. "I wasn't really thinking about how the record would be received. I was able to focus on the things that I needed to say and then honor those things in the music and in the production."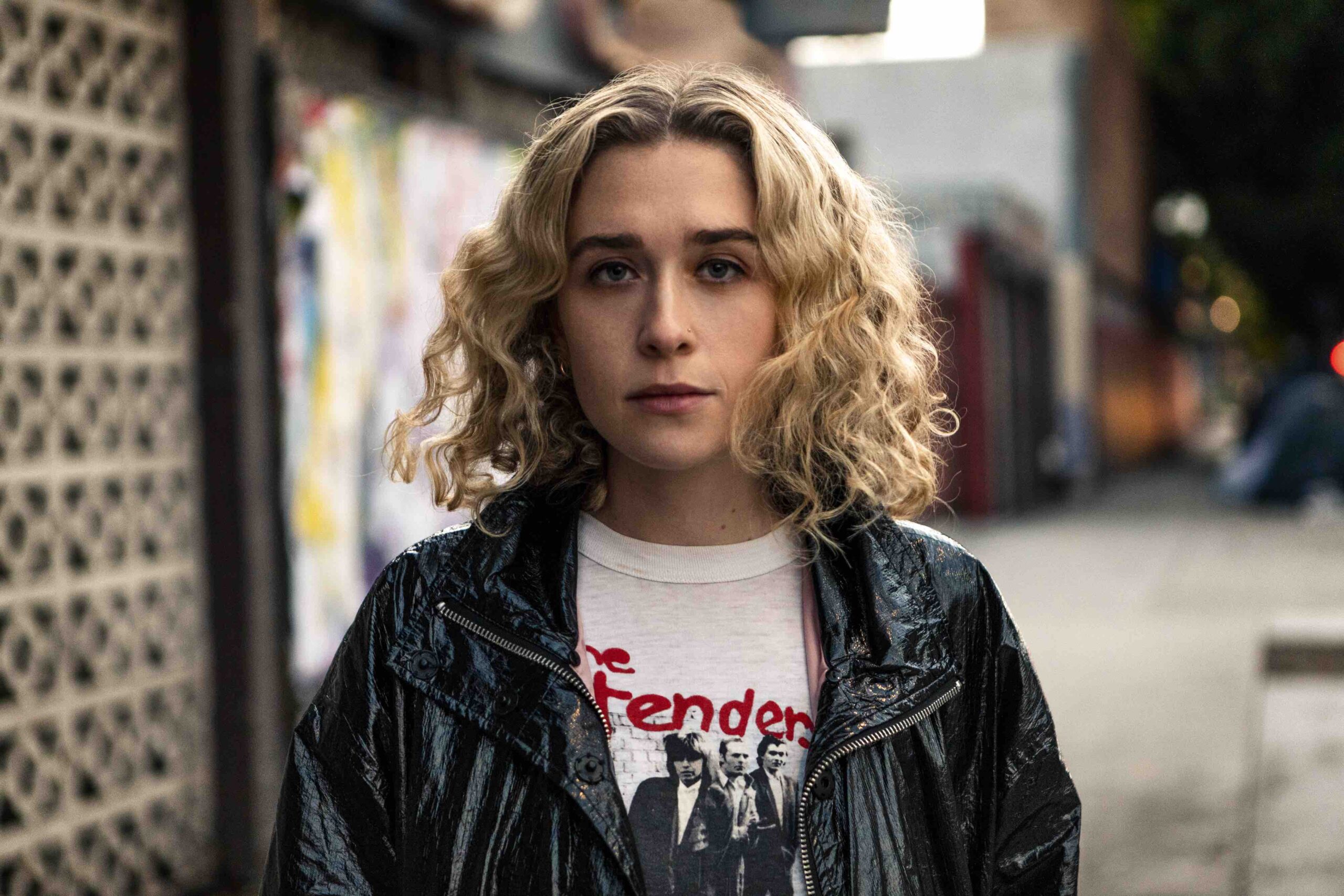 She knew fairly early on that she wanted to eschew modern trends. "I really didn't want any sort of electronic production," Blondshell reveals. "I wrote all of these songs on guitar, so I wanted to amplify everything just as it is." When it came to mapping out the finer details of how the record would sound, she turned to her record collection. "All of those '90s songs and albums [such as Hole's seminal Live Through This] were references."
Blondshell was similarly meticulous about the album rollout. "'Olympus' was the first song I wrote for the project, but that isn't the reason it was released as the first single," she says. "It just felt like a good example of the whole album." Next up was the majestic stadium-rock anthem "Kiss City," which "emotionally felt like so much of the project," and then "Sepsis"—a track that introduced her rock chops and passion for crunchy guitars. The latest cut and first since the record was revealed is the raucous "Joiner," a theme song for defiantly following your worst instincts.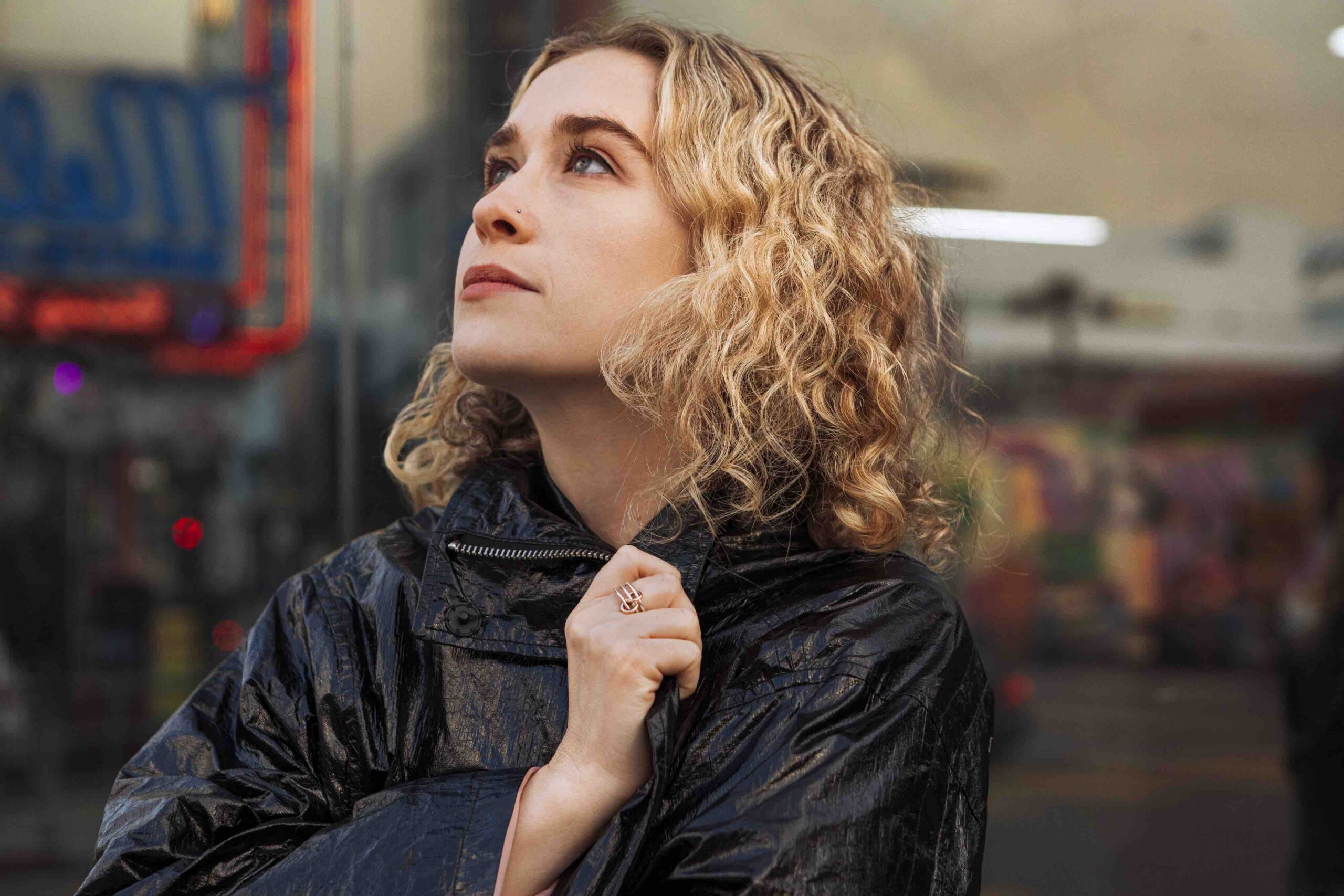 While the sounds and influences on Blondshell's self-titled debut are eclectic, there's a connecting lyrical thread that runs through them. "A lot of them are about relationships," she says, "but I feel like the pain and the emotions that come up in relationships, at least for me, are about more than the relationship." Instead of laying blame, she looked inward. "There's just so much that goes into choosing who you're going to be in a relationship with and what you're going to put up with. 'Olympus' was about a toxic situation, and those things don't just happen out of nowhere."
Despite the autobiographical nature of her songs, she's looking forward to sharing them with fans as she hits the road with Suki Waterhouse. "I've been sitting on these songs for a while now," she explains, "so it's less scary because none of those things are as fresh. If they'd happened a week ago, or even two months ago, I think that would be different."
"I started writing a lot of theoretical breakup songs when I was 10. I've always known that this is what I wanted to do."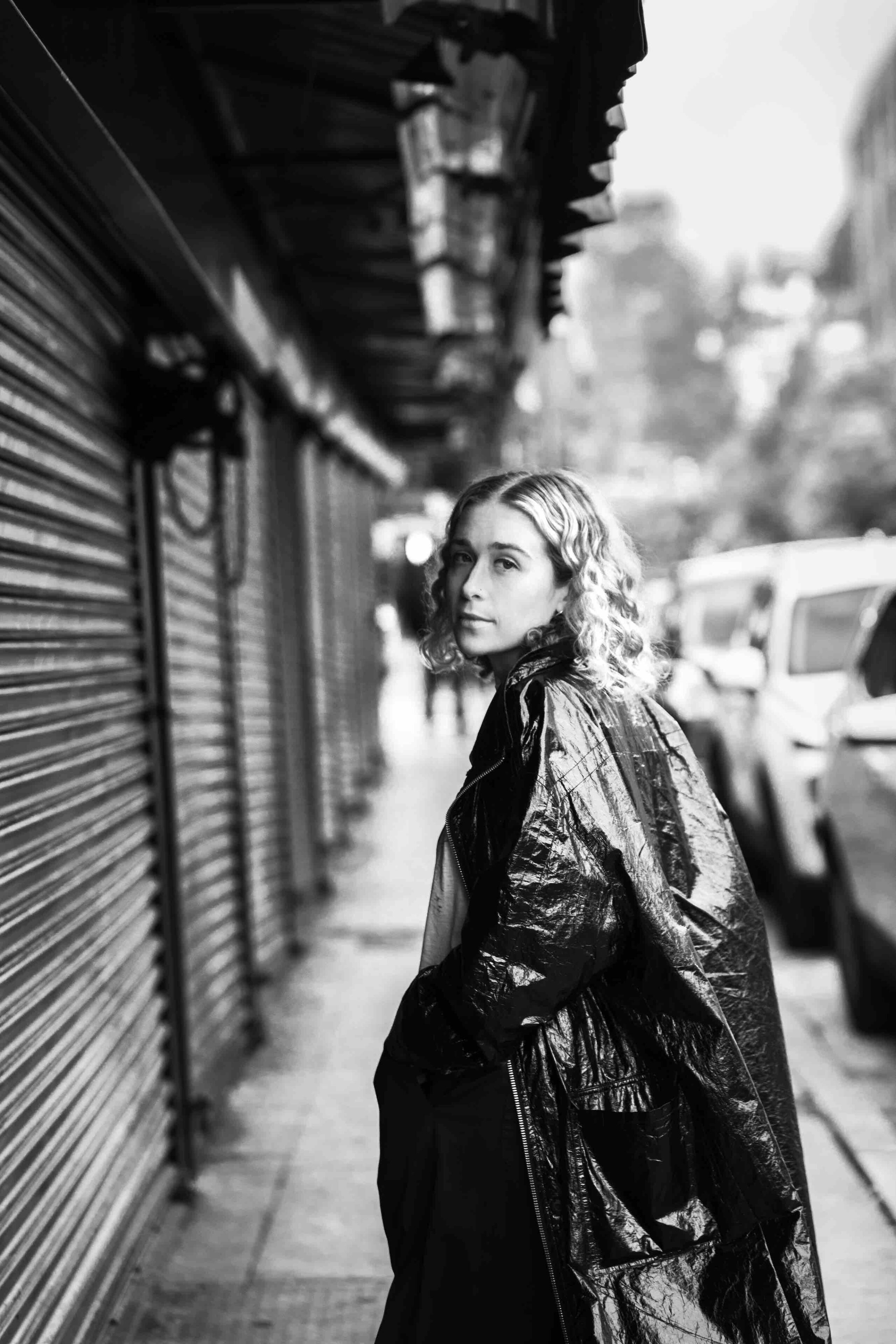 While Blondshell didn't come from a musical family, she's always gravitated toward music and storytelling through song. "I was obsessed with music as a kid. We listened to a lot of pop radio in the car," she remembers. "My dad noticed and started showing me classic rock—and I just felt so much more at home with that." She grew tired of singing her favorite Avril Lavigne and Ashlee Simpson tunes, and decided to write her own. "I started writing a lot of theoretical breakup songs when I was 10," Blondshell laughs. "I've always known that this is what I wanted to do."
"I've been sitting on these songs for a while now, so it's less scary because none of those things are as fresh. If they'd happened a week ago, or even two months ago, I think that would be different."
Pursuing music as a career is fraught with compromise, however, such as embracing social media apps like TikTok. "It's leveling the playing field in some ways," she says. "TikTok puts songs in front of a lot of people—I think it's helped a lot of young artists." Nonetheless, there is a downside to the pursuit of virality. "It's embarrassing," she admits. "It's vulnerable to put myself out there, but it's also introduced me to a lot of new people." Creating and stocking up on shareable content is worth it when she sees the favorable response from fans. "I've put up videos of live performances that people have reacted kindly to, so I'm grateful for it. It can feel like an obligation, but I think overall it's a good thing."
With the release of her self-titled debut on the horizon, Blondshell is already thinking about her next project. "I've written a lot of new songs, and I'm always thinking about it." However, meaningful songs require meaningful experiences. "Right now, I just want to live my life so that I have more things to write about," she explains. "I can't make up stuff, lyrics typically come from things that happen. All I want to do now is take my dog to the park and meet people." FL