It's a rare day without responsibilities. The late winter sun is shining in Los Angeles—far from the cold and the dark and the snow of the nation's capital. Attitudes are relaxed. Shirtsleeves are rolled up, ties loosened, jackets discarded. The Leviathan is nowhere in sight. The men, at present, are permitted to speak freely. POTUS has not called.
Together, the president's men—with their female counterparts otherwise occupied on the East Coast—are engaged in an open and freeing dialogue, sharing opinions and stories about the surreal nature of their jobs. There's no holding back. When asked what their boss's biggest triumph has been thus far in her career, the random sampling of answers from a quote–unquote "devoted and loyal" staff unveils the sinister—and hilarious—nature at the center of the conversation.
"That nobody's found her out!"
"Not being impeached and going to jail."
"…Selina's biggest triumph is the first lady trying to kill herself."
And with that malapropos comment, the roundtable dissolves into uncontrollable laughter, a simultaneous mix of disbelief at the inappropriate quip and due respect to a totally honest, accurate answer.
In HBO's cutting, rapid-fire, and riotous political satire Veep, the title character Selina Meyer (the brilliant Julia Louis-Dreyfus, in a three-time Emmy Award–winning role) has triumphed, politically—though not without a hefty amount of personal and professional scandal along the way. After three seasons of suffering in the second highest office in the land ("I'd rather be shot in the fuckin' face than serve as vice president again," she exclaims to a political adversary. "Seriously: in the fucking face."), Veep has finally ascended as POTUS thanks not to the voice of the people, but to a personal presidential tragedy and blip in the democratic process.
At her side from the beginning of her first presidential campaign has been, yes, a sometimes-loyal and occasionally devoted staff, comprised of the veep's intense and incessant chief of staff Amy Brookheimer (Anna Chlumsky); tactless and conniving deputy director of communications Dan Egan (Reid Scott); perpetually nonplussed director of communications Mike McLintock (Matt Walsh); guileless personal aide Gary Walsh (Tony Hale); and curt, stone-faced personal assistant Sue Wilson (Sufe Bradshaw). Liaising with the veep's office are on-again off-again White House go-between, former political blogger, and all-around idiot Jonah Ryan (Timothy Simons), as well as the president's gruff but compassionate chief of staff Ben Cafferty (Kevin Dunn) and no-nonsense senior strategist Kent Davison (Gary Cole), who both joined the cast in season two. The newest member of the Veep squad is actor Sam Richardson, who guest-starred in season three as slow-but-sweet campaign aide Richard Splett, and has joined the show full-time for the upcoming fourth season.
This collective of diverse characters in comedic situational crisis is the latest (and potentially greatest) from writer/director/showrunner Armando Iannucci, who was previously responsible for bestowing upon us British parodies I'm Alan Partridge and Veep's cousin from across the Pond The Thick of It. Iannucci's substance and style is signature at this point; his shows are quick-witted and even quicker-cut, the delivery sharp and the satire sharper. His cult comedic status and lauded reputation was undoubtedly one of the huge draws for the cast of Veep.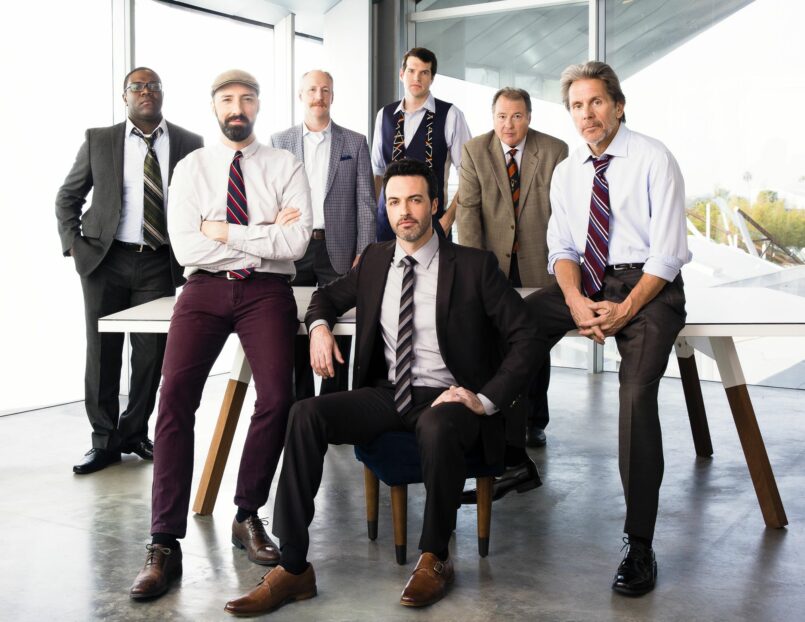 "Paycheck!" confirms Matt Walsh, eliciting agreement and laughter from all.
"I heard there was a steak dinner. At some point…" adds Reid Scott.
"I had seen In the Loop," says Kevin Dunn, referring to The Thick of It's film adaptation, "We just wanted to come aboard [Veep], you know? I thought, 'There's a show I want to come aboard.' 'Armando, I'm coming aboard!'"
"Honestly, we're all so thankful for the gig, but to be a part of something we really believe in and we think is funny…" Tony Hale trails off. "You know, many times you take gigs just because you need the work, but to be on a gig that we really love, that's such a gift."
"I was a fan of the show before I ever auditioned," says Sam Richardson. "I came in on season three, and it was amazing to be a fan of a show and then get to participate in and join that world permanently…" He pauses. "I hope permanently—"
"You didn't get that memo?" Gary Cole doubtfully interjects.
"No, I sure didn't," Richardson admits. "It's encrypted, I don't have the password."
Veep's ridicule of closed-door politics in Washington goes well past the boundaries of sanity and into all-out ridiculousness—at least one hopes. On the show, politicians and their staffs are so casually inept in their positions that it's a real marvel to behold that anyone gets themselves, or the country, through the day. But surrealism and satire, by definition, always have sources based in truth.
"That's the scary thing!" says Cole. "We get a lot of comments…especially when we went to the [White House] Correspondents' Dinner. People said how authentic the show is…which is terrifying. I don't disbelieve that; I think that's probably true because the writers work hard to grab stuff that they absorb from Washington and what's going on, and put it into the show. It's not out of thin air; a lot of stuff is based on occurrences and people and incidents that have happened. You look at the show and you go, 'And I live here, too?'"
"When we went to the Correspondents' Dinner, [a magazine was] trying to say, 'If Veep was real life, this is whose character you would be,' and they named real people. I felt terrible for the person who was named Jonah, because that guy is just going to get a world of shit," Timothy Simons recounts. "The guy who was named as the possible Dan came up to me and was like [rudely], 'Hey, I hear I'm one of you guys. I don't know which one because I don't watch the show.' And I was like, 'Oh, OK. Well, if you're in communications, you're either gonna be Mike—he's kinda old-school, kinda checked-out…' 'No, no, no.' 'Well, then there's Dan—he's kind of the younger, sharky one.' And he's like, 'Yeah, that's me. Who is that?' I pointed over to Reid, who was ten feet away. 'Oh, that's Reid Scott over there, he plays Dan.' And the guy stood there, looked at me, and said, 'I don't go over and get him, you go over and get him and bring him over to me.' It was like…yeah, that's exactly like Dan."
"I did actually go up and talk to him for a second," Scott adds. "He literally looked me up and down and goes [contentiously], 'I guess I see it.'"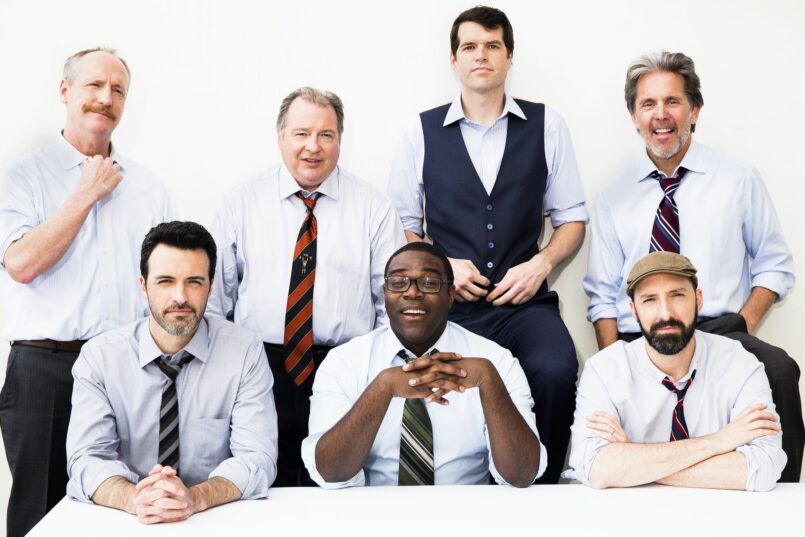 Scary stuff from a show where borderline treasons are accidentally and purposefully committed on a regular basis. Further cementing the show's knack for putting the "incorrect" in politically incorrect is what Cole cites as the "D.C. to English dictionary." Continuing in the grand tradition for the colorful language of The Thick of It's Malcolm "Fuckity Bye!" Tucker, Veep's crude and caustic language is an art form.
"Jonah gets the best [ones]," Hale says, of the show's well-loved verbal assaults.
"My top three: 'Jolly Green Jizz Face' comes up all the time. 'Terrorist chicken fucker' was a good one," says Simons as everyone erupts into laughter. "Reid came in and called me 'Hepatitis J.' I did not know about that one. I broke immediately."
"There's also that one—'You're the Washington Monument, if the Washington Monument was made entirely of dead dicks,'" says Hale.
"'You're Frankenstein's Monster, if the monster was made entirely of dead dicks,'" Simons amends. "And then [Veep actor/In the Loop alumnus] Zach Woods put in, 'You're like the Washington Monument: You're tall, nobody gives a shit about you, and your ass is a swamp.'"
The galling, hysterical language, they note, sometimes comes straight from the Hill ("Like the term 'pencil-fucked,' says Hale with a straight face. "[The writers] hear that kind of stuff and it goes right in the script."). Still, don't expect any of the staff to be on their best behavior now that their boss is president of the United States.
"It's much bigger—she is president," says Walsh. "So every room she walks into, there's real heads of state, there's real department heads. It's not like going off to Iowa for a pork roast or something. It's real."
"It's also harder to hide the mistakes," adds Hale.
"The stakes are just higher because any mistake results in a bigger catastrophe," says Cole.
So…are we on the record yet? FL