What's the German word for that thing where you feel compelled to go back and listen to a band, song, or album you were obsessed with as a teenager? More importantly, what's the German word for the thing where you don't feel compelled to go back and listen? The word I'm searching for is a way to describe that latter feeling, the one that accompanies the general dismay I feel at the prospect of having something I was once devoted to become something I can't stand, to have a totem of my personal taste—a pillar of my personality, even—dissolve into the waves of time. Why trudge the purity of nostalgia through the filthy present? Why risk the embarrassment?
Neutral Milk Hotel is my exception to that rule. They're a band who I'll return to consistently—if not constantly—despite them retaining a time-stamped importance to a very specific point in my life. Still, I can't help but worry that this will be the time when the shine wears off, where the lacquer fades and I see through all the freaky-folk stylings to a hollow core; where their lyrics will become insufferable and the soaring, strained vocals of Jeff Mangum will become overwrought; where the sonic flights of fancy and the stray shots of harsh noise become grating; where the brevity of their catalog is proof of what they lack and not some mysterious puzzle to be solved. The recent release of the band's new vinyl box set, The Collected Works of Neutral Milk Hotel, is a prime opportunity for that dreaded day to rear its head and yet, even when presented in one big, unwieldy mass of 54 songs, Neutral Milk Hotel remain as beguiling as ever.
As with anything advertising itself as "collected works," this is first and foremost a completist's dream. Since their beginnings in Ruston, Louisiana and Athens, Georgia in the mid '90s, Neutral Milk Hotel has been a band that's demanded excavation. With only two proper LPs and an adjacent live performance to their name, there have always been songs bouncing around without a proper release. YouTube rips and torrent files now give way to vinyl and streaming content, which is justification enough for the collection's existence. Does this mean every bit of content here is essential?
Not exactly. Everything Is…, a collection of some of the band's earliest recordings, is more interesting than strictly good. I recently wrote about a new documentary covering the high times of the Elephant 6 Recording Co., a loose collective of bands which included NMH as well as The Olivia Tremor Control and The Apples in Stereo. It's a label that produced plenty of good music, but the fact remains that there simply wouldn't be a documentary about Elephant 6 without the endurance of Neutral Milk Hotel, the rising tide which continues to carry all ships. Everything Is… presents the band before they transcended their surroundings, when they existed as one of a dozen or so lo-fi pop acts harnessing The Beach Boys by way of constant tape hiss.
Ferris Wheel on Fire collects the best of the unreleased songs superfans might have combed through via dial-up connections in the mid 2000s. These are the gems, the ones worth the viruses.
But while Everything Is… is more origin story than revelation, something like Ferris Wheel on Fire feels about as essential as essential can get. Recorded in 2010 with production wizard and Apples in Stereo frontman Rob Schneider, this 10-inch EP collects the best of the unreleased songs superfans might have combed through via dial-up connections in the mid 2000s. These are the gems, the ones worth the viruses. Sure, a few of these songs, including "Engine" and "I Will Bury You in Time," made an appearance on Mangum's solo Live at Jittery Joe's record (also included within the box set), but there's something about hearing them all collected in one place with proper production that allows for a previously missing congruity.
Though these songs, like those on Everything Is…, were written prior to the band's 1996 debut On Avery Island, there's a sense of Mangum unlocking something in real time. A song like "Oh Sister," with its breakneck strumming, river-rapid lyricism, and dream logic, is a direct antecedent to In the Aeroplane Over the Sea and represents a pretty sizable difference from anything on Everything Is… Even the song's narrative, cryptic and abstruse as it may be, features lines and characters (Rose Wallace Goldaline hive!) ripped directly to its more famous sister songs "Communist Daughter" and "Oh Comely." It almost feels like a collection of songs absent from Avery Island or Aeroplane by sheer happenstance rather than anything more strategic.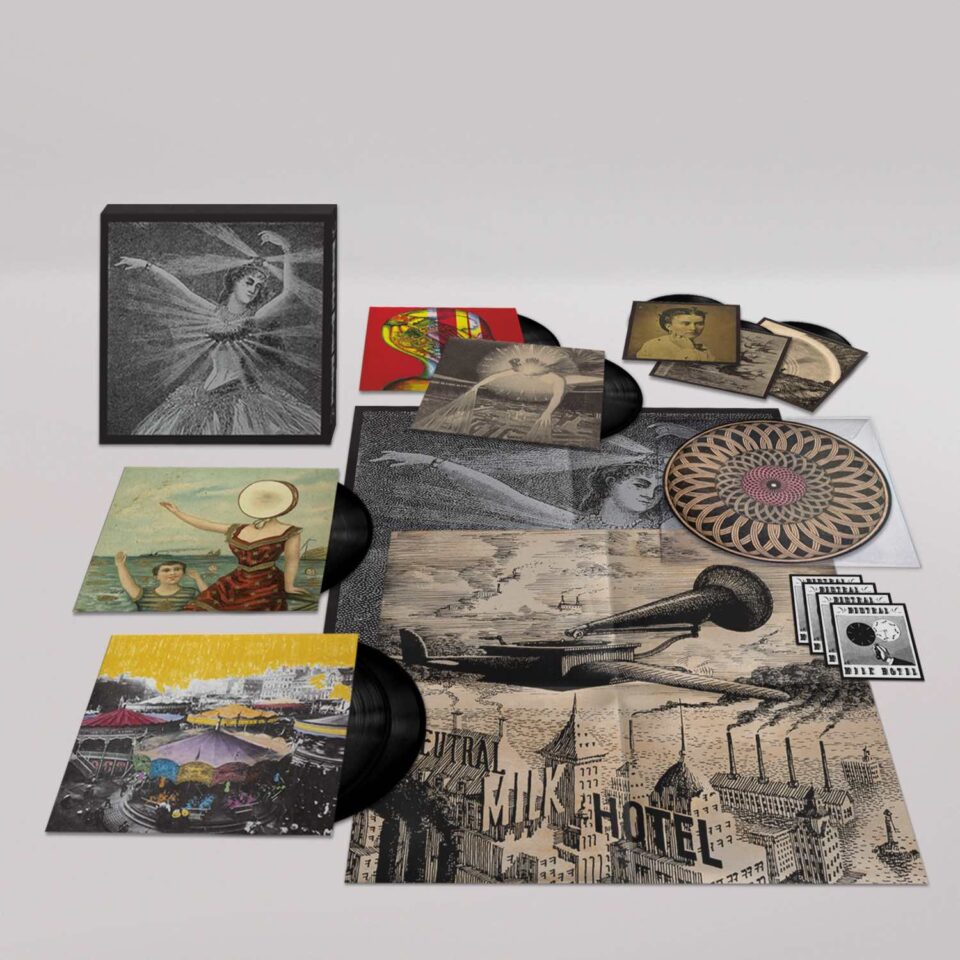 But these songs weren't included on any proper release, which, when considering a band with only two proper albums, does feel important to acknowledge, as does every capital-C career move the band ever made. Which is where the Mangum of it all comes into play. Jeff Mangum remains one of the most romantic characters in indie-rock history. From the first time I ever heard Aeroplane—and maybe even before that—I was aware of his unknowability. He didn't die—which is romantic in its own way—he simply disappeared, becoming the J.D. Salinger of folk songwriters penning lyrics about Anne Frank, a legend rather than another guy strumming on an acoustic guitar in bars and clubs. I can't pretend for a minute this was not an attractive feature of the man and the music, as shrouding the whole thing in mystery makes it all so much more deep. And I wanted desperately to be deep.
It also gave the whole thing a convenient endpoint. I couldn't help but think of Mangum recently when reading Jayson Greene's essay on the late Tom Verlaine, in which he looks back on Television's brevity as a blessing. "Two records, it turns out, is exactly the kind of slim discography that allows for perennial rediscovery: not quite enough to canonize, just enough to be endlessly fascinated by." Not only is this equally true of Neutral Milk Hotel proper, but includes a completely bare post-NMH career for Mangum, whereas Verlaine's career was littered with solo efforts.
Jeff Mangum remains one of the most romantic characters in indie-rock history. He simply disappeared, becoming the J.D. Salinger of folk songwriters penning lyrics about Anne Frank, a legend rather than another guy strumming on an acoustic guitar in bars and clubs.
Trying to imagine what Neutral Milk Hotel or Mangum might have sounded like five or six records in is, strangely, never something I've had much interest in. Again, this is a band I've frequently called my favorite, one for which I have an emblem tattooed on my upper arm, and yet I am so infatuated with the flawless, possibly apocryphal ending of the whole thing, I question whether I want to hear any more from them. Then there's the more logical side of my brain, which both disputes all that and can't quite get my head around the fact that a songwriter like Jeff Mangum had 50-odd songs to write and sing and then that was it. Forever. That's not how creativity works, is it? Surely he must have dozens of tattered notebooks stuffed with genius-level folk songs, right?
There are a few songs on The Collected Works that appear multiple times in various forms. Only one comes back to back, and it's toward the end of the catalog, free of any affiliated album, released for the first time in any official capacity. "Little Birds" is the epitome of the kind of file-sharing gem I mentioned earlier. I don't know when I first heard it, but I can remember how sacred and unblemished it felt. "Little Birds"—here presented in both its original 1998 demo form and played live during the band's reunion tour in 2014—is a pretty remarkable song, both in content and context. Though "Two-Headed Boy Pt. 2" was the final song of the band's official catalog, "Little Birds" is, as far we can tell, the last proper song that Mangum has ever written, as Neutral Milk Hotel or otherwise.
There's a section of the Elephant 6 documentary in which director Lance Bangs tenderly rhapsodizes about the moment he heard "Little Birds," a song which, in typical Mangum fashion, blends the supernatural with the literal, telling a harrowing story of familiar abuse and sexual awakening. That moment is quickly followed by Mangum's abrupt disappearance from the limelight and admitted nervous breakdown, a moment where it once again becomes almost impossible to separate Mangum the man from Neutral Milk Hotel the band. "Little Birds" is proof of the validity of The Collected Works of Neutral Milk Hotel as a whole, rounding out a catalog that deserves to be as comprehensive as possible, but it also confirms the silliness of my own romanticism. If "Little Birds" was a hint of what Mangum would have produced in the years following In the Aeroplane Over the Sea, then it's nothing but a shame that he didn't have more to say or the right mindset to say it.
The Collected Works is a wonderful testament to a songwriter and band who continue to be a big deal to a lot of people—I just wish this was only the tip of the iceberg. FL