"We're excited and quite keen to get it out," says Slowdive leader Neil Halstead, speaking about the band's new album, Everything Is Alive. But, he also adds, "It's not been something we'd planned on, particularly. It just sort of happened."
The pioneering shoegaze band's last release, Slowdive, came out in 2017, immediately earning critical acclaim and fan adulation. Even so, Halstead says the band had no plans to record a follow-up. Then COVID came along, throwing the world off-kilter—but it also presented the band with an opportunity: "At some point during that, we started chatting about doing a bit more recording, since we couldn't do any gigs or anything," Halstead says. They went on to create an emotive album that's every bit as atmospheric and lush as anything else they've released since they first formed in Reading, England in 1989. According to Halstead, Everything Is Alive also contains some of their most uplifting work. "I think generally it's got a good vibe. It feels quite hopeful. I think we wanted a title that reflected that, and reflected the feeling of vitality and things moving toward the light."
It's especially surprising that such an optimistic album could emerge out of such a dark time. Besides coping with the COVID turmoil, the band members also suffered profound personal losses as these songs were being written and recorded. "It was a really tough time for everyone," Halstead says. "Simon [Scott] lost his dad, and Rachel [Goswell] lost her mum during the pandemic. But we worked on a lot of music, and it seemed like the tracks that fit together and made the record weren't the darker tracks. I personally don't want to listen to a really dark record right now."
"It's got a good vibe. It feels quite hopeful. I think we wanted a title that reflected that, and reflected the feeling of vitality and things moving toward the light."
For this batch of songs, Halstead decided to try out a dramatically new songwriting approach. "I didn't feel like I wanted to sit down and start working on songs for Slowdive," he says. "I had a bunch of music that I'd been working on that was very electronic-based, that I hadn't thought was going to be Slowdive music. I just thought, 'Well, maybe I'll put it out as a separate thing.'" But when the discussions came up about a new album, he decided to repurpose these tracks for Slowdive, after all.
In their quest to make this material fit the Slowdive aesthetic, they would do things like play along to the minimal synthesizer tracks he had created, and once they'd built up the song around it, they would remove that synth part completely and only keep the surrounding music. "It wasn't Slowdive music when we started, but I think when you work on it with the band, it becomes Slowdive music," he says. He admits that this was a potentially risky way to do things: "I didn't know if it was going to work, and a lot of stuff didn't work," he says, estimating that only about 10 percent of what he brought to the band turned out well enough to be included on the album.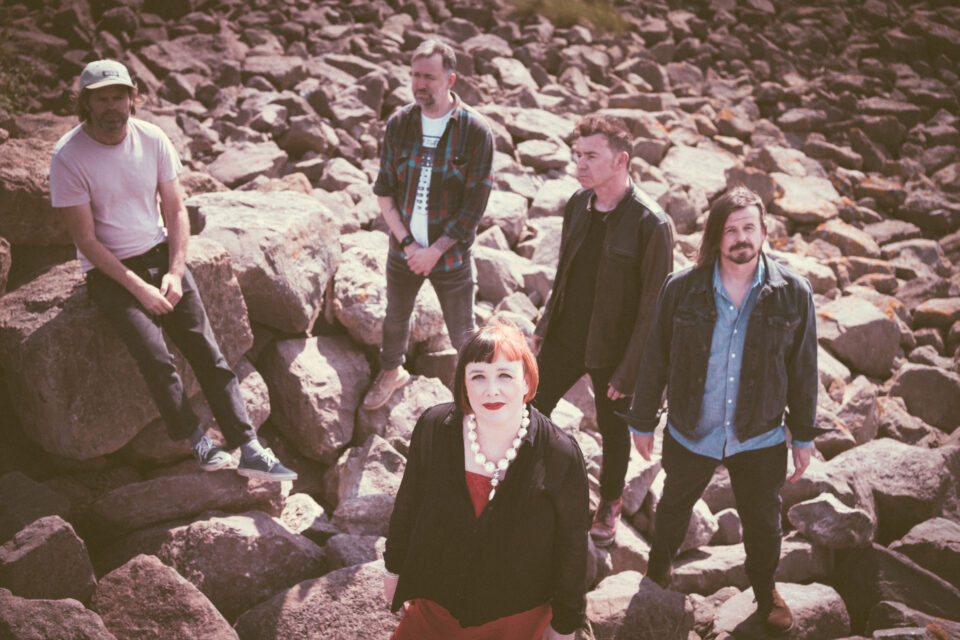 That comes out to eight finished tracks for fans to peruse on Everything Is Alive. "I hope they like it," Halstead says, though he also amiably adds, "If they don't, that's fine. I think once you make a record, you get to a point where you're happy with it. You feel like it expresses much of what you wanted to express on it, and it feels like it's at the right point to release it into the wild." This feeling, he says, comprises a big part of his motivation to continue creating music. "I just really enjoy going to work—I like going to the studio and messing around," he says. "There's always a point where something feels like it's taken on some kind of life of its own. That, for me, is the really fun part, where you suddenly [say], 'Hang on, there's something happening!' Those are the moments I really live for."
Halstead says it was always clear that he'd become a professional musician because he loved music so much, and never showed much talent for anything else as he was growing up. Goswell, his friend since childhood, was similarly inclined, so it seemed natural that they should start playing in bands together. They landed a record deal within months of co-founding Slowdive as their heavily layered, ethereal sound put them firmly at the forefront of the so-called "shoegaze" scene. Their self-titled debut EP brought them much critical praise, and that adulation continued when they released their first full-length studio album, 1991's Just for a Day.
"It wasn't Slowdive music when we started, but I think when you work on it with the band, it becomes Slowdive music."
But by the time they put out Souvlaki in 1993 and Pygmalion two years later, the British press had done an about-face, ruthlessly attacking them (and all other shoegaze bands). Looking back on that time, Halstead can be objective now. "It was like, 'Well, the new thing is grunge,' so to build up the next scene, they had to knock down the scene before. It was the way they operated. Then after grunge it was Britpop. So I think when we started getting bad reviews it was like, 'OK, we're just part of the cycle. We had our moment.' But I think it's quite hard as a young band to not let it affect us. And I think it did affect our confidence a little bit."
Putting Slowdive on ice, Halstead and Goswell moved on to form the folk-rock band Mojave 3, releasing five albums between 1995 and 2006. But in 2014, Slowdive reformed to play a couple of European festivals. That went so well that they toured the world, then released their self-titled fourth record in 2017. Halstead is grateful for this chance to return to Slowdive and release more music, especially because those old insults against shoegaze music seem to have faded away. "We were lucky we were given a chance to have a second act, really. I feel like we've had a chance to continue a story that sort of finished in '95," he says.
Still, Halstead is surprised as he watches how Slowdive are now beloved across generations, which he says is something he and his bandmates never expected. "A lot of shoegaze bands were rediscovered by these kids who were just going down these musical rabbit holes and being like, 'Oh, this is kind of cool, how come I've never heard this music before?'" He's diplomatic when asked if he feels vindicated at this turn of events, considering how they were once so unreasonably maligned. "I mean, it's just nice that there's been this natural journey where the audience has found the music," he says. "Not just for us, but for a bunch of other bands, as well. It's nice that that can happen."
"We were lucky we were given a chance to have a second act, really. I feel like we've had a chance to continue a story that sort of finished in '95."
Seagulls begin squawking in the background as he speaks: he's calling from his home in Newquay, a village on the Cornish coast in England. Soon, though, he'll have to leave this idyllic scene to support Everything Is Alive's release with a string of autumn tour dates across the UK, Ireland, and North America. To warm up for that, the band recently played a handful of shows—including an appearance at the prestigious Glastonbury festival. "It was really good fun," he says of that show. "We only played one new song, but it was nice to play that, and good to be out there doing it again."
He notes that as far as he knows, most of the upcoming shows are already sold out. This is a relief, because the band haven't toured extensively in a number of years, so they weren't sure if people would actually buy tickets to see them. Now that they're confident that the fans' interest remains, Halstead says, "It will be interesting for us to get back out and play."
And after that, fans are doubtless hoping for another Slowdive album—but Halstead is hesitant to predict that far ahead. Given the overwhelming response to their latest efforts, he seems to take into consideration that his band's music (especially its current optimistic vibe) serves a purpose. "We still live in obviously precarious times—so much stuff happening, and happening quite fast," he says. "So yeah, I suppose this is an escape in some ways, possibly." FL