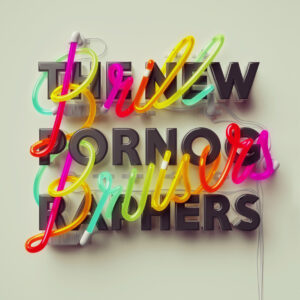 The New Pornographers
Brill Bruisers
MATADOR
9/10
It's been over four years since the last album from the power-pop collective, The New Pornographers. Their sixth full-length Brill Bruisers takes another wild stab at salvaging the vigor present during the group's invincible stretch from 2000's Mass Romantic to 2005's outright classic Twin Cinema. Principal bandmates A. C. Newman, Neko Case, Dan Bejar (a.k.a. Destroyer) all return, alongside the ever-ballooning support members. Some course correction was needed, since the previous two albums (especially 2007's Challengers) showcased a disappointingly small amount of liveliness. It was frustrating to see the group fragment so much from the initial concept and opt for hodgepodges that underlined the preferred aesthetics of the three band landers over a holistic appreciation for power-pop. Some of these criticisms still hold water with Brill Bruisers, but the result is still a playful triumph for the Vancouver band. Singer/keyboardist Kathryn Calder is underutilized ("Another Drug Deal of the Heart"), but Neko Case essentials "Champions of Red Wine" and "Marching Orders" are bombastic and stately throughout.
It's also a given at this juncture to expect every New Pornographers record to include a couple Bejar-fronted tracks. On Brill Bruisers, he contributes two driving rockers complete with addictive synth lines ("War on the East Coast"), and the influential force of Destroyer's latest album Kaputt ("Spidyr") felt within their sonic DNA. Newman has christened Brill Bruisers as "sparklier," "faster," and "celebratory." These descriptors feel so right while listening to the LP's title track. Newman leads the charge with a lurching guitar riff and an infectious "ba-ba" chorus. "Brill Bruisers" along with the meticulous rockers "Fantasy Fools" and "Dancehall Domine" brilliantly counter Newman's midtempo offerings such as "Hi-Rise" and "Wide Eyes." With these commendable endeavors, the craftsmanship heard on The New Pornographers' first three albums has returned in spades. Welcome back guys, we've missed you.