Yeah, so, when you first get a glimpse some people jumping out of a plane in the first trailer for the Point Remake, don't get your hopes up: it's not that scene—though there still may be, indeed, way more jumping and jerking off than the original, since the Ex-Presidents are now a bunch of BASE-jumping extreme sports dudes.
Director Ericson Core (whose credits include mostly DP stuff, for The Fast and the Furious and Daredevil—but not that one) and writer Kurt Wimmer (who's penned, among other things, the Total Recall remake nobody asked for) look to have taken the heart (Keanu) and soul (Swayze) out of Kathryn Bigelow's beloved 1991 cult classic, while retaining a ton of the original's (hilarious) details. All for the sake of…I don't know? For taking such specific cues from an original that has aged into a fine piece of nostagic '90s cinematic gold, this remake is taking itself way too seriously.
The trailer for the upcoming remake is just full of Point Break sacrilege. Is this real life?
Aaaaaaaaaaarrrrrrggggghhhhhhhh!!!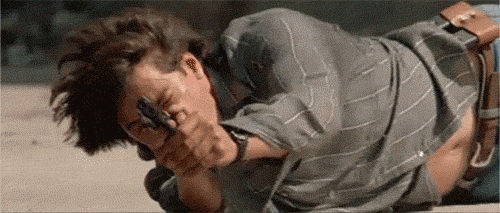 This Point Break is out Christmas Day, but we'll be in the theaters for a much more promising franchise update.
(via Complex)