Two5six
May 15–17
Villain
Brooklyn, New York City, New York
Last weekend, Two5six festival, described by Mashable as "the TED of video games" and created by Kill Screen founder Jamin Warren, took place in Brooklyn for its third year. The festival was held at Villain, a former nineteenth-century textiles warehouse, which was converted to a 5,000 square foot event space in the heart of Williamsburg. Kill Screen, the fest's presenter, describes itself as "a video game arts and culture company that wants to show the world why games matter," with the goal of "inspiring a life well-played." Also based in Brooklyn, Kill Screen publishes a website and a magazine, in addition to organizing events such as their groundbreaking arcade at New York's Museum of Modern Art and, of course, Two5six.
On Friday night, Two5six kicked things off with the festival's film program. With games often described as "cinematic" and as film continues to reflect and inspire the world of video games (as well as vice-versa), Two5six seeks to more deeply explore this relationship, primarily from three different perspectives. As Two5six describes them:
"Some of these shorts approach games conceptually, skirting the lines of digital art or interrogating the player-avatar relationship. Others explore games from within: using the virtual world as the backdrop for a new cinema verité. And still others seek to document the people whose immense creativity and innovation brought videogames out of their infancy."
Roughly a dozen short films were presented over the course of the evening, each having a unique point of view, and further expanding upon or speaking to the overlap between games and film.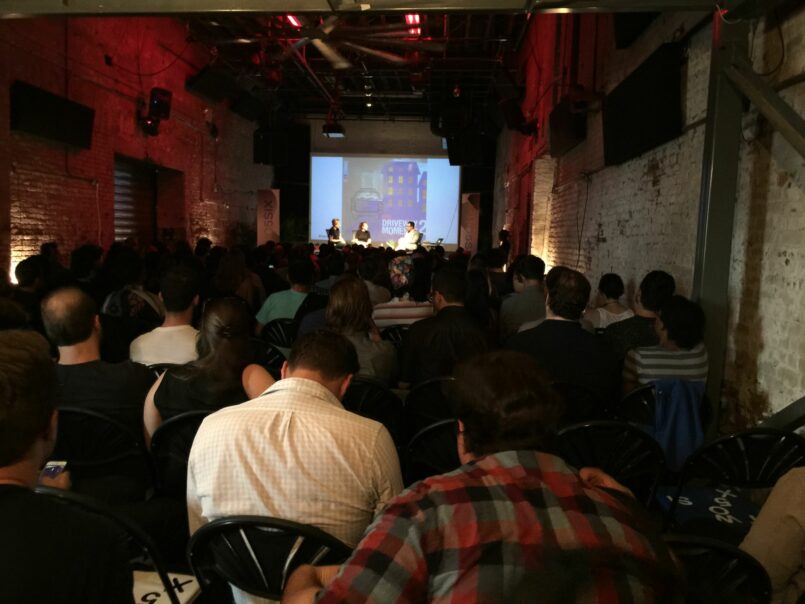 The heart of Two5six is the conference portion. Past guest speakers have included Kickstarter CEO Yancey Strickler, Reddit cofounder Alexis Ohanian, and many other successful executives and entrepreneurs. This year was no exception, with a strong list of panelists including Etsy creative director Randy J. Hunt, OKCupid CPO Jimena Almendares, and award-winning Irish-born filmmaker and artist David OReilly, whose wide-spectrum work ranges from writing for South Park to his creation of the fictitious video games in Spike Jonze's Oscar-winning film Her to lectures at Pixar, Harvard, and Yale, just to name a few. Warren acted as host and occasional moderator, with each topic pairing a member of the gaming community with another guest of "equal stature" from outside of the world of gaming. The conference was broken up into seven unique dialogues over the course of the day, each ranging anywhere from five to thirty-five minutes in length—just long enough to inform the audience, while insuring that the day's schedule was dynamic enough to hold everyone's interest and keep them engaged.
The goal, in the words of Two5six, is to "spark a conversation between play and other aspects of the wider world" in hopes that games and other media or industries can inform one another, while also helping in terms of both inspiration and overcoming shared or similar obstacles and challenges each may face.
This year's keynote address was "Loss & Hope" given by Ryan Green, an independent game developer, artist, and freelance software developer, and his wife Amy Green, a freelance writer, speaker, and mother of four. Together, they designed and created That Dragon, Cancer, a game inspired by the life and death of their son, Joel, who was only four years old when he tragically lost his fight with the illness. They describe the game as "an adventure game about hope in the face of death. A story about raising a son. A parable of grace." Needless to say, it was very powerful and inspiring. Even from the darkest experiences, the light of creativity can shine through.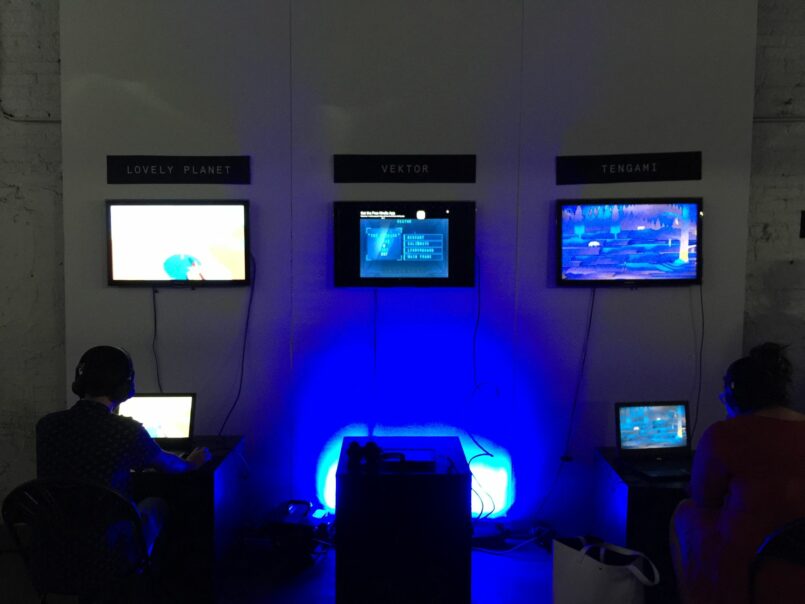 On Sunday, the festival opened their arcade, featuring over thirty games handpicked from Kill Screen's favorite up-and-coming designers, alongside live music from Ghostly International recording artists Matthew Dear, Heathered Pearls, and Michna. The arcade, presented by sponsor Intel, also had a handful of "Game All People Play" selections. These games were selected to underline the fact that, in Two5six's words: "The worlds inside of videogames are varied and colorful, just like the world outside of them. People of different genders, nationalities, sexual orientations and backgrounds have always come together to enjoy, challenge, and define interactive media. The Games All People Play Arcade selections highlight that tradition—in particular the work of women—and explores what's still being done to find and encourage new voices. The future of videogames belongs to everyone."
Push Me Pull You was one of the gaming highlights. The game is played via Xbox and requires four players, so I had to quickly draft a couple of folks I'd just met in order to get in the game. Created by House House, Push Me Pull You, was described in the program as "a terrifying image from a future Olympic games where doping has reached its natural apex in cross-human experimentation. This 2v2 sports game has you and your partner control the two heads of a single elongated body." While the description sounds all sorts of creepy, the game itself is pretty addictive. Each player is cooperatively controlling, along with your respective teammate, one end of this sort of mutated human-worm hybrid. The goal is to work with your teammate and make sure your movements are in sync to pull a ball onto your side of the game arena, and hold it there long enough to score a point. First team to three points wins. It doesn't sound especially difficult, but it is more challenging than you might think (… since my team lost). You're forced to pay close really attention in order to balance your own movements against how they might affect your teammate's position, and in turn, your hold on the ball. It takes a while to get the hang of it, but it was one of the most truly cooperative games I've ever played. I could see Push Me Pull You as a blast to play with friends, but also as a great team-building exercise for companies and other groups.
All in all, Two5six was a really impactful, informative, well-executed weekend. Warren and his teams from Kill Screen and Two5six struck just the right balance between great information and content, a solid opportunity to network with a fairly diverse array of attendees, and a destination to have a lot of fun between the arcade and the musical guests.This was my first Two5six festival, and I'll definitely be attending next year. Now, I just need to talk Jamin into bringing back Push Me Pull You for that rematch I've been thinking about every day since. FL
Two5six Festival 2015 from Kill Screen on Vimeo.