Zach Condon—the frontman and mastermind of the whimsically baroque, indie-folk project Beirut—has announced the details of the band's fourth full-length No No No and shared the record's title track. Beirut's first album in four years, following 2011's The Rip Tide, will be released September 11 on 4AD.
The brand-new title track has the familiar Beirut mix of Balkan folk, electronic elements, and Condon's signature vocal melodies that we've been missing for a few years now. Bob along to "No No No" below.
According to a press release, the songs on No No No were written after a long period of writer's block induced by Condon's deteriorating mental and physical health following a three-year stint of nonstop touring and a messy divorce. (That explains the steely-eyed, weary stare we see in the photo above.) Condon was rehabilitated by falling in love and moving briefly to Turkey, which sure sounds like the makings of a great album.
Condon has also announced a tour in support of the upcoming Beirut LP. See the full list of North American dates below, along with No No No's tracklist and artwork.
No No No tracklist
1. Gibraltar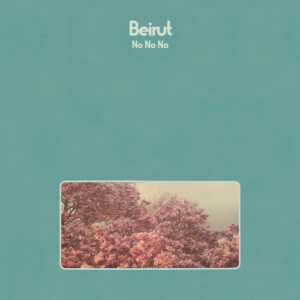 2. No No No
3. At Once
4. August Holland
5. As Needed
6. Perth
7. Pacheco
8. Fener
9. So Allowed
Beirut tour dates
June
19 – Woodstock, NY, Bearsville Theatre
26 – Montreal, QC, Festival International de Jezz de Montreal
28 – Ottawa, ON, Ottawa Jazz Festival
July
16 – Pemberton, BC, Pemberton Music Festival
August
22 – Portland, OR, Musicfest NW
October
1 – New York, NY, Radio City Music Hall
4 – Santa Fe, NM, Santa Fe National Historic Landmark
6 – San Diego, CA, Open Air Theatre
7 – Los Angeles, CA, Hollywood Palladium
8 – Los Angeles, CA, Hollywood Palladium
10 – Berkeley, CA, Greek Theatre
13 – Seattle, WA, Paramount Theatre
November
3 – Washington, DC, Lincoln Theatre
6 – Philadelphia, PA, Tower Theatre
7 – Boston, MA, House of Blues
10 – Chicago, IL, Riviera Theatre
13 – Toronto, ON, Danforth Music Hall
14 – Toronto, ON, Danforth Music Hall