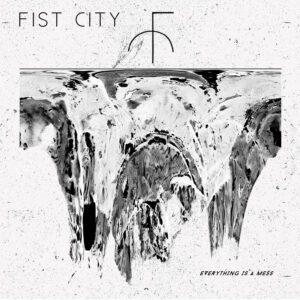 Fist City
Everything Is a Mess
TRANSGRESSIVE
7/10
These young Canadian rippers are cut from that particular unwashed cloth popular in many northern regions right now, that one that clothes you when you get in the van with your instruments and create claustrophobic, densely melodic noise night after night.
Everything Is a Mess, Fist City's sophomore album, capitalizes on that drenched-with-sweat Wall of Sound mentality as it hurtles through nearly a dozen songs and about half as many gauzy instrumentals. The album thrives on bent and busted riffs unfolding around a ferocious rhythm section that sounds like it could dig its way through several layers of earth and magma. Vocalists (and twins) Kier and Brittany Griffiths tear into a variety of societal ills through largely indecipherable, pissed-off yips and yelps, helping to form the chaos into excellently named songs like "Fuck Cops" and "Let's Rip." This album lives in that sweet spot between garage rock and full-on punk, but these tracks are irrefutably riot-provoking. Get on board.