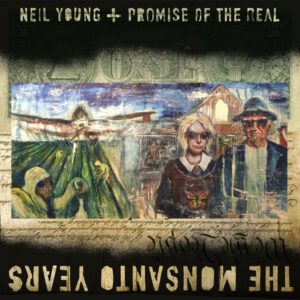 Neil Young + Promise of the Real
The Monsanto Years
REPRISE
6/10
Neil Young is at the head of his congregation once again. But this time he's preaching with Lukas and Micah Nelson (the sons of Willie Nelson) and Promise of the Real. The result of this collaboration is The Monsanto Years—a barroom protest album fighting against the titular agrochemical company and its cohorts—and, unsurprisingly, these sanctimonious anthems can test even the most loyal Neil Young fan.
But Monsanto is surprisingly successful, if not spectacular. The guitar work and Young's melancholy disposition are the album's focal points; where Crazy Horse would ride their guitars into the sunset and beyond, the Nelsons keep Young reserved and effective. When the group aren't honky-tonk shuffling ("Workin' Man") they lay down some nice post-rock axe-work ("Rules of Change"). "Wolf Moon" is classic Young, a gorgeous ode to nature, and closer "If I Don't Know" is refreshingly frail amidst all the descending guitar riffs. Not even "A Rock Star Bucks a Coffee Shop" can fully detract from the album's merits, which is a stronger compliment than it might seem.
Young has cast several shadows across his career with certain gospel-protest records, but The Monsanto Years is his sincerest attempt to date, probably in no small part because of the Nelsons' influence. Spread the news.