Miami garage-pop trio Jacuzzi Boys have released a documentary-style music video for their new song "Happy Damage," which comes ahead an eponymous EP. The fog-filled video follows the band as they tour across the US. Watch the guys stop along the way at gas stations, goof off backstage, hang out with a dude in a killer American flag speedo, and play some very sweaty shows.
The forthcoming EP will be the first release on the band's own Mag Mag label, which, according to a press release, will be "a home for future self-releases and special projects from friends and collaborators." It will be the group's first release since 2013's self-titled album.
Check out the triumphant, rollicking single below, along with the Happy Damage EP's artwork and track list.
Happy Damage EP track list
1. Happy Damage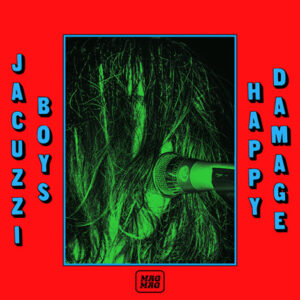 2. No Sleep
3. Wildflower
4. Sun
5. Platform Licks
6. Electric Days