Haven't taken your summer vacation yet? Worried that the longer days and warmer weather is quickly escaping from your grasp? Not to fear fellow procrastinator, Banksy has just erected a brand-new theme park that promises fun for the whole family! an eye-opening and worthwhile experience for art lovers everywhere. Start packing your bags!
Located in the small seaside down of Weston-super-Mare—not far from the British street artist's hometown of Bristol—Dismaland opened its doors today within the now-defunct Tropicana lido. Of the crumbling location of his largest art instilation to date, Banksy says "I loved the Tropicana as a kid, so getting to throw these doors open again is a real honour. I hope everyone from Weston will take the opportunity to once more stand in a puddle of murky water eating cold chips to the sound of crying children."
The immersive exhibition is set up like your standard theme park with various lands and worlds, but instead of Disney's beloved Fantasyland and Tomorrowland, Banksy's creation includes Guerilla Island ("Features a bus-mounted museum, library, gallery of guerilla art, Comrades Advice Bureau and workshops in how to hack billboards"), Kids Enclosure ("Strictly for the little ones – an area that combines soft play and loan shop"), and Water Cannon Creek ("An armour plated riot control vehicle built to serve on the streets of Northern Ireland. Equipped with sniper posts, grenade launchers and now – a children's slide"). While there are many differences between the two parks, both Disneyland and Dismaland do feature "Cinderella's Castle" prominently, but only one of them will scar children for life.
Beyond the ten brand-new works by Banksy (who is paying for the entire thing himself), Dismaland features art instillations by Jenny Holzer, Jimmy Cauty, and Damien Hirst among others. The park will also feature live performances by Run the Jewels, Peanut Butter Wolf, Pussy Riot, and more.
Check out Dismaland's layout in the map below. Tickets for the park cost £3, but kids under five-years-old get in for free…to the park that Banksy described as a "family theme park unsuitable for children." Get more info at the park's official site here.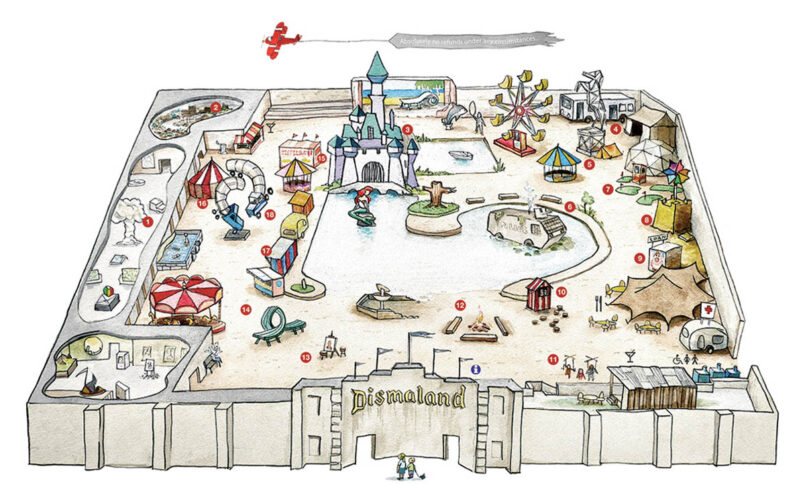 Dismaland is open to the public everyday from August 22–September 27.
Originally published August 20, 12:30 p.m.
---
Updated: August 26, 11:00 a.m.: Even though tickets have already sold out (might be time to move the family vacation back to the Highway Nine Bird Sanctuary…), Dismaland now has a detailed and intriguing trailer highlighting the "attractions." Check that out below.
(via The A.V. Club)