Kurt Vile, a father of two and self-described family man, is soaking up the comfort and company of his home in Philadelphia before leaving to begin the press cycle for his sixth album, b'lieve i'm goin down…. "I write a lot at my parents' house, strangely enough," he says. "I'll drive to the suburbs, hang out with my dad, listen to music, play guitar on the porch and, driving back, I'll get inspired."
Despite his fondness for domesticity, Vile's career as a widely acclaimed, incredibly talented, and totally unconventional troubadour keeps him on the road a lot, even when he's not touring. The making of his newest record took him from the hills of Athens, Georgia, where he fleshed out song ideas with his band The Violators, to the barren desert landscape of Joshua Tree, California, where he learned the mystical ways of West African world-fusion rockers Tinariwen, and, finally, back to his home studio in Philly.
Here, Vile takes us track by track through a selection of songs from b'lieve i'm goin down… and offers an in-depth look at the writing process behind his idiosyncratic style.
"Pretty Pimpin"
It's funny—for at least the last two records, the pop jams came latest. I had a lot of spaced-out, darker folk music before "Pimpin" came along. Me and Rob Laakso, my bandmate, were essentially working on the record ourselves, totally insular. All of a sudden we had a swamp of material, and I knew I needed some kind of producer. Just when I thought I was going to drown in this swamp of digital mess, Rob Schnapf [Elliott Smith, Beck] reached out.
So I flew back to Philly and we were just going to mix with him, but then I was inspired by the situation, and I wrote "Pretty Pimpin." It turned into this pop jam, which we needed really bad. Those harmonies just came… I've never had a harmony just come down from the heavens into my head like that—it was just all there.
"I'm an Outlaw"
This was one of the earliest recordings for the record. Down by the shore, I was reading that book Blood Meridian [by Cormac McCarthy], which is just a mind-melter. I was also getting back into my banjo. It has the high drone string that has this hypnotic, rustic folk thing—you can really get lost in it.
I recorded that in my space; I call it the Red Room. We got all the basic tracks done on my reel-to-reel. I went down to Athens where my drummer Kyle [Spence] has a home studio. He played drums on it and I added that Wurlitzer solo and some really cowboy-esque lead acoustic guitar. There's, like, subliminal Ennio Morricone vibes to it. It's a ghostly tune.
"That's Life, tho (almost hate to say)"
"That's Life" is the first song that I recorded with The Violators in Athens. It's in a pretty standard folk tuning. Most of my tunings I come up with myself, and they're always a little weirder, but I just wanted to go into classic mode. It's got that kind of ethereal, dark thing.
It was a heavy song. The words are kind of sad, just talking about life and death. We were not resting very well that whole time; we'd stay up later and later, and it was definitely scaring me. I was like, "Man, this song's too dark." My favorite part is the way the horn synthesizers come in, in the middle; it just kind of explodes out of nowhere—just this warm, emotional chord. I'm proud of that one.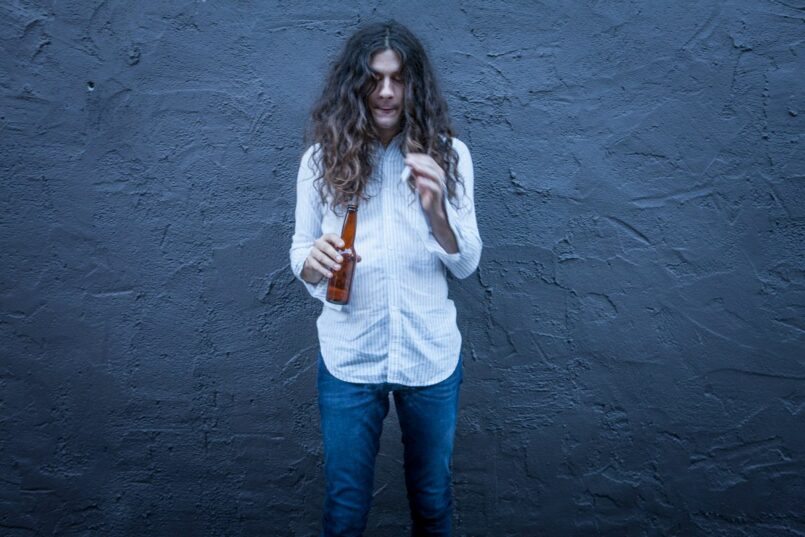 "Wheelhouse"
"Wheelhouse" is definitely my favorite song. I went straight from Athens to Joshua Tree to jam with Tinariwen at [famed desert recording studio] Rancho de la Luna. It's crazy because they don't speak very much English. But they were teaching me certain styles. On their guitars, they would just tune their low E up to a G, so they'd be playing chords, but they had this sort of drone—it almost sounded like they were playing two chords at once. It has this spiritual quality. I moved my strings around on my Jaguar—I don't know how I did it, but it's a really weird tuning. I'll have to look it back up to relearn it.
When [my] band showed up, the magic happened, we just played it live. It was this spiritual tune—a spiritual mantra of some sort. We did two takes and used the second one. That's the key to playing with great musicians like Stella [Mozgawa, of Warpaint] and Farmer Dave [Scher, of Beachwood Sparks]. They were reacting in real time. Dave, one of his tricks is just to react to the lyrics that I'm singing, and he tries to get that out of his instrument.
That's my crowning moment so far in, like, real music. I mean, it's all real music, but, something like "Pimpin"—you play it live, then you overdub, then you polish it off. But "Wheelhouse" was all done in real time. It's the closest we could come to Pharoah Sanders or John Coltrane—that stuff is spiritual, but it's all live. It's not second-guessing or fine-tuning or getting rid of your mistakes, it's all there.
"Life Like This"
I was coming up with that simple piano intro—it's just a couple chords, but it's real pretty. I started hearing it as a pop song, mainly because the piano was so pretty and the drums were so tight. These days, the lyrics come pretty fast and I just jot them down. A lot of it spawns from having a good time and laughing with friends. I incorporate funny sayings or funny jokes into it, not as a cop–out but because they're a life force.
I belted out the lyrics really quick. I had this guitar riff in my head and I laid it down really fast, because we had limited time at the studio anyway. But, sometimes the faster you work and the less you think, you realize that's the best stuff.
We were mixing it for three days—losing the point, basically. The whole song was birthed [from] off-the-cuff stuff that happened really fast. And then we found an early mix and it was clearly the best one. Thank god for that early rough mix.
"Stand Inside"
I've had this song written for a super long time. I wrote it back in '05, I think. It's got the hypnotic thing—fingerpicking those dreamy minor chords. It's a simple love song with a humoristic side to it. Well, not humor, but, you know, "Don't talk to me / Just walk to me"—if someone took it at face value, it would sound like you're a complete dick.
I always had vague ideas for the song that never felt right. All throughout my life I would go back to it. It's very real, done live—a natural folk song. For whatever reason I always imagined it at the end of a record. We overdubbed a bunch of stuff to it, only to take most of it away. That's always a recurring theme: add all this stuff, overthink everything, only to get rid of it all for the stuff that's really real. FL