Until recently, Martin Crane was the driving force behind Brazos, the dusty folk-rock project that we last heard from in 2013, with the release of Saltwater on Dead Oceans. In the intervening time, it seems that, like Winston Yellen before him, the troubadour has discovered the drum machine.
"Physical Therapy," which we're premiering today, is just that—a little physical respite to get your body moving again after a long gestation in the world of the mind. With its foregrounded vibes (the instrument, not the mood) and woozy sax, it's also a particularly effective pastiche of '80s sounds that morph halfway through into an ethereal mist of harmony, the vibes suddenly gulping into drum-machine bass hits and that sax given up for a woozy electric guitar.
"Physical Therapy" is the title track from Crane's first LP under his own name—which would imply that, conventions be damned, this weirdo dance-music thing may be closer to the heart than any of the folksy stuff he wore in years past.
You can listen to "Physical Therapy" below. Then keep scrolling for the album's track list and art.
Physical Therapy track list
1. Amanda's House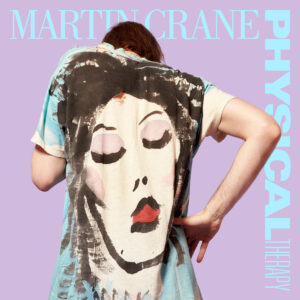 2. Physical Therapy
3. Modern World
4. Gunk of Stars
5. Gadesco
6. Heaven Is A Dancer
7. Lights Out
8. Interlude
9. Waterbed

Physical Therapy is out November 20 on INSCAPE.