Back in the day, it wasn't all that difficult to put together an album entirely out of samples—well, from a legal perspective, at least. And for every thinkpiece about how we'll never get another Paul's Boutique or Since I Left You, there's a found beat built in to Den Sorte Skole's ballistically weird 2013 LP, Lektion III.
Today, the Danish duo announced the release of Lektion III's followup, Indians & Cowboys. The album is comprised of over 10,000 samples from 350 records that were released in seventy-five countries, and they include Iranian horns, Sufi chanting from Senegal, Italian throat-singing, and about 9,997 more. Like the best of Lektion III, lead single "Heli Yosa" expertly brings these elements together into a cohesive whole, a kind of global hodgepodge that serves as a polyglottal call to dance.
Lektion III managed to skirt the copyright police by not being released through the major digital channels, and it appears that Indians & Cowboys will be employing the same legal strategy; the album is exclusively available through their label, the cheekily named Finders Keepers.
In addition to composing Indians & Cowboys, Den Sorte Skole have been busy serving as composers in residence with the National Danish Chamber Orchestra, which the duo says has increased the depth of their compositional ambitions. Additionally, they've compiled a thirty-page book mapping the origin of every single snippet of sound found on Indians & Cowboys.
A stream of "Heli Yosa" is below, as well as the track list for Indians & Cowboys.
Indians & Cowboys track list
"Stone"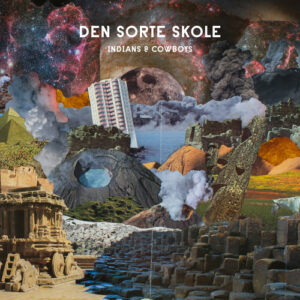 "Kalaidon"
"El Chark"
"Humani"
"No More"
"Lowmax"
"Osian"
"Tunchi"
"Heli Yosa"
"Borders"
"Anima"
"The Caucus"
"Artifacts"
Indians & Cowboys is out October 26 via Finders Keepers.