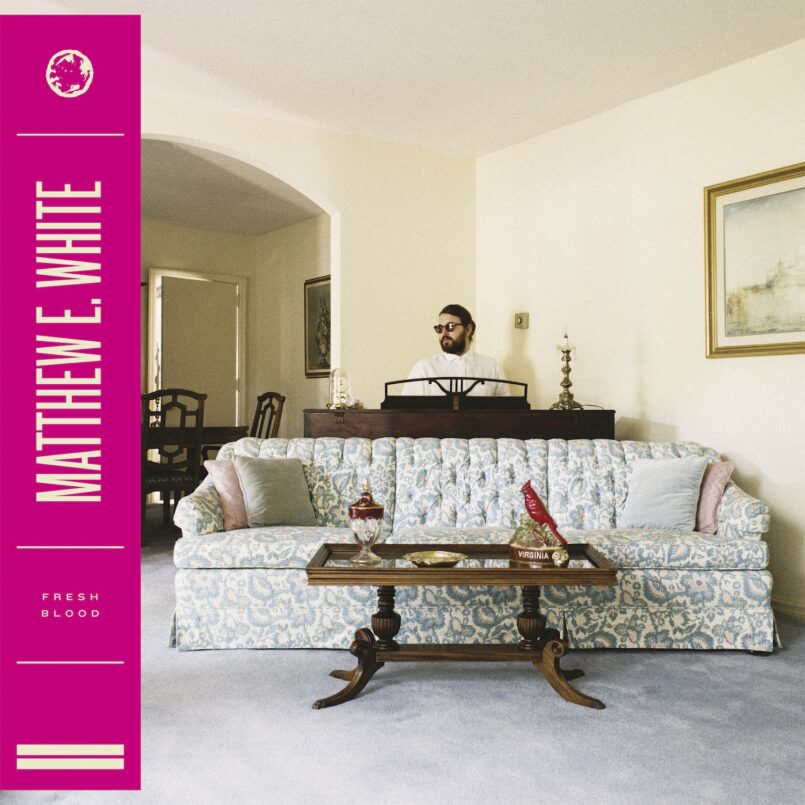 3. Matthew E. White — Fresh Blood (SPACEBOMB)
Since arriving from the planet Spacebomb in 2012, Matthew E. White has received his fair share of comparisons to the great Randy Newman. Despite his fundamental lack of bellbottoms, those comparisons are valid to the degree that White does reveal himself—particularly on Fresh Blood, his spellbinding second LP—to have a keen knowledge of Newman's playbook. There's the song abstractly eulogizing public loss ("Tranquility"), the song moderating a conversation between an everyman and God ("Circle 'Round the Sun"), the song using surreptitiously strange metaphors for sex ("Fruit Trees"), and—well, if you're not sold yet, just know that a few years ago White literally went unsolicited to Newman's doorstep to present what would eventually become his debut Big Inner. (Mr. Newman was not immediately available at the time.)
That said, respecting your influences and becoming a slave to them are two entirely different things, and to simplify what White is doing with his music—not to mention with his Spacebomb studio and label—as a pastiche appropriation of Newman and various other artists (Curtis Mayfield, Dr. John, Isaac Hayes, etc.) would be a tremendous error. "Please don't misread my vision / I've seen things I can't explain," sings White on the chorus of "Vision" as he's joined from out of freakin' nowhere by a swell of horns and vocals. In the world of Fresh Blood, the roads of our cultural past all intersect—often in unpredictable and unexplored ways. And somewhere in Richmond, Virginia, White has built a glorious interchange very much his own.
It's somewhat surprising that this record—a legitimate treasure of sonic maturity sermonized through a voice of crisp wonder—was not received on a wider scale to be the revelation that it is. In another time (hint: the '70s), White would be a superstar already. But it's probably for the best that Randy Newman didn't answer his door that day. There is no greater pleasure than to hear Matthew E. White knock it down. FL
Click here to see the rest of our picks for Best Music of 2015.