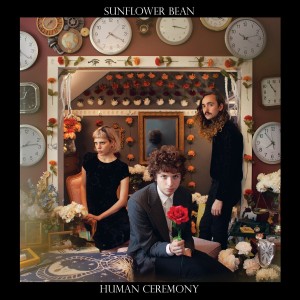 Sunflower Bean
Human Ceremony
FAT POSSUM
6/10
Despite their possession of a Brooklyn zip code, Sunflower Bean could be readily plonked down in late 1960s Berkeley—a fantastically trippy alternative to the many artisanal pickle-headed bands cluttering New York's over-documented scene. And though there's a tendency to brand anything to the vaguely surrealistic left of The Strokes as "psychedelic," their debut album genuinely does capture the sense of cerebral abandon that comes with a good hallucinogenic roll in the grass.
A sonic triumph, they actually have quite a good go at times of layering Motörhead riffs with pretty jangles (Primal Scream fans take note). And elsewhere in Human Ceremony, familiar shoegaze crashes headlong with exhilarating J&MC clamor. Their lyrical offerings, it must be said, are more clever than actually surreal. But "2013" keenly provokes, "What if I told you you'd live to be one-thousand?" And the dreamy but sneering "Creation Myth" clearly won't win any new fans in the evangelical states.
What Sunflower Bean might be lacking is the nerve to unleash the twelve-minute wall of blessed noise that you know is just bubbling beneath the surface. Perhaps next time they'll let it rip.